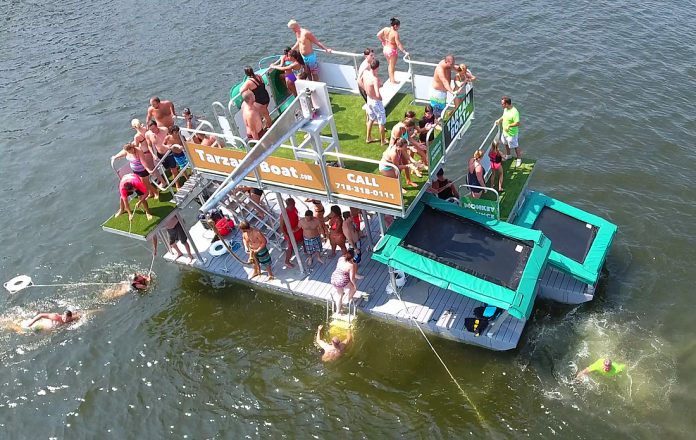 This post contains affiliate links and our team will be compensated if you make a purchase after clicking on the links.

As anyone who reads Greg's Getaway knows, I am a big fan of Big Bear Lake. I go there at least twice a year. So when I heard about a new wet and wild attraction that just hit town, I knew I had to investigate.
Located at Captain John's Fawn Harbor and Marina on Big Bear Lake, the new Tarzan Boat is a jungle-themed, floating waterpark that features six different stimulating ways to get wet and beat the summer heat.
"Tarzan Boat is not a typical nautical vessel by any means," says Serena Saunders, owner of Captain John's Fawn Harbor and Marina. "It's a mobile, floating water park that features a variety of ways to get your kicks on the lake."
The 34-ft long Tarzan Boat provides fun kids of all ages. Features include a six-ft high platform called Monkey Jump and a 12-ft high platform called Gorilla Jump that allows participants to free fall into the lake. There are two Olympic-grade trampolines on board, Monkey Bounce and Gorilla Bounce. Participants get airborne on these springy trampolines before they splash into the water. In fact, the Gorilla Bounce can launch jumpers as high as 20 feet above the water's surface.
The Tarzan Swing, which is accessed from the 12-ft platform, adds to the excitement. It's a rope swing that extends over the lake to give participants the opportunity to swing high above the water just like Tarzan. Rounding off the boat's attractions is the Jungle Slide. This curvy, tube slide, which is also accessed from the 12-ft platform, shoots people out like a rocket into the water. Two ladders on each side of the vessel provide easy entrance back onto the bow deck so swimmers can access unlimited water fun.
The floating waterpark is anchored about 100 yards from Captain John's Fawn Harbor and Marina, adjacent to the town of Fawnskin on the north shore of the lake. The water depth is 10 to 12 feet at the anchor point. An electric, jungle-safari cruiser shuttles guests from the marina docks every hour on the hour.
On the shuttle ride over to the boat, marina staff go over the Tarzan Boat's safety rules to the guests. Two fully certified lifeguards are on board the Tarzan Boat at all times, and the boat comes equipped with life jackets for every person on board. A paying adult must accompany participants 12 years of age and under. Also, anyone 12 years and under must pass a swim test before playing on the boat's features, and must wear a life jacket at all times.
Tarzan Boat can accommodate up to 30 people at a time. Headfirst diving or flipping is not allowed. However, jumping, 360-degree twists, and cannonballs are all permitted.
Captain John's Marina is a full-service marina with a small-town ambiance. The marina promotes eco-friendly recreation including kayaks, stand-up paddlebaords, canoes, Tarzan Boat and electric-boat tours. It also offers pontoons, fishing boats and speedboats. Other services include a fishing charter, slip rental,s and wakeboarding, waterskiing and tubing lessons. On-site amenities include a private beach, disc golf course, and large picnic area.
Tarzan Boat is open daily through September. Hours: 9 am – 5 pm. General admission – $25 for one hour, $40 for two hours, $50 for three hours, and $60 for four hours. The Tarzan Boat is also available for private groups of 11 to 20 people, for either two or three-hour sessions, or groups of 21 to 30 people for four-hour sessions. Private party rental rates are $480 and up. Captain John's Fawn Harbor and Marina is located at 39369 North Shore Drive (Hwy. 38) in Fawnskin. For more information, call 909-866-6478 or visit:www.FawnHarbor.com.