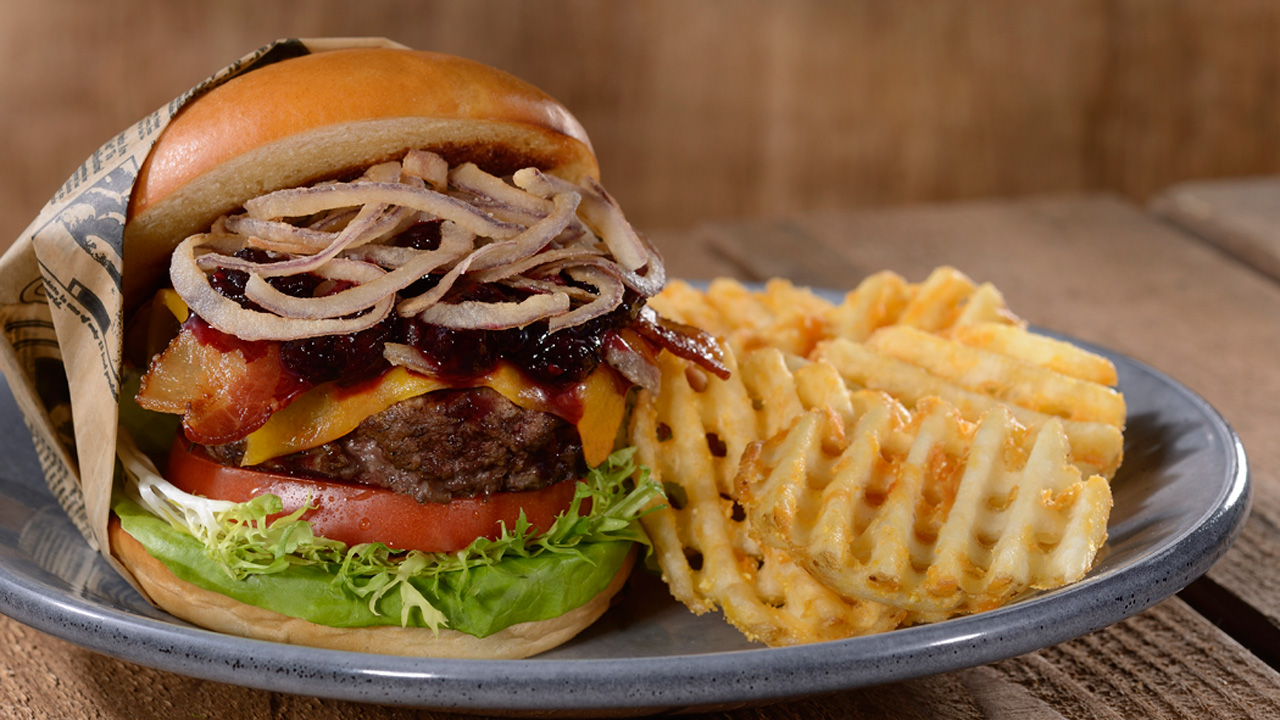 This post contains affiliate links and our team will be compensated if you make a purchase after clicking on the links.

Craving the taste of a juicy burger? Or maybe you are looking for a new twist on an old classic? Well don't worry, because there are plenty of places around Walt Disney World where you can indulge in a delicious burger. Here is a list of 10 of the best burgers to satisfy your taste buds:
Southern Burger, from D-Luxe Burger (Disney Springs)
A newer addition to Disney Springs, D-Luxe Burger has a large variety of hand crafted burgers. The Southern Burger features a signature beef blend patty(brisket, Angus, chuck and short rib), topped with fried green tomato, pimento cheese, lettuce, grilled onion and bacon.
Falafel Burger, from Sci-Fi Dine-In (Disney's Hollywood Studios)
Recently, Sci-Fi Dine-In added a number of new signature burgers to its menu. But for our vegetarians out there, the Vegetarian Falafel Burger is a must try. The meat-free burger includes a crispy chickpea falafel patty, topped with arugula, tomato, Tzatziki sauce and red pepper aïoli on a brioche bun.

Grilled Wagyu Beef Burger, from The Hollywood Brown Derby (Disney's Hollywood Studios)
Another notable location coming out of Disney's Hollywood Studios, Hollywood Brown Derby offers a great menu and a great burger. Only available during lunch, the wagyu beef patty is topped with Gruyere cheese, pastrami, heirloom tomato, avocado, fried egg and cognac-mustard aïoli on toasted brioche, served with hand-cut steak fries.

Southwest Burger, from the ABC Commissary (Disney's Hollywood Studios)
If you are looking for a quick option, then check out this burger coming from the ABC Commissary. The Southwest Burger features a premium patty topped with pepper jack cheese, guacamole, bacon, lettuce, tomato and cheddar jalapeno poppers, served with steak fries.

Island-style Beef Burger, from Kona Café  (Disney's Polynesian Village Resort)
Incorporating some island flavor in this list, this pressed beef burger is topped with char siu pork belly, soft-poached egg, mustard greens, spicy mayonnaise and pickled onions served on a pineapple brioche bun.

Geyser Point Bison Burger, from Geyser Point Bar & Grill (Disney's Wilderness Lodge Resort)
Another brand new addition to this list, you must check out the Bison Cheeseburger at the new Geyser Point Bar & Grill at Disney's Wilderness Lodge. This burger comes topped with Tillamook cheddar, sweet onion straws, lettuce, tomato and Marion berry barbecue sauce.

Wagyu Beef Burger 'Oscar,' from Le Cellier Steakhouse (Epcot)
Coming from one of the most popular eateries on World Showcase,  this burger is topped with Maine lobster, Blue Crab and Bernaise and is served with truffle fries, choice of appetizer and dessert. This burger is only available on their lunch menu.

Smokehouse Burger, from the ESPN Club (Disney's BoardWalk)
Burgers and sports are a natural pair, right? This burger features a grilled Angus beef patty is topped with smoked Tillamook cheddar, chipotle aïoli, onion straws and smoked bacon, served on an onion bun.

Patty Melt, from Beaches & Cream Soda Shop (Disney's Beach Club Resort)
A 7-ounce pressed Angus beef patty, served on Rye bread with Swiss cheese and grilled onions, complimented with a creamy garlic-peppercorn ranch. Don't forget to leave room for a sundae afterwards!
Lobster 'Thermidor' Burger, from the Grand Floridian Café (Disney's Grand Floridian Resort & Spa)
This 7-ounce artisanal burger patty is topped with lobster-parmesan thermidor sauce on a seared brioche bun and is served with the Café's signature seasoned French fries.
What burger is on your 'must try' list? Have you had any of these burgers already? Let us know what you think!
Source: Disney Parks Blog