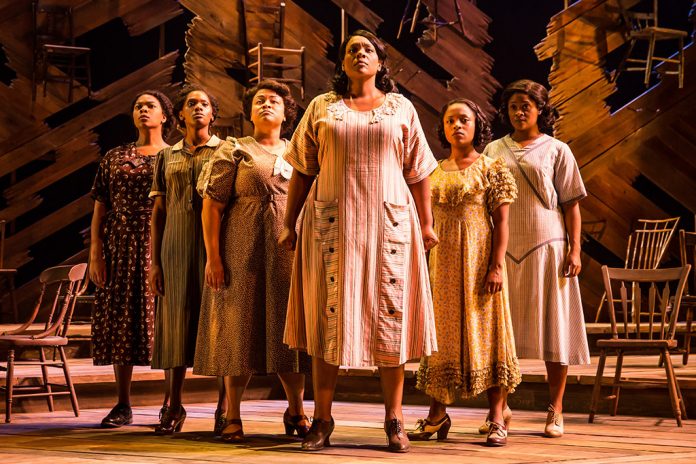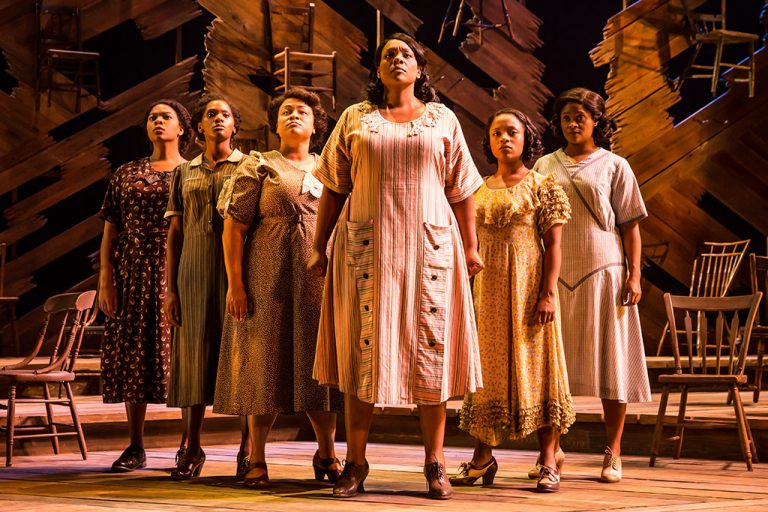 This post contains affiliate links and our team will be compensated if you make a purchase after clicking on the links.

The critically acclaimed and Tony Award-winning Broadway revival of THE COLOR PURPLE – THE MUSICAL has made its touring debut at Segerstrom Center for the Arts in Costa Mesa. A production that has received much praise, but even with a few strong performances, its powerful content and boisterous songs can't overcome the shows unexciting stage production and faults in story progression. It's a musical that focuses on its showstoppers, but these epic notes fall flat on songs that are less than memorable.
Despite my perhaps less than friendly introduction, THE COLOR PURPLE is still a good show. Those that are already familiar with the cast recordings will still love this production. Our showing had no Jennifer Hudson (Dreamgirls) or Danielle Brooks (Orange is the New Black) level of stardom or stage presence the Broadway revival had the luxury of, but it still showcases some momentous vocal talent. However, several performances felt empty. Something was missing, and I fear some comes from the understudy playing the leading role.
Based on the 1982 novel by Alice Walker, THE COLOR PURPLE follows the journey of Celie (Adrianna Hicks normally), an African-American woman in the South of early to mid 1900s. Starting in 1909, the story follows Celie through many trials and tribulations through the 1940s. Taking on many serious subjects from domestic beatings and unwanted advances to Celie's father ripping away her children from her.
All of these subject matters are not be taken lightly, and one would think the show would be depressingly dark, but surprisingly some items are glossed over. Perhaps this is done to lighten up the show helping support some of the more gospel-like upbeat music. I may not remember the 1985 feature film with Oprah and Whoopi well, but I would appreciate the stage production more if it would dive deeper into these serious topics. Make me feel a little uncomfortable for a moment, make me feel for these grotesque times the characters must ordeal, and in the end allow these emotions to build up to a heavenly release of endorphins when the woman conquer over them.
As mentioned earlier, our performance featured understudy Nikisha Williams as Celie. Nikisha definitely has the pipes, and is the understudy for several leading characters, so I have no doubt her range is vast. However, partially due to how the character is written, there was just no life to the performance. Celie is a shy, unsure-of-herself young lady that basically just does what is expected of her. Unfortunately, there was barely any emotion in this performance causing for me to lose interest in her story… even with as awful of an ordeal the character is dragged through.
A potential downfall for me is also the shows dependency on God's plan and His mysterious ways. Yes, religious motivation for this setting and timeframe is fitting, but the morality is lost upon me when the story calls to look at what God is capable of when Celie and other women go through absolutely horrendous, despicable things. This story should remain focused on how the women were able to standup and overcome on their own through sisterhood… with maybe a little help from a higher being. I am unapologetic on my views to this, and this view is in noway influenced by the #TimesUp movement.
After several listens to the Broadway cast recordings, a few songs like "Our Prayer", "Big Dog" and "Hell No" create one of the more memorable strings of songs. After the show, only a couple of these stood out with "Hell No" taking top ranks in the most memorable number thanks to much of this comedic relief. THE COLOR PURPLE is a truly beautiful listen, but the show blends into one image with no change in sets and props that are entirely made up of sheets, baskets, and wooden chairs. OH, and more sheets! I have never seen so much folding of sheets in my life.
These qualms may come across as petty, but this is me. I love to be transported into the scene, and some shows can achieve by powerful dialogue and performances that pull you into the scene. THE COLOR PURPLE unfortunately never found that moment. Instead the show turns a life that was filled of hurtful dominance from terrible men into a melancholy tale that searches more for Celie's sister Nettie rather than the women's equality.
THE COLOR PURPLE could thrive on this tour with some more star power. They don't need to be celebrities, but they need to have that something special in their stage presence. There are standout performances, especially Carla R. Stewart in the role of Shug Avery. But, even with a select few showstoppers, the context doesn't help elevate these numbers to the stardom they may deserve. Those already in love the film probably shouldn't skip the stage production. Those looking for a soulful, influential, woman empowerment tale may need to look elsewhere.
The Color Purple is playing at Segerstrom Center for the Arts thru June 24th.
For more info, visit scfta.org.