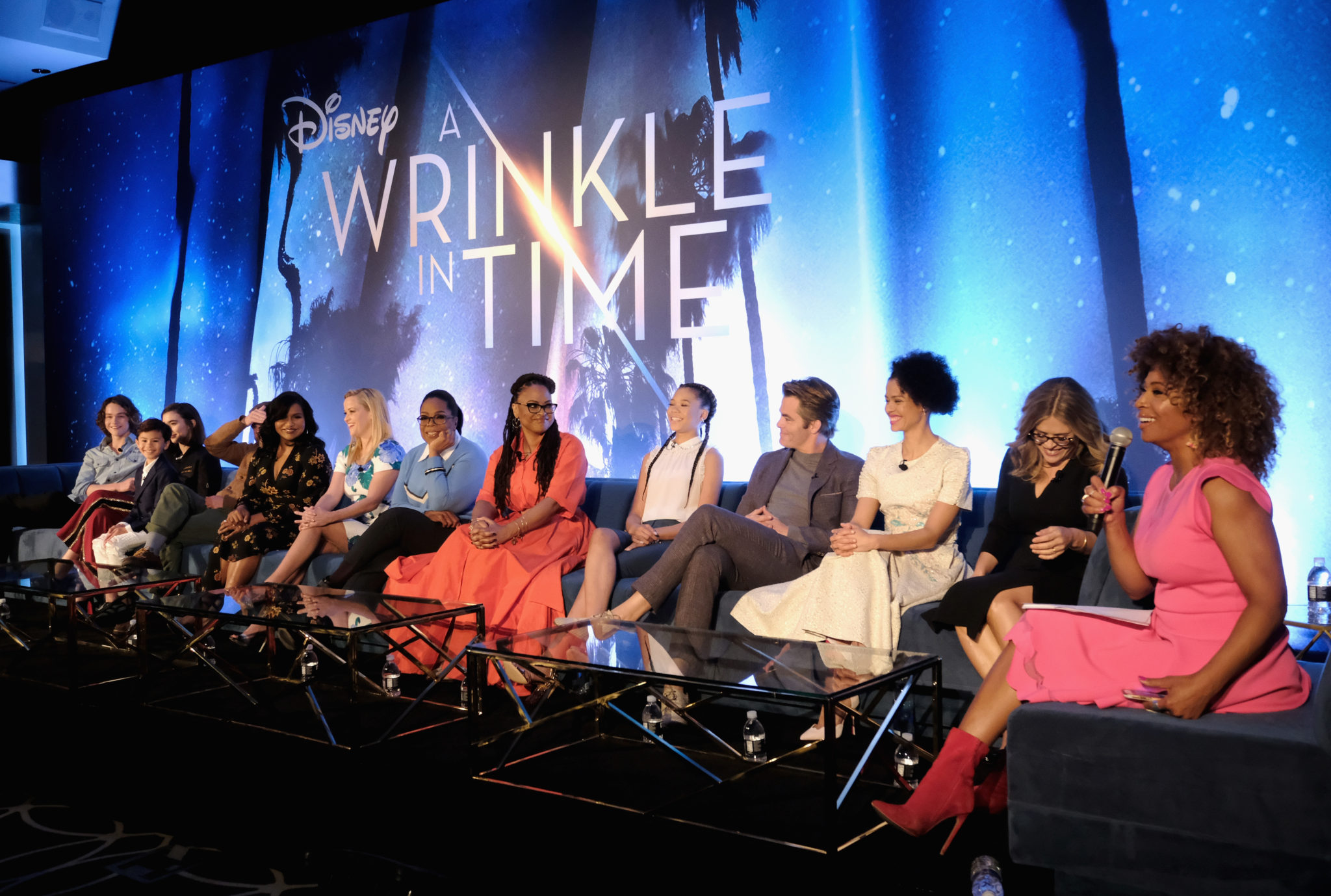 This post contains affiliate links and our team will be compensated if you make a purchase after clicking on the links.

The cast of Disney's latest project, A Wrinkle In Time, gathered in Hollywood this past weekend to discuss major themes and experiences leading up to the film's release on March 9th.
Director, Ava DuVernay, stated that there is "love in every frame of this movie" and she couldn't be more proud of the work the cast had done to help make her film adaptation a reality for children everywhere. "This is a film for young people and people who are young at heart", DuVernay stated.
The film, which stars teen actress Storm Reid, is an adventure where Reid's character, Meg travels through dimensions to find her father with the help of her brother and friend. The trailer, which you can see below, also features three mysterious women who guide the children on their quest. Mrs. Whatsit, played by Reese Witherspoon, Mrs. Who played by Mindy Kaling, and Mrs. Which, played by Oprah Winfrey.
Bringing this film to life was a fun challenge for DuVernay, as it allowed her to use her imagination and bring back some of her childhood spirit. "I got to really get in touch with all that I thought I would be when I was young…I tried and gave everything I had to film again".
DuVernay and the entire cast had some very powerful things to say about the film's message to today's world. The original novelization had gone through some modern tweaks to bring forward the ideas of diversity, inclusion, and female empowerment.
She cast Reid as the main character not only for her talents and background, but because she wanted a strong female figure leading the way. "I'm really excited. I haven't been nervous this entire time," Reid mentioned when taking on the role of Meg. "This is our baby and our thing that we created…"I'm really proud of us"
Mindy Kaling later mentioned that she was glad to finally be a part of a science fiction story. Diversity wasn't a common trait with the genre, and it was a difficult reality for her growing up. "I loved science fiction and fantasy growing up but it was a genre that largely did not love me back. I never saw any representation of a dark skinned Indian woman or girl in anything that I saw."
Though there were rare exceptions in representing strong women with characters like Princess Leia in Star Wars and Ripley in the Alien franchise, women are harder to find in that cinematic universe. Women of color and minorities are almost non existent. It is still a challenge today, but one that A Wrinkle In Time is taking head on.
"It's a very peculiar thing when you grow up loving something that shows you no love back. It's such a pure love because you are not getting anything from it." With her role, she feels there is excitement and hope for young girls to see the representation she never had.
Zach Galifianakis, who plays "The Happy Medium" also noted that the story is an opportunity for young men to learn how to be more in tune with their own feelings. "It's good because it's nice for young boys, young men even, to see that it is okay to have a sensitive side of you."
Galifianakis discussed his own childhood, growing up with a very masculine upbringing. Yet, he feels balance is needed, since men aren't allowed to represent their sensitivity and emotions without backlash from their peers. "They are seen as sensitive…made fun of, that means they are stronger. I wish we could kind of change that."
Levi Miller, who plays Meg's friend Calvin in the film, agreed with Galifianakis and was happy to follow Reid's example throughout the adventure. The trust and respect was there for Miller, which he expressed in his experience with his own family and older sisters. "Toxic masculinity nowadays is sort of rampant in society". For Miller, A Wrinkle In Time is a "very special story and something everyone needs to know".
Though the main focus was on how the film relates directly to children and growing up, the floor also opened up about how adults perceive children and how there is room for growth. Chris Pine, who plays Meg's father Alex Murry, talked about how his character's rigid nature prevented him from seeing beyond his own motivations.
"You have a man that has become so rigid and structured and needy of getting the validation of his community…He's so hard that he forgets the most beautiful thing on the planet…this blooming flower of a gorgeous daughter…None of that stuff matters."
Pine went on to warn about the risks of having a mindset that adults have an unspoken authority over younger generations. "As kids we're taught that there's some sort of hierarchical structure where adults are by virtue of their age smarter than we as children". Subtly mentioning current events, Pine feels that there is a beautiful gift in children that should be recognized. Being young doesn't make you foolish, and his words resonated with the cast as he spoke about his pride for his work with Reid.
"It's a tough time right now," said DuVernay.
Though it may be easy to focus in on that struggle, the entire cast also echoed a sense of hope throughout their discussion. "I think the darkness is there to help bring out the light in all of us…It just takes a little bit of light," Oprah exclaimed.
"That's what we are hoping for and if everyone can get that message, that's how we have hope in the world. We are looking for warriors that can bring hope back."
As the discussion wrapped up, DuVernay provided a special reminder to all those watching the film. "Who you are is enough," she exclaimed. "That's what we need more people to tap into…your own voice".
A Wrinkle In Time releases to this dimension on March 9th. Take a look at all the exciting images from the event in the gallery below!