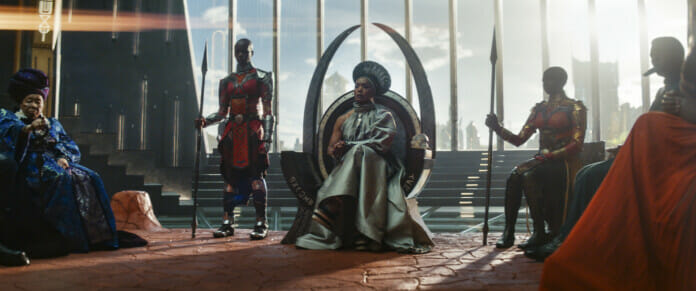 This post contains affiliate links and our team will be compensated if you make a purchase after clicking on the links.

Black Panther: Wakanda Forever, is just days away from the highly anticipated release and with fans eagerly awaiting any and all details surrounding the mysteries of Wakanda's future and how the legacy of the original phenomenon of Black Panther will live on through the loss of T'Challa himself, Chadwick Boseman. Director, Ryan Coogler, recently sat down with the cast and creative minds behind Wakanda Forever, discussing how they explored the story and how this new chapter will bring the women of Wakanda front and center. Though, it may not be in the way you'd expect and speaks directly to the real struggle of loss and identity.
Coogler set the tone, stating the direction of the story for Wakanda Forever was to focus on the epicenter and aftermath of losing T'Challa. "The main characters, their identities were kind of wrapped in in this man…Shuri, every day she was alive, she had her brother. You know, so when she lost him…what we discovered while we were working on the script, and then eventually bringing it to life with the actors, was that she really lost her sense of self…She identified herself as this guy's little sister, you know what I mean? And as his protector and as the person who looks out for him", said Coogler.
"Death comes for everybody…The worst nightmare you can have is if something were to happen to you, the people who you love and leave behind would be unmoored, would be lost after you were gone…It wasn't really about gender, directly…It was about who was the most affected"
Producer Nate Moore, added to that sentiment, focusing on how the narrative came into being by the desire for the team to bring the best possible story to the silver screen in a way that would leave a lasting impact with fans. "It's about telling the story that is organic, and I think maybe from the outside, there's a thought that agendas are at play. It's just telling good stories", he assured.
In the modern cinematic landscape, it's easy for some to lose sight of what the true goal of any story is and it may be easy for people to draw conclusions based on assumptions, rhetoric, or politicization of themes and ideas that can be hyper focused or demonized rather than taken at face value.
It has been a constant struggle within the MCU, one that definitely comes into play when thinking about Phase 4, especially when looking at projects like the recent release of She-Hulk: Attorney at Law, which both drew critical praise and acclaim as well as harsh criticism from certain members of the Marvel community.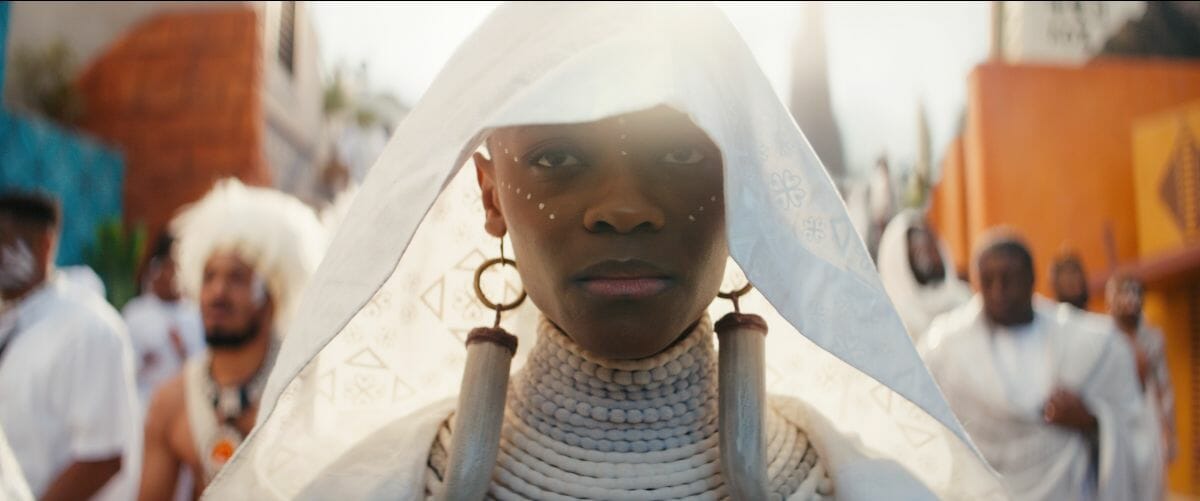 "What we wanted to look at was, you know, when you lose somebody, there's like, a blast radius. You know, that's like a bomb that goes off and who's the closest to it? That's who we explored," Coogler said.
Following in the footsteps of the cultural phenomenon of the first film, it's also important to highlight the cultural touchstone that the world of Wakanda has created and the level of representation it has given to it's diverse cast and crew. Women have their fair share in this new tale, with the likes of Angela Basset's Queen Ramonda, Letitia Wright's Shuri, Danai Guria's Okoye being joined by new faces, such as Dominique Thorne's debut into MCU as Riri Williams and introduction of Mabel Cadena's Namora.
Cadena spoke about her excitement in joining the likes of Wright and the others for this adventure. "This movie has a lot of diversity, a lot of colors, a lot of language, and I'm very proud to be part of something like this, because it's not just a super hero movie, you know."
She would also focus on the level of care taken to represent indigenous culture and how it left a positive experience. "I have this new opportunity for belief in me in the world, in the fiction, in my world. I have a new expectation about my career and I'm very happy for being here"
When speaking about Shuri, Leticia Wright spoke about the authenticity in her performance and what it means for Shuri going into this next phase of her life. "We meet her in the first film and she is that ray of sunshine. She's so clothed and protected in royalty and love…It was like she was the person her brother went to for his protection, his armor", Wright laughed.
"Her family encouraged her to be a genius to to be faithfully and wonderfully made. So, we follow from that. What does that look like, when your heart is broken…We were able to bring something that felt real, that felt truthful", Wright added.
Wakanda Forever also proves to bring forward new opportunities for some of the other supporting cast, such as Winston Duke's M'Baku. "M'Baku was in this movie more than he was in the first Black Panther...like a two to one ratio…He probably has twice as many scenes as he had in the first one.", Coogler added.
Fans will also be introduced to a new central character through the likes of Tenoch Huerta, who will play the mysterious and powerful, Namor. Huerta discussed his excitement in bringing Namor and his people to the big screen, and the hope to have a more positive tone when looking at indigenous heritage. "In Latin America, especially Mexico, we deny our indigenous roots…It's just like a token sometimes," he stated.
"We deny it because it's not about genes for us because almost everybody in Mexico has indigenous or African roots. It's about culture, you know. So, culturally, we are a part from indigenous roots. So embrace those roots and honor these two sources…I hope this helped people to embrace who they are, who we are, you know? Look in, everybody, at the mirror and say, what is in the mirror is okay."
Fans will get to learn all about what's to come when Black Panther: Wakanda Forever debuts on the big screen November 11th. Stay tuned for our full, spoiler-free review!