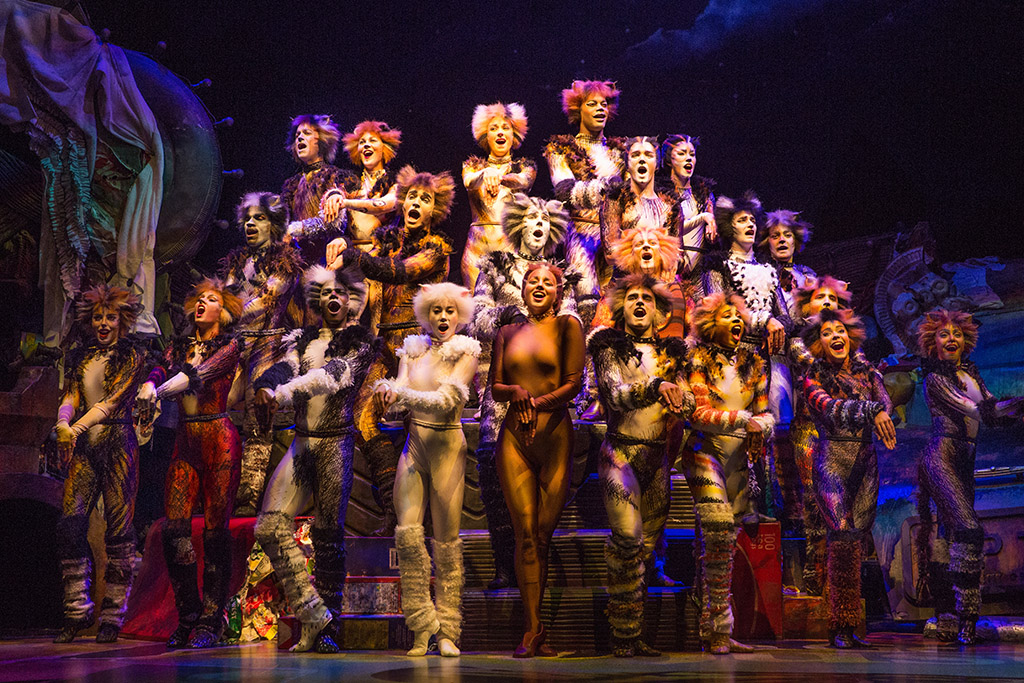 This post contains affiliate links and our team will be compensated if you make a purchase after clicking on the links.

The unbelievably successful 7-time Tony Award-winning musical CATS has purred its way to Costa Mesa at Segerstrom Center for the Arts. Okay, I won't do any more puns, but I couldn't resist at least one. It's fitting though, as CATS is still a cherished and well-respected in the Broadway musical scene, it's still pretty darn silly. At times Andrew Lloyd Webber's CATS is beautiful, dramatic and simply breathtaking, but there are those moments when just have to chuckle to yourself at the ridiculousness of it all. From the introductions to The Old Gumbie Cat and The Rum Tum Tugger to Rumpleteazer and Skimbleshanks, CATS is a musical that actually takes itself too seriously at times but finds countless other redeeming factors that have helped CATS become the icon it is today.
It feels a bit odd to be writing a review of a near 40-year-old musical that has been seen by over 73 million theatergoers worldwide. I mean, everyone knows CATS, right? Truth be told, I had never seen it nor listened to the Broadway cast recording until this revival tour. Of course we all know "Memory", but I didn't even know the plot, or lack thereof. This is the first tour of the first-ever Broadway revival of CATS, and it is clear that an enormous amount of love a dedication went into this new production! It's quite a unique show, but is no doubt not for everyone.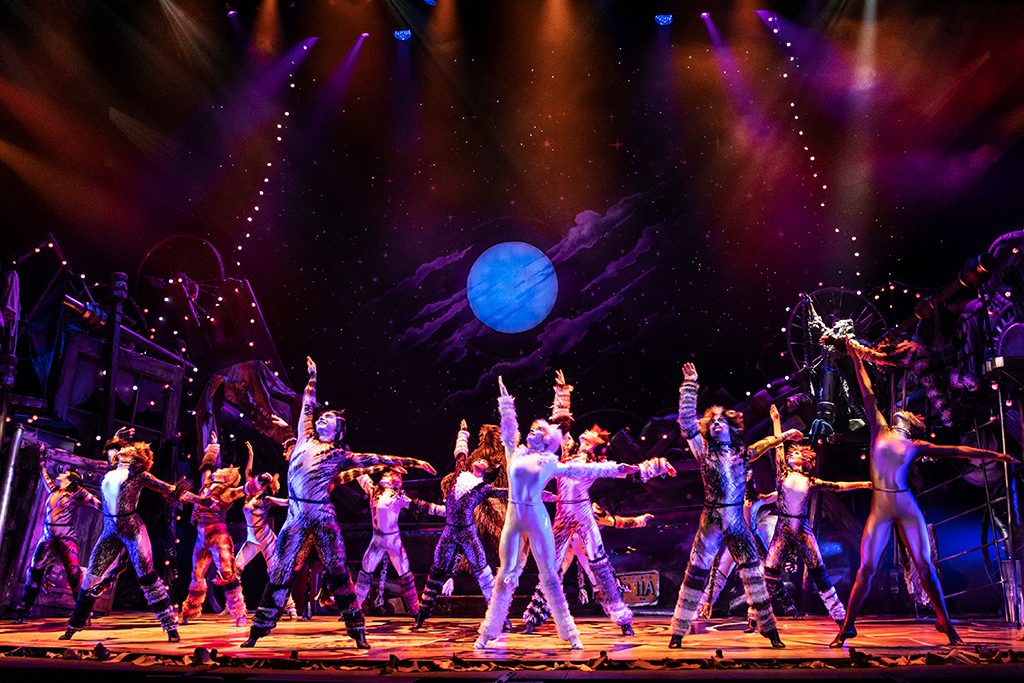 CATS is more than just a musical, it's a feeling; a show that doesn't follow any specific narrative story but concentrates on cleverly written characters, uhm… cats, and their bizarro lives on the streets. It's a masterfully crafted ballad of interpreted dance and a variety of musical numbers that are quintessentially Andrew Lloyd Webber. Moments of pure PHANTOM OF THE OPERA escape from the orchestra pit with subtle overture themes that predates PHANTOM and presents an adolescence of familiar chords that follow Webber through future masterpieces.
Through glorious '80s synthesizers and keyboard pre-sets, the audience is introduced to the world of CATS by an overture that is reminiscent to the likes of Disneyland's Main Street Electrical Parade or perhaps EPCOT Center's idealistic look at modernism through song. Andrew Lloyd Webber's orchestration throughout the entirety of the musical is painfully dated at times, yet wildly nostalgic too. CATS must clearly benefit from a monstrous amount of nostalgia as this revival makes no effort to update to the 20th century. I'm sure to most this is good, and I understand the necessity to preserve these iconic shows from too much change, but the kids in front of me made in it perfectly clear that the show won't appeal much to a new audience.
Following a plethora of uniquely differentiating cats, the musical follows a group of Jellicle Cats. Don't know what those are? It's okay… they have a song for it. Each cat with its own individuality, the show progresses through all sorts of songs including the mesmerizing "Memory". Along the way are masterfully choreographed numbers that are remarkable. Every cast member appeared flawless with their movements. In all honesty, I think I may have enjoyed a show of just the cats dancing to the song just as much. The dancing is the real gem of CATS, and this production couldn't be any better when it comes to the choreography.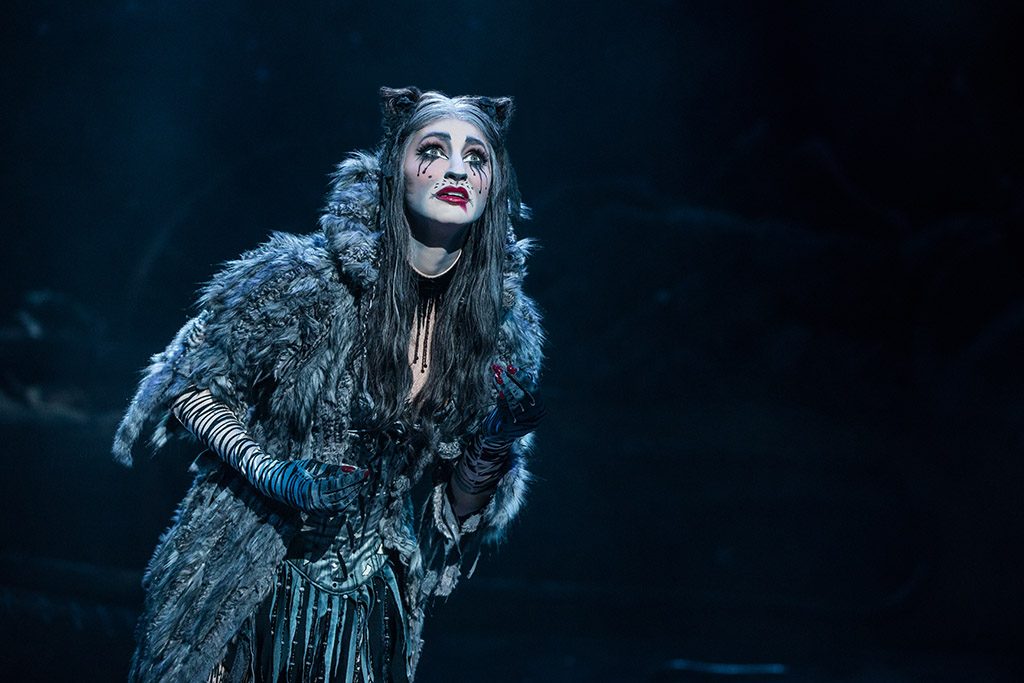 I don't think one can get through a CATS review without reviewing "Memory". Grizabella, the ousted cat that is given the honor to sing this musical juggernaut, was played by Keri Rene Fuller. A voice of the Gods. No, really… her performance could not be considered anything less than perfection.
While I can't believe it took me this long to see CATS, it's not really up my alley. I'm thrilled that I have finally experienced it as CATS is still a beautiful show filled with incredible talent. It's still incredibly important to the musical world, but I am not sure how much I'll be gravitating back to it when it returns. It is a must see at least once in your life, and maybe you will fall in love with it list the rest of the world has over the years. Those that have already seen CATS and loved the show before, this production is not one to miss. 
– – –
The creative team for this new production of CATS includes John Napier (Scenic & Costume Design), Natasha Katz (Lighting Design), Mick Potter (Sound Design), with choreography by Andy Blankenbuehler, based on the original choreographer by Gillian Lynne, and direction by Trevor Nunn. 
CATS is playing through April 14th. Tickets start at $29 and are available for purchase at SCFTA.org.