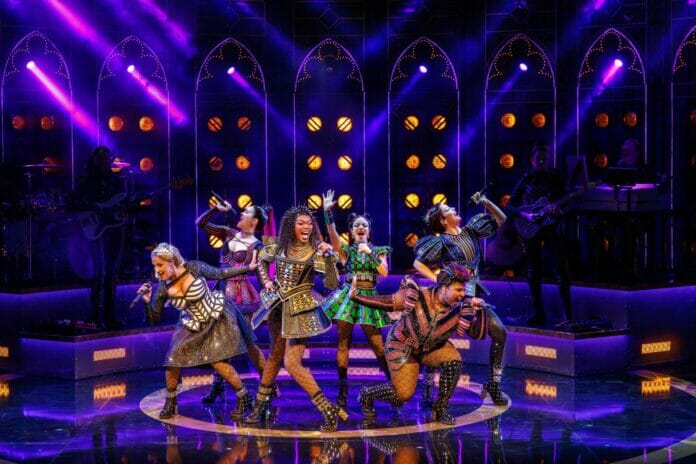 This post contains affiliate links and our team will be compensated if you make a purchase after clicking on the links.

Wow. What can I say about SIX the Musical? The number of costumes spotted in the audience told me this show has several fans already. I was really looking forward to this one from all the hype and boy did it deliver!
A word used in the show to describe the experience best is "Historemix", as it's a telling and retelling of the stories of the infamous six wives of King Henry VIII.  However, the other important play on words they use is "Her-story" because the point of this show is to highlight the wives and retell their stories in a way that is not focused on Henry but focused on them as women. In fact, this show is so focused on spotlighting women, that the entire band and the conductor are also women!
If you are coming to this show not really knowing what to expect, expect to go through every emotion while watching a 90-minute concert chock-full of bangers with no intermission (you won't miss it). The pacing is great, the energy is high, and WOW can these queens SING! While there are three great songs highlighting all six queens, each of them also has its own song to tell their story.
Please take an opportunity before the curtain to open the Playbill and read a quick synopsis of their legacy and a hint of what to expect from their performance. In 9 amazing songs, you are taken on a delightful and emotional journey that will—If you're like me—send you down a Google rabbit hole when you get home about the other 5 wives (we all know Anne Boleyn).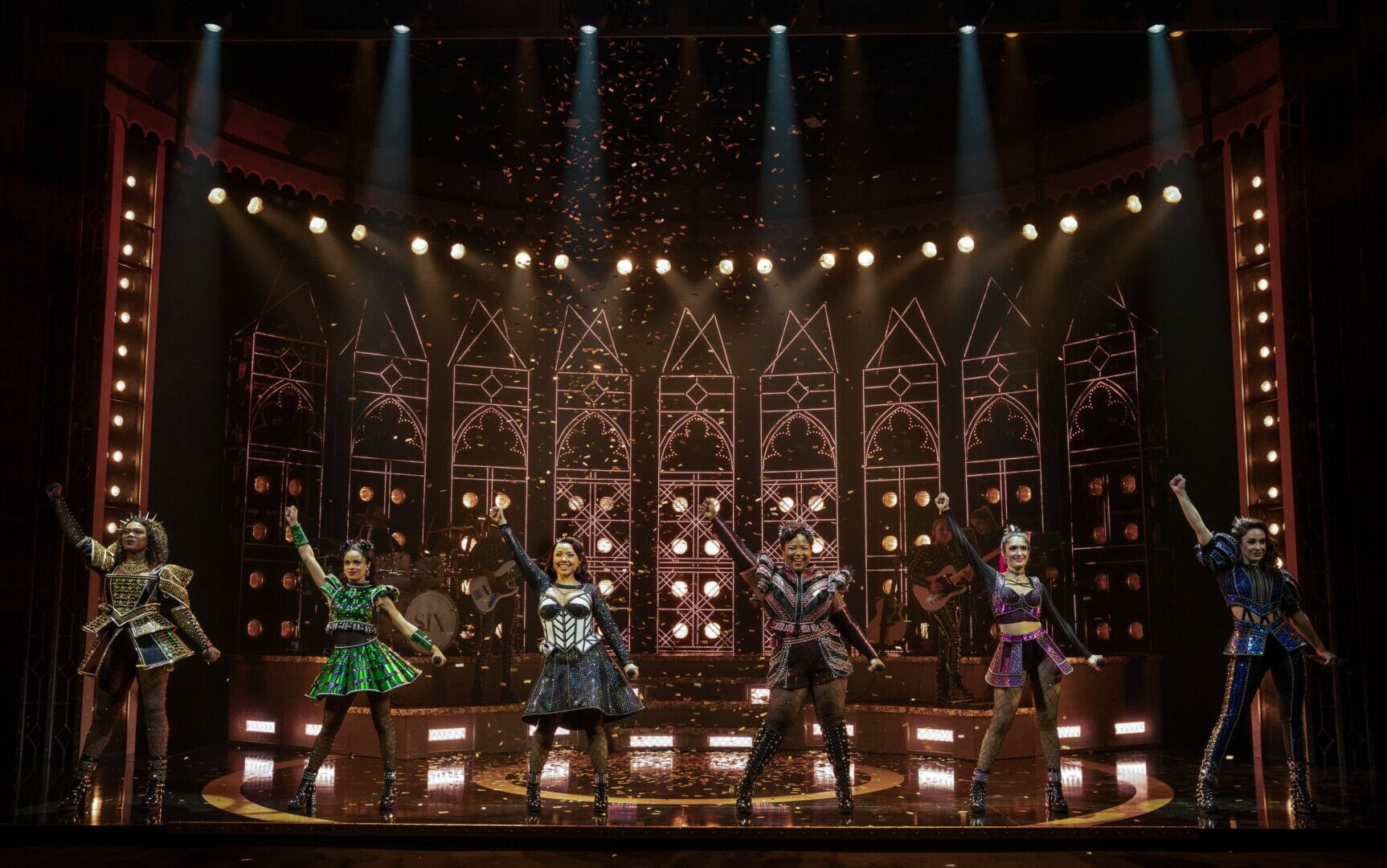 The show begins with an upbeat musical summary of the outcomes for each of the wives and a proposal that they should compete to see which queen will win the night with the audience based on how unfortunate their story was compared to the others, later realizing that they now have the power in this retelling to rewrite their own endings and unite against Henry VIII instead of each other.
It's difficult to really find a standout performer in this show. It honestly gives both the warm fuzzies of a musical and the rush of attending an A-list pop concert. The format allows each performer to showcase their insane vocal prowess. My favorite number was "Get Down" performed by Anna of Cleves (Olivia Donalson) because it was just SO good. It was well performed and funny with high-energy physical comedic and dancing.
It was preceded by, in my opinion, the most charmingly outrageous number in the show, "Haus of Holbein". TikTokers may recognize this song as a sound that was viral in 2022, but if you've never heard it, you will be delighted by the silliness…don't forget your green sunglasses! "No Way" sung by Catherine of Aragon (Khaila Wilcoxon) was the best way to open the competition.
Wilcoxon absolutely nails this song, and it's so exciting and high-energy, people were already starting to dance in their seats, except for one who danced in the aisle! Storm Lever as Anne Boleyn is officially my favorite Anne Boleyn, her performance of "The One You've Been Waiting For" was just so bubbly and hilarious. It is wonderful to have Natalie Paris on the tour! As the original Jane Seymour, she expertly breaks your heart with her performance of "Heart of Stone". Did I tear up? Yes, yes I did. "All You Wanna Do" is reminiscent of Britney Spears' Circus era, and Courtney Mack as Katherine Howard does an amazing job of performing this song fully.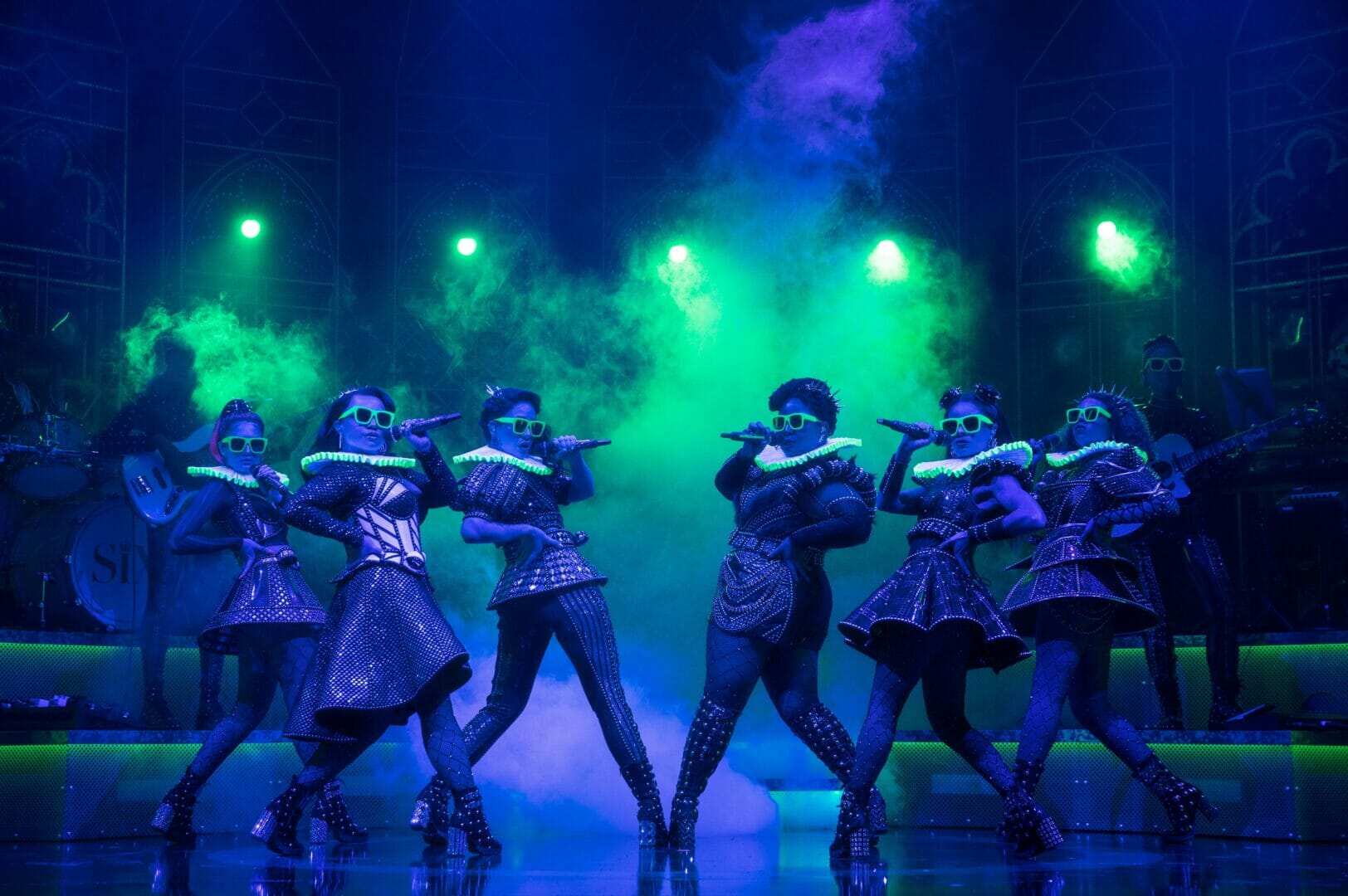 It's raunchy, funny, and very physically demanding, and she just kills it. "I Don't Need Your Love" sung by his final wife, Catherine Parr (Gabriela Carrillo) was another soulful and heartbreaking performance. Her marriage to King Henry VIII meant she couldn't marry the man she really loved, Thomas Seymour and her song reminiscent of Alicia Keys reflects the torch she held for Thomas. Their "Histo-rewrite" is heartwarming, and I only wish it lasted longer.
The set was very simple and minimalist, relying on the performers to set the scene with some lightning design to fill in. Like many modern Broadway shows, the band was on stage with the performers the entire show and was sometimes looped into the performance. In fact, the performers broke the 4th wall not only in dialogue with their band but with the audience.
I found myself occasionally watching Drummer, Paige Durr, as she expertly switched between a physical drum kit and electronic drums to create the sounds for each song. Gabriella Slade's costume design is really something and a critical part of the show. Many fans in the audience were wearing their own interpretations of her visions. The dresses worn by the queens were fun and modern with futuristic colors and historical nods.
SIX is modern, energetic, and wonderful! The lyrics are ridiculously clever with puns, wordplay, and suggestiveness that is honestly unmatched in anything I have ever seen. There are many nods to other musicals and musical acts. If you haven't bought tickets to see it this month, don't lose your head over it, go grab your tickets now. This is one to remember.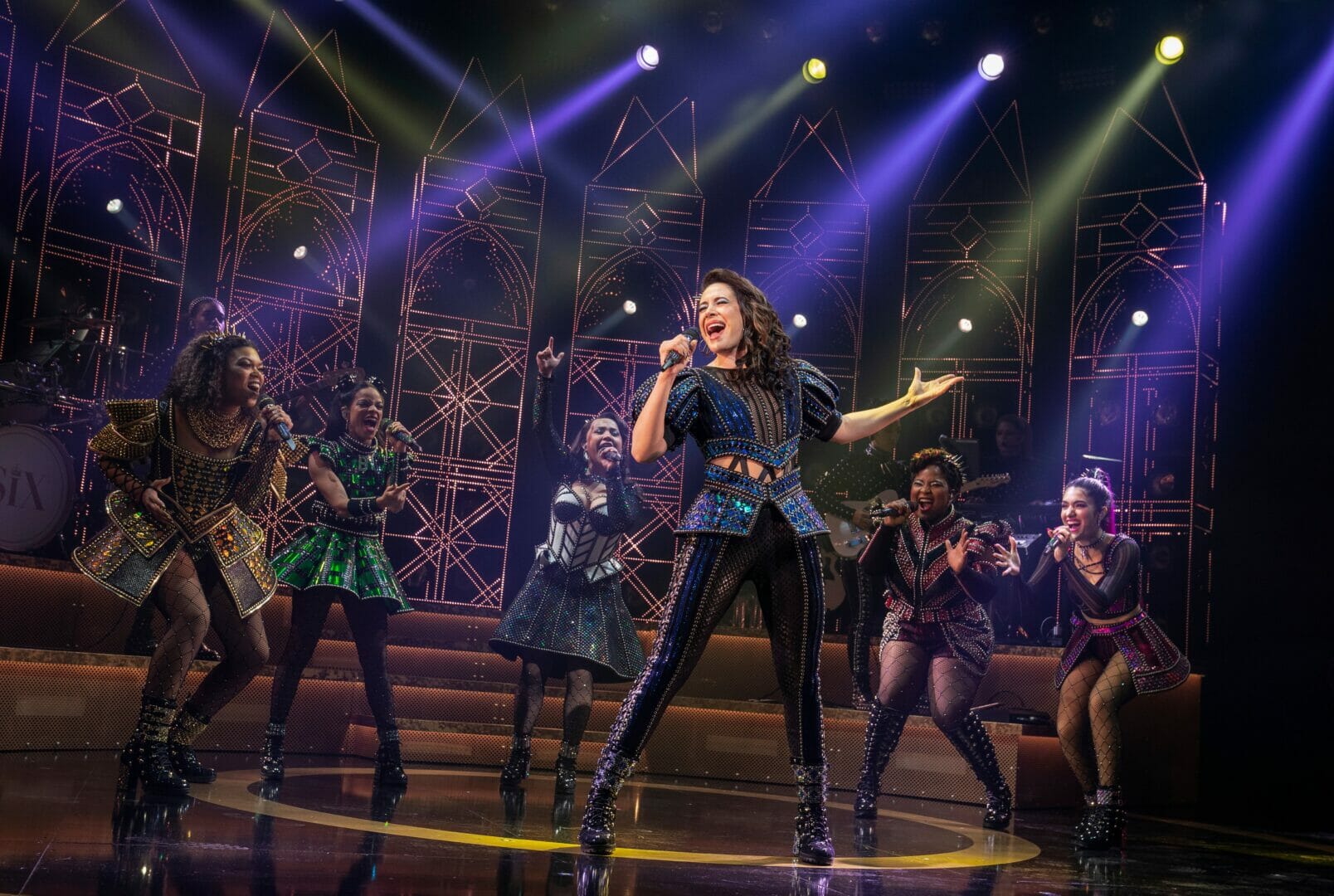 SIX will play five weeks in Los Angeles at the Hollywood Pantages Theatre from May 9 to June 10 with tickets available at www.BroadwayInHollywood.com and www.Ticketmaster.com, or by phone at (800) 982- 2787. The show will then play two weeks in Costa Mesa at the Segerstrom Center for the Arts from June 13 to 25 with tickets available at www.scfta.org and by phone at 1-714-556-2787.