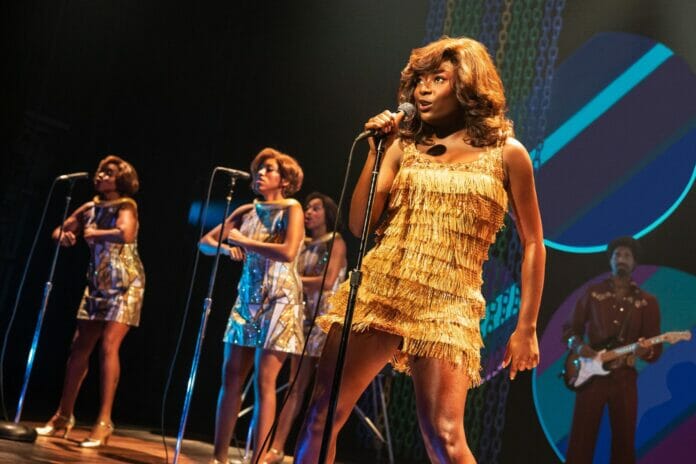 This post contains affiliate links and our team will be compensated if you make a purchase after clicking on the links.

What an evening. I try my hardest to go into every musical blind, having not heard music or storylines ahead of time, but this phenomenal story of Tina Turner's life challenged that. Still, I was not completely sure what to expect from this show, aside from the fact that it tells Tina Turner's story, and continues to sell out in London. Tina Turner to this day has a fervent fan base, many of which were elated to also be in the audience tonight, wearing costumes and/or wigs to look like the singer at various performances over her illustrious career.
Tina – The Tina Turner Musical begins with her in adulthood, and seemingly takes you into her memories going back to her childhood, where you quickly learn that the tragedies of her life began very early on. Born Anna-Mae Bullock, Tina had parental struggles that preceded her well-known tumultuous relationship with Ike Turner. Her life in Tennessee was complicated, and her fateful move to St. Louis allowed her to follow her dreams, though at the expense of much of her joy. Ike's abuse toward her continues and intensifies, until she reaches deep inside herself, and allows herself to fight back.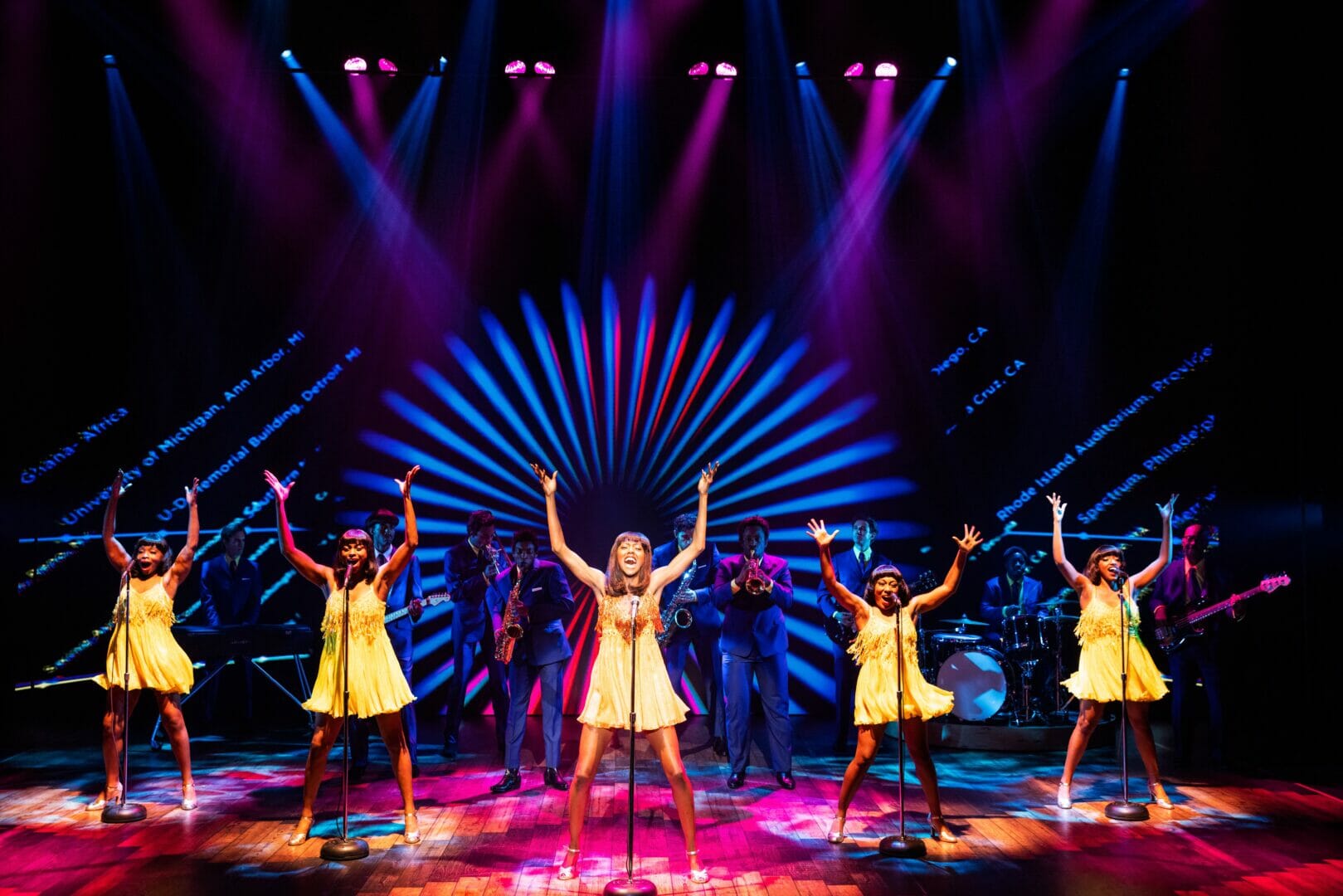 Assisted by her more recent Buddhist faith, her "Nam-myoho-renge-kyo" chants bring her courage and strength to endure and eventually escape Ike's grasp. With a Las Vegas show and very little income, Tina felt lost, as she continued to work for almost no income trying to support her sons. Her luck turned when her longtime tour manager and assistant Rhonda Graam got in touch with songwriter Terry Britten and artist manager and music producer Roger Davies who saw her promise and chose to manage her despite ongoing challenges with Capitol Records executives at the time.
The hit song "What's Love Got to With It" was Tina Turner's first #1 hit, topping the charts, with the album being nominated for a Grammy. In this process, she met the true love of her life, her second husband Erwin Bach. It took a long time, but the story ends happily, as Tina Turner realizes her dreams and finds the love she deserved.
Her story was too long to be limited to such a short time (about 2 hours and 45 minutes with a 15-minute intermission), but nonetheless, I understood the premise. In a sense, the quick whirlwind storytelling really demonstrated Naomi Rodgers' acting and vocal prowess, as she was able to effortlessly portray many emotions, and age her voice with the character.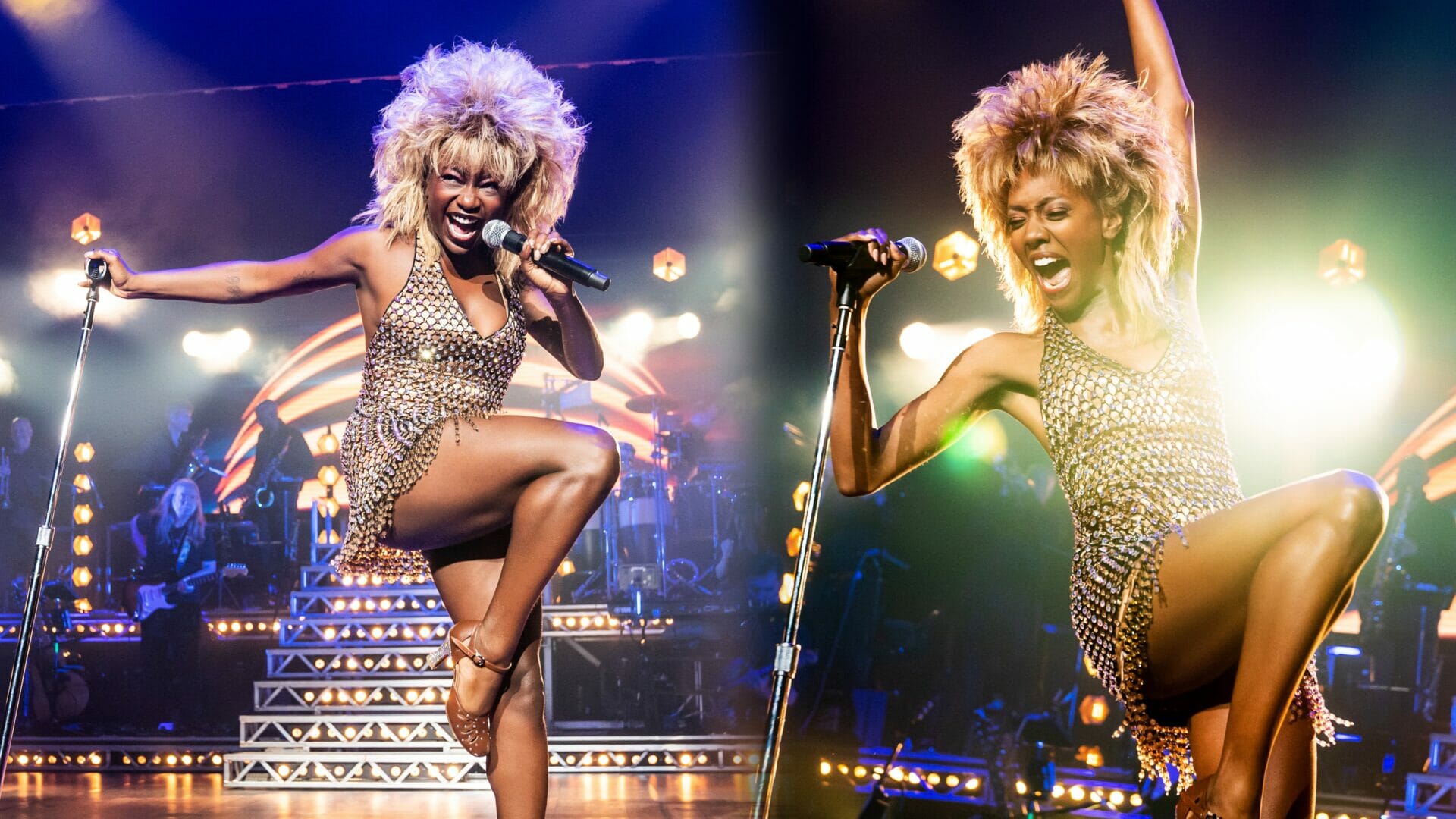 First off, Ayvah Johnson, as young Anna-Mae, is such a powerhouse, owning the stage for multiple solos in an arrangement of "Nutbush City Limits" reminiscent of a vibrant church choir. Anna-Mae's (Naomi Rodgers) duet with her grandmother (Carla R. Stewart) of "Don't Turn Around" was heartfelt, really serving as a turning point for the trajectory of Anna-Mae's life. "Shake a Tailfeather" was such a fun number, well danced and visually appealing. Rodgers' vocal abilities quickly apparent in "She Made My Blood Run Cold" and the audience was really feeling the excitement and power of the vocals. "Let's Stay Together", between Tina and Raymond (Gerard M. Williams) was a huge hit with the audience; the chemistry between Rodgers and Williams was palpable. "I Want to Take You Higher" was visually fascinating, using the song to illustrate the tragic timeline of Tina and Ike's (Roderick Lawrence) relationship over the first 10 years, with Ike habitually cheating on her and getting into some dangerous habits, it is at this point that she is shown Buddhism.
The recording process for "River Deep – Mountain High" with Phil Spector was interesting to watch, knowing that Spector, however eccentric, was a pioneer in music history. As Ike grows more and more unhinged, you feel deeply for Tina's struggles, as he continues the circle of abuse singing "Be Tender With Me Baby" hoping to keep her from standing up for herself and staying with him. "Proud Mary" (another huge audience hit), transitions us into the 1970s with a high energy number, followed by "I Don't Really Wanna Fight No More" which was a purposefully jarring juxtaposition to "Proud Mary", demonstrating the difference between her private life and her public persona.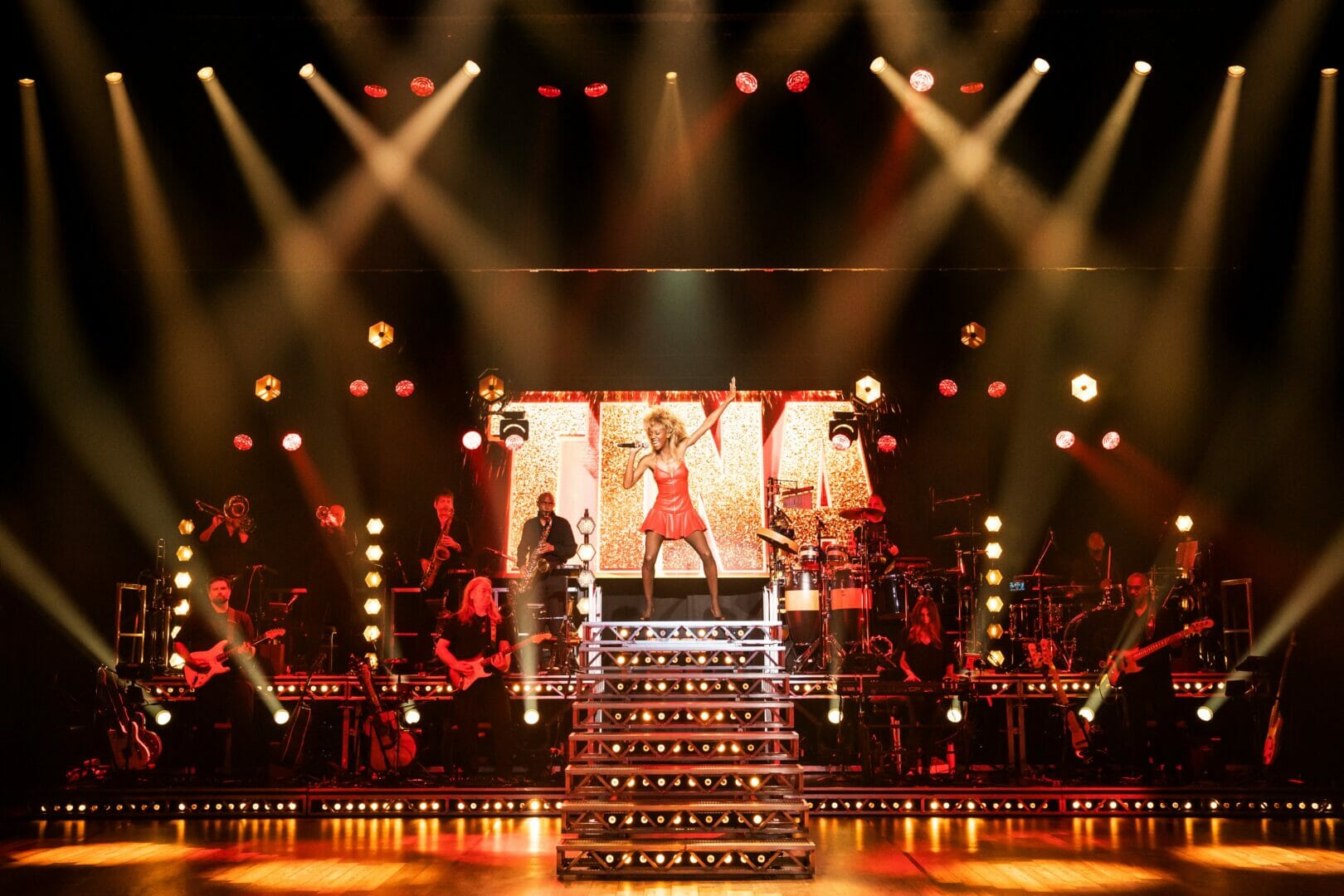 The entire performance of "I Don't Really Wanna Fight No More" and the storytelling around it brought me, and most of the audience, to tears. I overheard someone sitting near me tell his seatmate that he held it together well until that song.
Act II moves us into the late 1970s, as Tina was working as a house cleaner and playing shows in Las Vegas to make enough money to support her sons alone. "Private Dancer" was used to illustrating this period of her life, but the lyrics and theme of the song I felt did not make sense, making her house cleaning work seem more sexual than it likely was. "Disco Inferno" was a complete delight, with plenty of sequins, disco balls, and fun choreography. The Abbey Road studio sessions to record her new album is so funny and cringey in the best way.
The blocking and use of past characters on stage, but barely illuminated, portrays her returning to her memories and using her past experiences to push her forward. This was used heavily in "I Can't Stand the Rain" and "Tonight". "Tonight" is especially poignant, with Turner reaching to her inner child and past self, as well as her grandmother who, at that point, was one of the only people in her life who truly loved her.
Naomi Rodgers is, of course, the standout as Tina Turner. Her abilities are insane, as I mentioned before, where a simple wig and outfit change was enough for you to believe Tina was older, based on Rodgers' performance. Her singing abilities are unmatched, with phenomenal control and emotion. Roderick Lawrence was fantastic; in that, it only takes a few minutes for you to absolutely despise Ike Turner.
His range of being suave, manipulative, and completely enraged and unhinged is impressive, and truly created Ike on stage. Roz White, playing Tina's mother Zelma, was great at embodying the complexity of her character, struggling with her own parenting, and still managing to be funny throughout. Zachary Freier-Harrison was as endearing as Roger Davies. His performance made the character especially endearing and his great relationship with Tina believable.
I would also be remiss to not talk about Aynah Johnson again, who clearly held her own on this stage, and will certainly continue to do so for years to come, should she choose to do so—What a talent.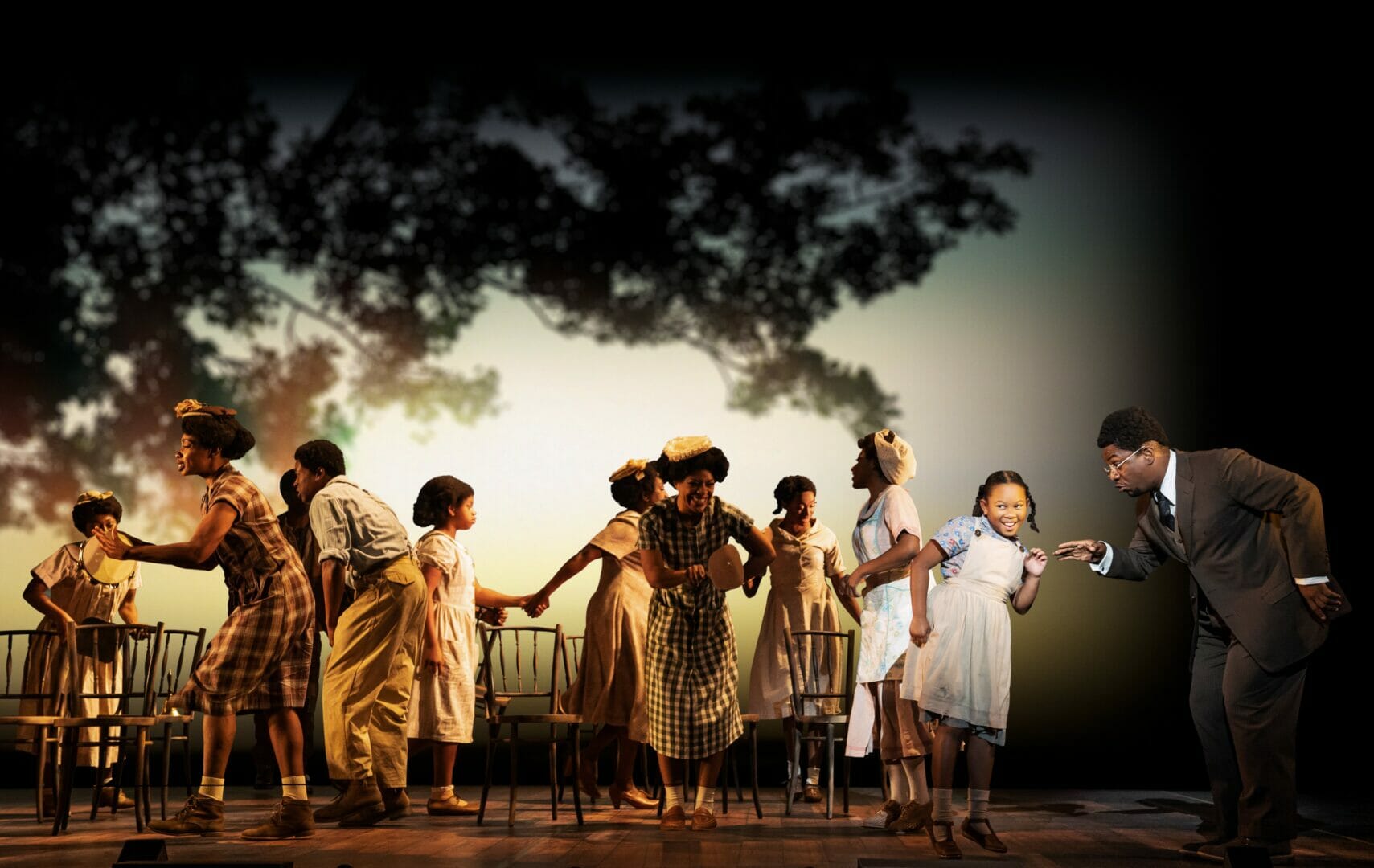 The set design was multi-layered, yet fairly simple. Backgrounds were done with projections but were different in that they often presented somewhat blurred, distant-looking landscapes, which was a visually appealing choice to keep the sharp details on the characters and physical sets and not overwhelm the eye. Physical sets were moved on and off stage by actors in seamless scene transitions and mostly consisted of doors and furniture.
Despite the simplicity, the choices allowed my imagination to take me to their settings, and it sometimes still felt cinematic. The band plays on the stage behind the projection screen and sometimes plays on stage with the actors as stage musicians if the scene calls for it. Their actual setup is not revealed until the final number when you see their formal setup as Tina's New York concert musicians.
I have to say that the finale number made me feel a lot, especially still in the very recent wake of Tina Turner's passing. The set, song choice and Rodgers' performance made me feel as though the audience got to go back in time and steal one last moment with Tina Turner giving the performance of a lifetime.
When you go see the show, you should ensure you plan to stay past the finale for the most exciting mini-concert. Audience participation is strongly encouraged, and you find yourself dancing and singing along with Tina for two more songs before the curtain finally falls on what will be an unforgettable night of music, heart, and soul, telling the complex and beautiful life story of musical legend Tina Turner.
Tina-The Tina Turner Musical is performing at Hollywood Pantages Theatre until July 9, 2023. To get tickets click here.