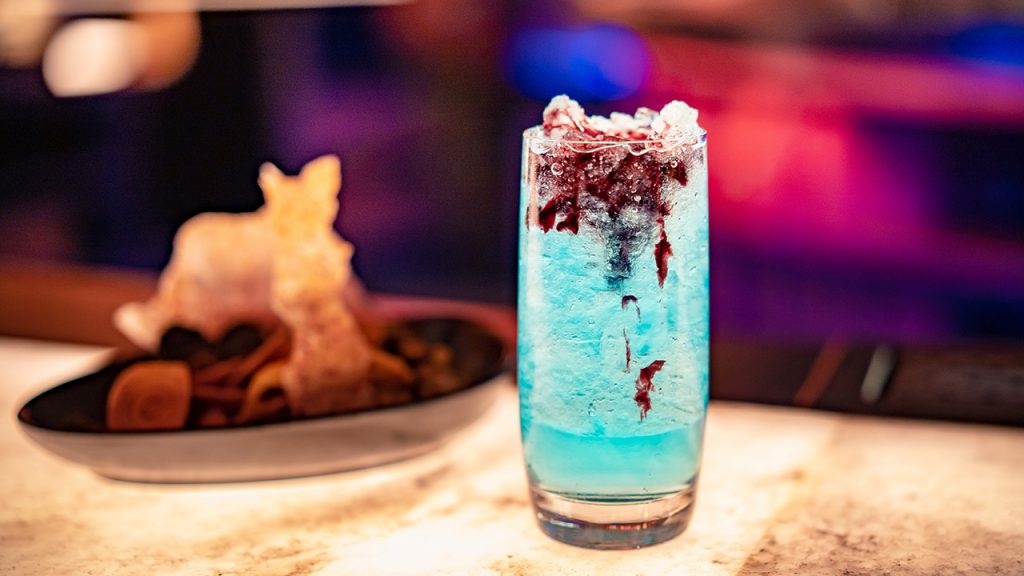 This post contains affiliate links and our team will be compensated if you make a purchase after clicking on the links.

Are you looking for the COOLEST and HIPPEST new spot to hang out at the Disneyland Resort? Then be sure to fly on over to the planet of Batuu to visit the Black Spire Outpost, where you'll find a fun cantina hidden away among the streets of the outpost. Oga's Cantina in Star Wars: Galaxy's Edge is the notorious watering hole where smugglers, bounty hunters, and weary travelers of all ages can come partake in some out of this world refreshments.
https://youtu.be/jcnutzknruY
When you step inside, you'll be greeted with the musical stylings of DJ R-3X (also known as DJ REX), the former Starspeeder 3000 pilot droid we first met in Star Tours. With his quirky banter and rad beats, you are sure to have a good time as you partake in concoctions made from unique "otherworldly" ingredients from across the galaxy.
One of these concoctions is the Hyperdrive (Punch It!) – a non-alcoholic specialty beverage featuring Powerade Mountain Berry Blast, white cranberry juice, black cherry purée, and Sprite. Or you can sip on the Jabba Juice, a yummy beverage featuring Simply Orange with pineapple, kiwi, cantaloupe, and blueberry popping pearls. For the adults, the Fuzzy Tauntaun is a delicious concoction with peach vodka, peach schnapps, orange juice with tangerine, pure cane sugar, and "buzz button tingling" foam. And while you're partaking in these refreshing treats, you can even snack on some Batuu Bits for a light and crispy galactic snack.
To make trip planning easier and more flexibility, Oga's Cantina now offers advance reservations, which are highly recommended because walk-in opportunities are limited. Soon, Oga's Cantina (as well as Savi's Workshop) will follow the 60-day reservation process currently offered for restaurants and experiences requiring reservations. To make reservations, visit the Disneyland.com/Cantina.
Source: Disney