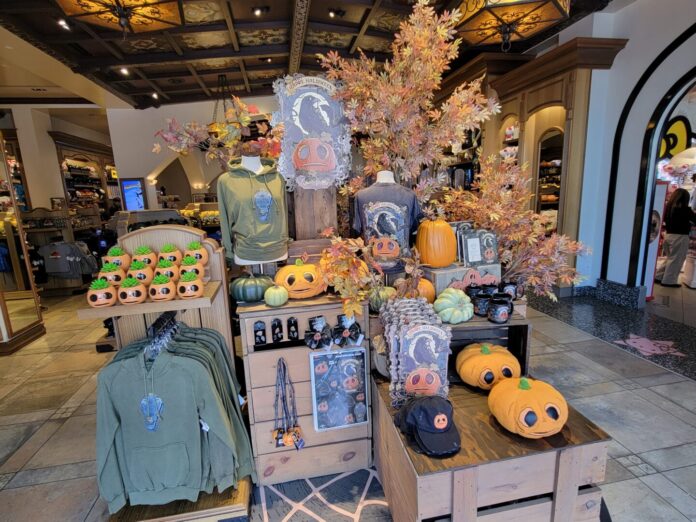 This post contains affiliate links and our team will be compensated if you make a purchase after clicking on the links.

Merchandise is now available for Halloween and horror fans alike at Universal Studios Hollywood theme park. Top off your wardrobe with shirts, hoodies, backpacks, handbags, hats, and beanies. Hang up posters, wood signages, and photo frames. Take home products like fragrant candles, mugs, and glassware. Smaller trinkets include keychains, patches, magnets, ornaments, decals, lanyards, and dish trays.
The "Never Go Alone" product line evokes a fortune teller and Demon summoning motif that's sure to raise undead spirits.
Vecka beckons "Strangers Things" fans to take a piece of the Upside-Down with you.
Chucky laughs up with a product inspired by the fictional Good Guys toy company from the popular film franchise. Be sure to check out the dolls used in the show inside the Universal Studio Store at the theme park's entrance. Although they are not for sale, they are an amusing display.
Holidayz in Hell, The Last of Us, Monstruos: The Monsters of Latin America, The Exorcist: Believer, Terror Tram… The Exterminatorz, and Universal Monsters: Unmasked round out the Halloween Horror Night merchandise lineup. Oddly enough, there is no sign of Evil Dead Rise as it has a maze in their year's event and a theatrical release earlier this year. More fun and cute designs are included. Pop versions of the classic Universal Monsters and Halloween-themed Minions appeal to a more wholesome audience.
Last but not least, an original fan-favorite Universal Halloween character named Little Boo gets a star-studded showcase as well.
We couldn't possibly show everything that is available for purchase in one post. You'll just have to go down to Universal Studios Hollywood yourself to check out more. The Universal Studio Store and Animation Studio Store in the Upper Lot are covered—as well as the Jurassic Outfitters in the Lower Lot of the theme park. Universal CityWalk has Halloween products on either end of the entertainment center. Also, be on the lookout for a Hello Kitty-inspired mash-up with Chucky!