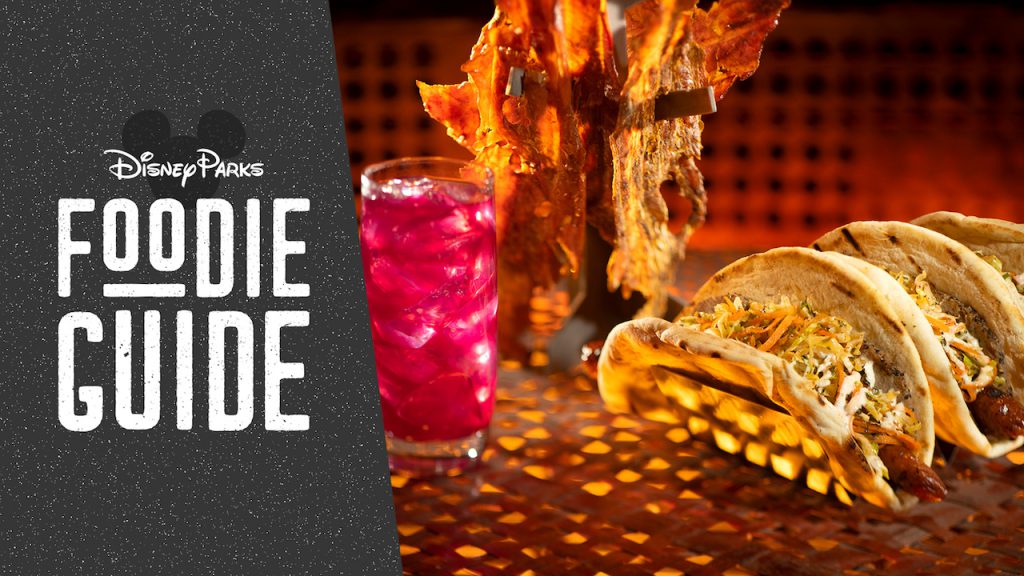 This post contains affiliate links and our team will be compensated if you make a purchase after clicking on the links.

Star Wars: Galaxy's Edge opens on May 31st and is about to take Star Wars fans on an unforgettable journey across the stars and to help prepare you for that epic moment, Disney Parks Blog has revealed a full list of soon to be foodie favorites coming to the new land this summer through this handy intergalactic food guide!
Throughout the world of Batuu, you'll find no greater assortment of delicious and tempting fare than Black Spire Outpost. The remote trading port is home to those who don't wish to be found, bringing in smugglers, traders, and rogues from across the galaxy.
For the first time, Disneyland Park guests will be able to enjoy alcoholic specialties and truly one of a kind concoctions. Food is plentiful, and whether you're looking for a quick bite, or you want to deal a hand of Sabacc and take a load off, there are plenty of surprises that await you!
Here's a full list of food options coming your way. This information was provided to us a recon post from Bothan spies stationed at the Disney Parks Blog!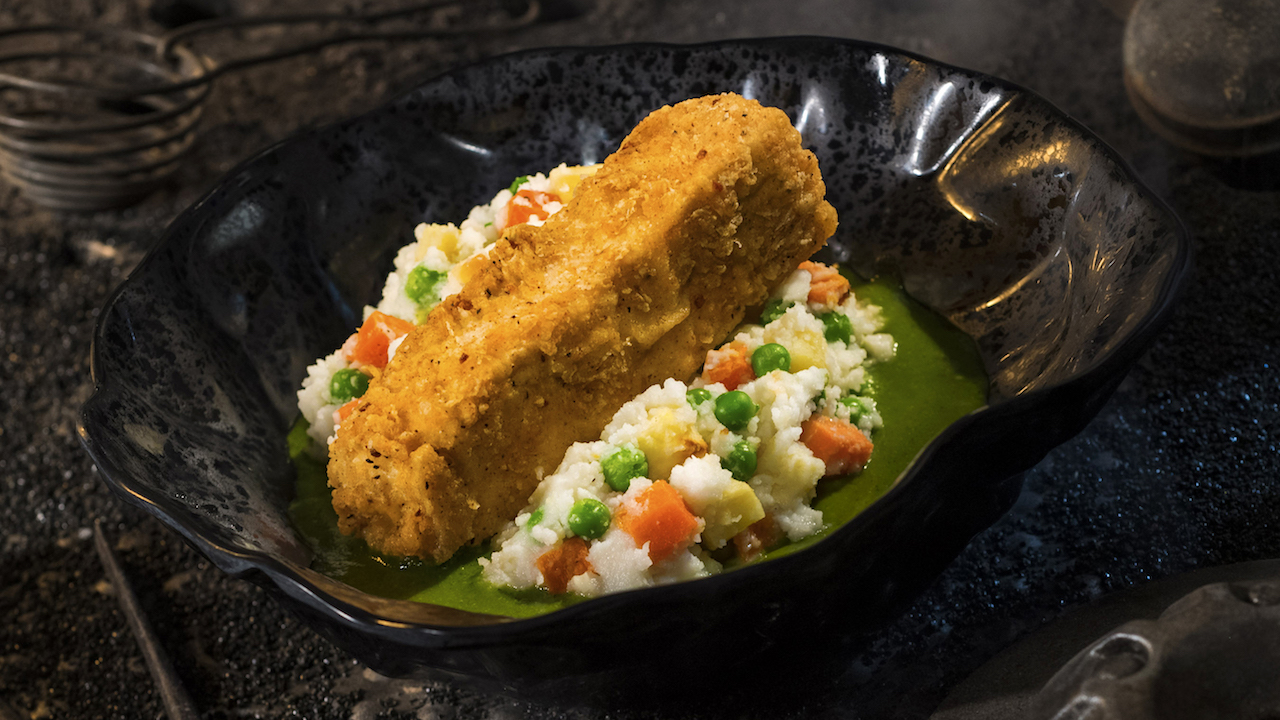 Docking Bay 7 Food and Cargo
A multi-purpose transport shuttle docked on top of a large hangar will beckon guests into Docking Bay 7 Food and Cargo, a designated location for traveling food shuttles. Docked in the hangar is Tugg's Grub, a "traveling diner for diners traveling" run by Chef Strono "Cookie" Tuggs. In high-demand for his cooking skills, he moves from site to site in a modified Sienar-Chall Utilipede Transport that can be transformed into a mobile kitchen and restaurant. His travels across the galaxy allow him to fill his pantry with exotic ingredients which he uses to make new and unusual dishes inspired by his time on Takodana.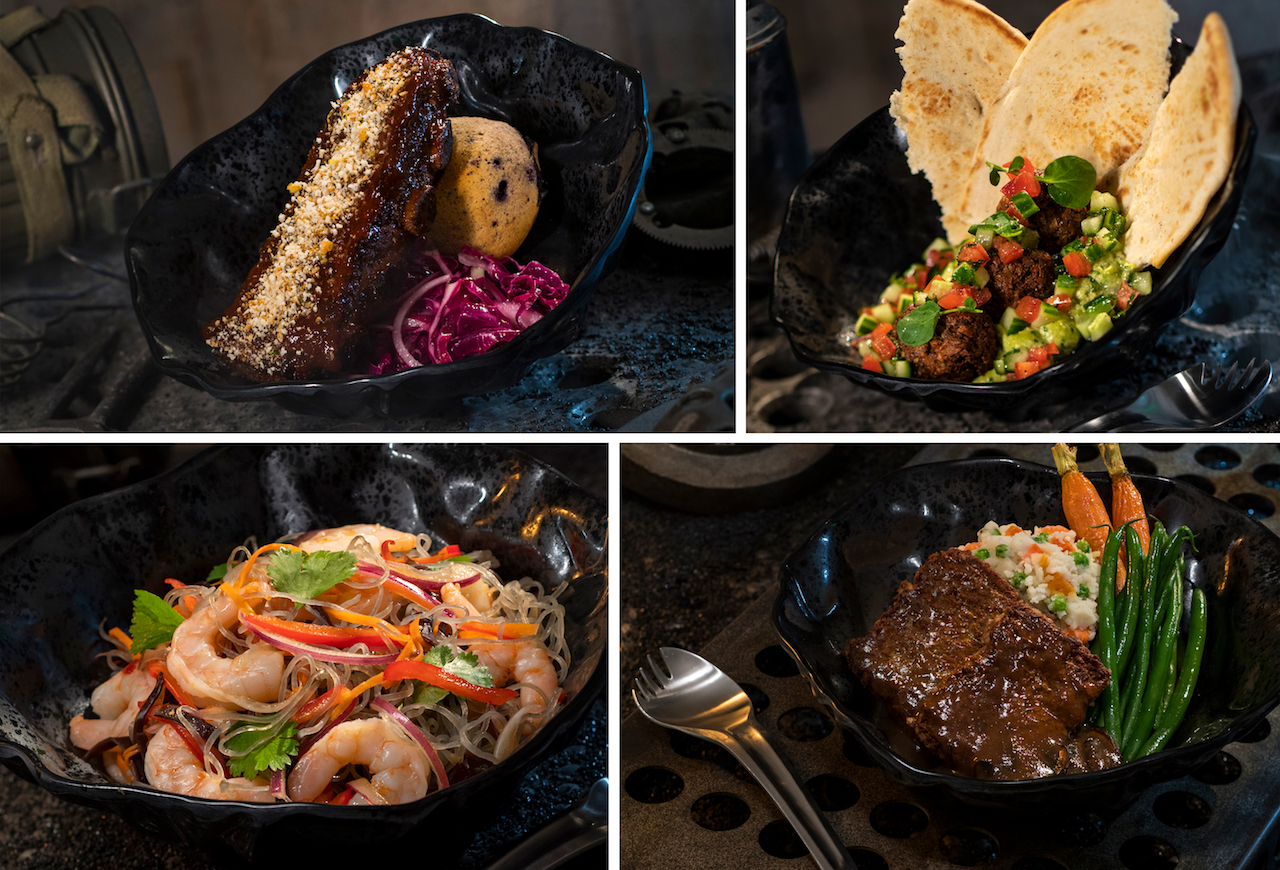 Entrées:
Smoked Kaadu Ribs – sticky pork ribs served with a blueberry corn muffin and cabbage slaw
Fried Endorian Tip-yip – crispy chicken served with roasted vegetable potato mash and herb gravy
Yobshrimp Noodle Salad – chilled shrimp served with marinated noodles and vegetables
Roasted Endorian Tip-yip Salad – marinated chicken served with mixed greens, roasted seasonal vegetables, quinoa, pumpkin seeds, and green curry ranch
Felucian Garden Spread (lunch only) – plant-based "kefta" served with herb hummus, tomato-cucumber relish, and pita
Braised Shaak Roast (dinner only) – beef pot roast served with cavatelli pasta, wilted kale, and mushrooms
Ithorian Garden Loaf (dinner only) – plant-based "meatloaf" served with roasted vegetable potato mash, seasonal vegetables, and mushroom sauce
Desserts:
Oi-oi Puff – raspberry cream puff with passion fruit mousse
Batuu-bon – chocolate cake with white chocolate mousse and coffee custard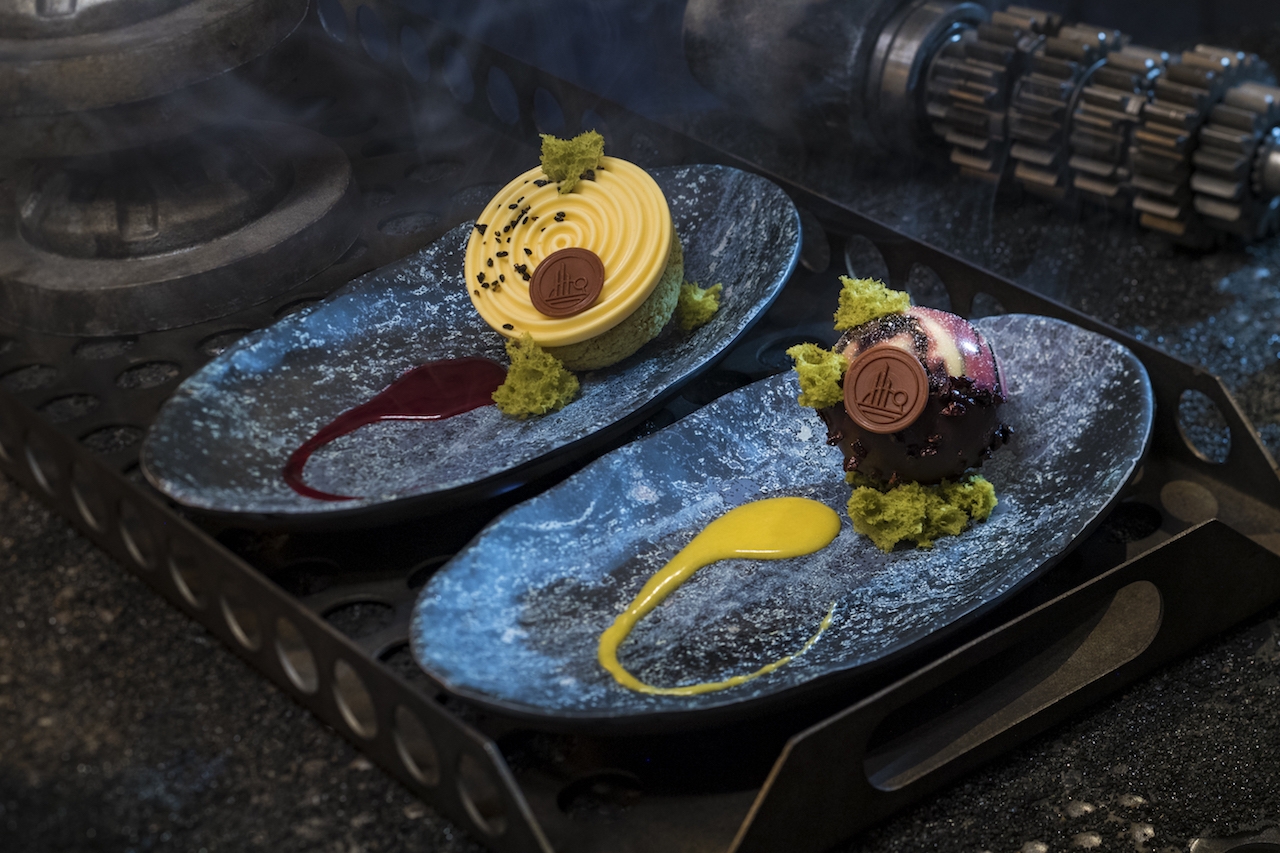 Kids' Meals:
All Meals include choice of Small Lowfat Milk or Small Dasani Water
Yobshrimp Noodle Salad (Disney Check) – chilled shrimp served with noodles, vegetables and sweet orange dressing
A Taste of Takodana (Disney Check) – black bean hummus served with edible soil with nuts, chilled dipping vegetables, and multi-grain crisps
Fried Endorian Tip-yip – crispy chicken served with macaroni & cheese and seasonal vegetables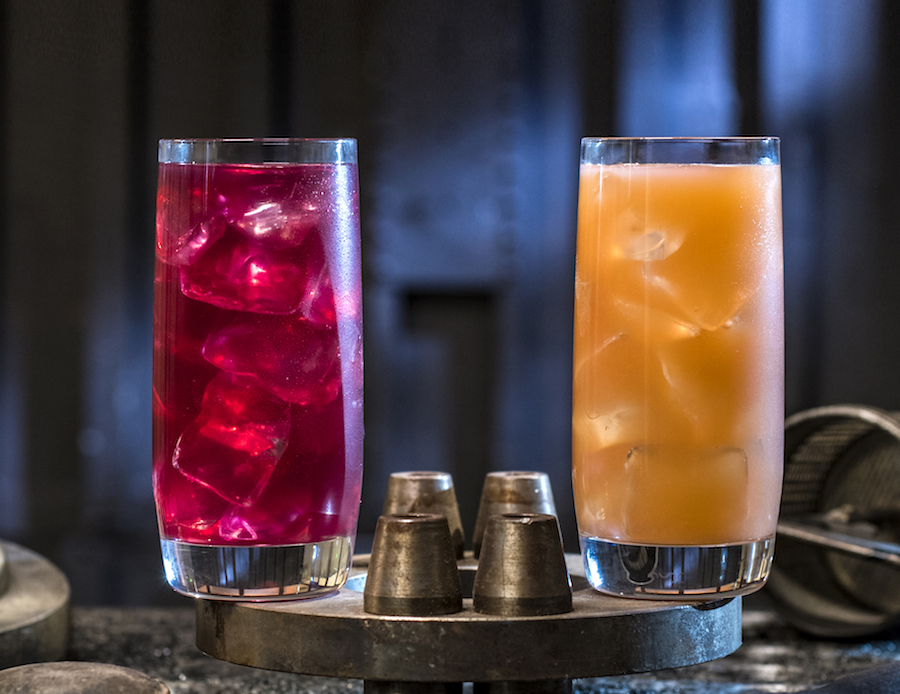 Specialty Beverages without Alcohol:
Moof Juice – Simply Fruit Punch and Simply Orange with chipotle-pineapple
Phattro – Gold Peak Unsweetened Tea, Odwalla Lemonade, and desert pear
Batuubucha Tea – Suja Pineapple Passionfruit Kombucha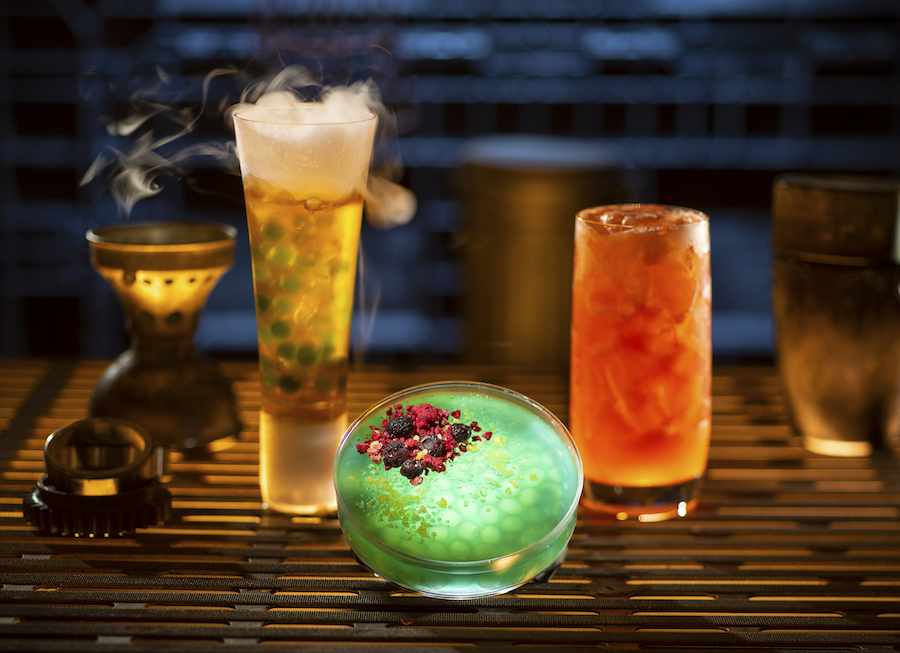 Oga's Cantina
Run by the boss of the Black Spire Outpost underworld, Oga Garra, Oga's Cantina is an establishment that attracts some of the most interesting and disreputable characters in the galaxy. Very little is known about Oga herself. She's not usually at the Cantina, preferring to collect payments remotely, and most of the locals have never laid eyes on her before. Her patrons come from across the galaxy to sample the famous concoctions offered here. These beverages are created with unique ingredients using "otherworldly" methods. In addition, Oga regularly procures unique shipments of beers, cider, and wines. While partaking in these thirst-quenching concoctions, guests can enjoy the musical stylings of DJ R-3X (also known as REX), the former Starspeeder 3000 pilot droid we first met in Star Tours. He's reinvented himself as the cantina's resident DJ and is quirky and talkative as ever, just trying to do his best on the job.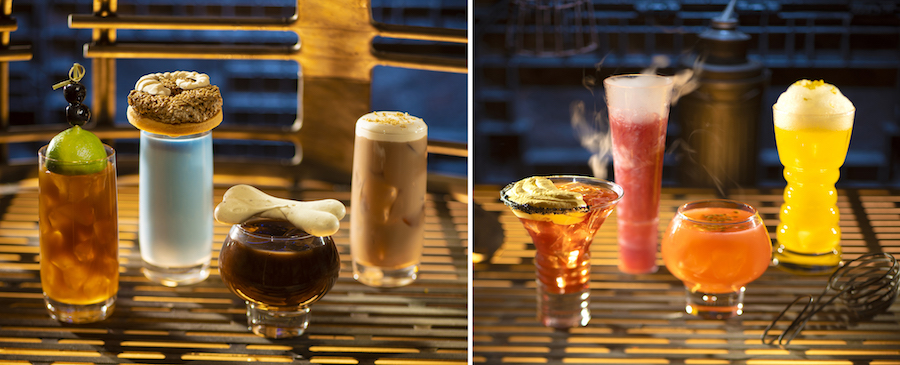 Concoctions with Alcohol
Featuring a wide range of classic and unique spirits found throughout the galaxy with a mixture of tastes and flavors to liven your taste buds.
Morning Specialties
Spiran Caf – Peru Alto Mayo Organic Joffrey's Coffee, orange marmalade, rum, vanilla whipped cream, and citrus zest
Bloody Rancor – vodka, chile liqueur, spicy Bloody Mary mix, and rancor bone
Afternoon and Evening Specialties
Fuzzy Tauntaun – peach vodka, peach schnapps, orange juice with tangerine, pure cane sugar, and "buzzz" foam
Jedi Mind Trick – grapefruit and rose vodka, falernum, blue curaçao, white grape juice, lime juice, and grapefruit bitters
The Outer Rim – silver tequila, açaí liqueur, lime juice, pure cane sugar, black salt, and exotic fruit purée
T-16 Skyhopper – vodka, melon liqueur, kiwi, and half & half
Dagobah Slug Slinger – reposado tequila, blue curaçao, citrus juices, ginger, herbs, and bitters
Jet Juice – bourbon, chile liqueur, açaí liqueur, white grape juice, and lemon juice
Yub Nub – pineapple rum, spiced rum, citrus juices, and passion fruit
Bespin Fizz – rum, yuzu purée, pomegranate juice, white cranberry juice, and cloud swirl
Concoctions without Alcohol
Showcasing a combination of beverages found throughout the galaxy which yield vibrant colors along with sweet, tangy, or savory taste and fruity or spicy flavors.
Morning Specialties:
Black Spire Brew – Cold Brew Joffrey's Coffee, honey, falernum, passion fruit, and citrus
Moogan Tea – Gold Peak Unsweetened Tea, chocolate milk, vanilla, and cinnamon
Tarine Tea – Gold Peak Unsweetened Tea, peach, huckleberry, and mint
Blue Bantha – Blue Milk served chilled with bantha-inspired vanilla-butter sugar cookie
Afternoon and Evening Specialties:
Cliff Dweller – citrus juices, coconut, hibiscus-grenadine, and Seagram's Ginger Ale
Hyperdrive (Punch It!) – Powerade Mountain Berry Blast, white cranberry juice, black cherry purée, and Sprite
Jabba Juice – Simply Orange with pineapple, kiwi, cantaloupe, and blueberry popping pearls
Blue Bantha – Blue Milk served chilled with bantha-inspired vanilla-butter sugar cookie
Blurrgfire – lemonade, pomegranate juice, and habanero-lime
Carbon Freeze – Powerade Lemon Lime, wild strawberry, blueberry, and green apple popping pears
Provision
Oga's Obsession – lemonade, cotton candy flavor, and blueberry popping pearls with a bursting dried fruit mixture
Beers on Tap
Gold Squadron Lager
White Wampa Ale
Gamorrean Ale
Bad Motivator IPA
Cider on Tap
Wine on Tap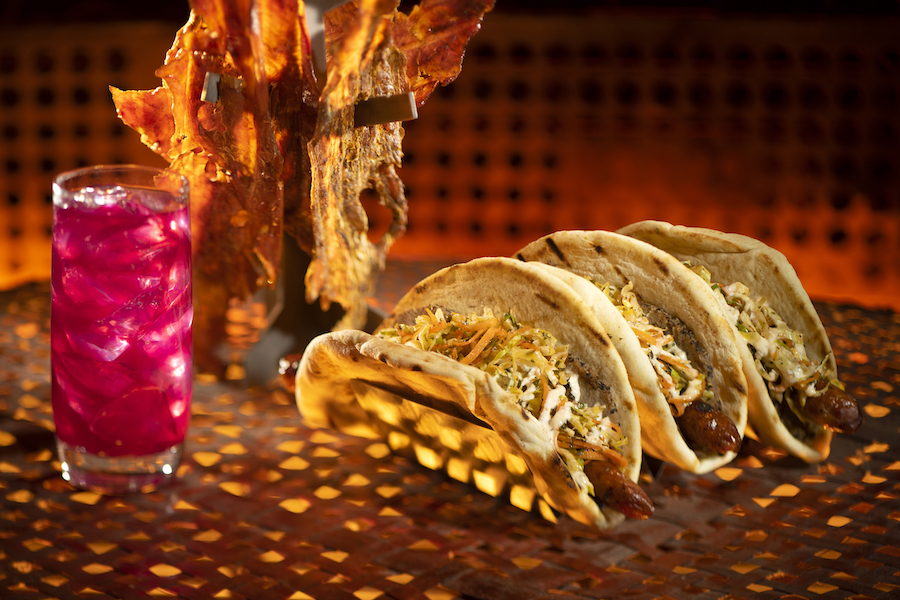 Black Spire Outpost Market
Ronto Roasters sits as the centerpiece of the Black Spire Outpost Marketplace, drawing in passersby with a large podracing engine that's firing up a barbecue pit. Hungry customers who queue up to order will encounter a former settler droid, 8D-JB, carefully turning the spit of meats. Elsewhere in the marketplace is Kat Saka's Kettle, which offers Outpost Mix (a unique popcorn snack with a colorful blend of sweet and spicy flavors), and a Milk Stand serving up two local favorites: Blue Milk and Green Milk served as a frozen beverage.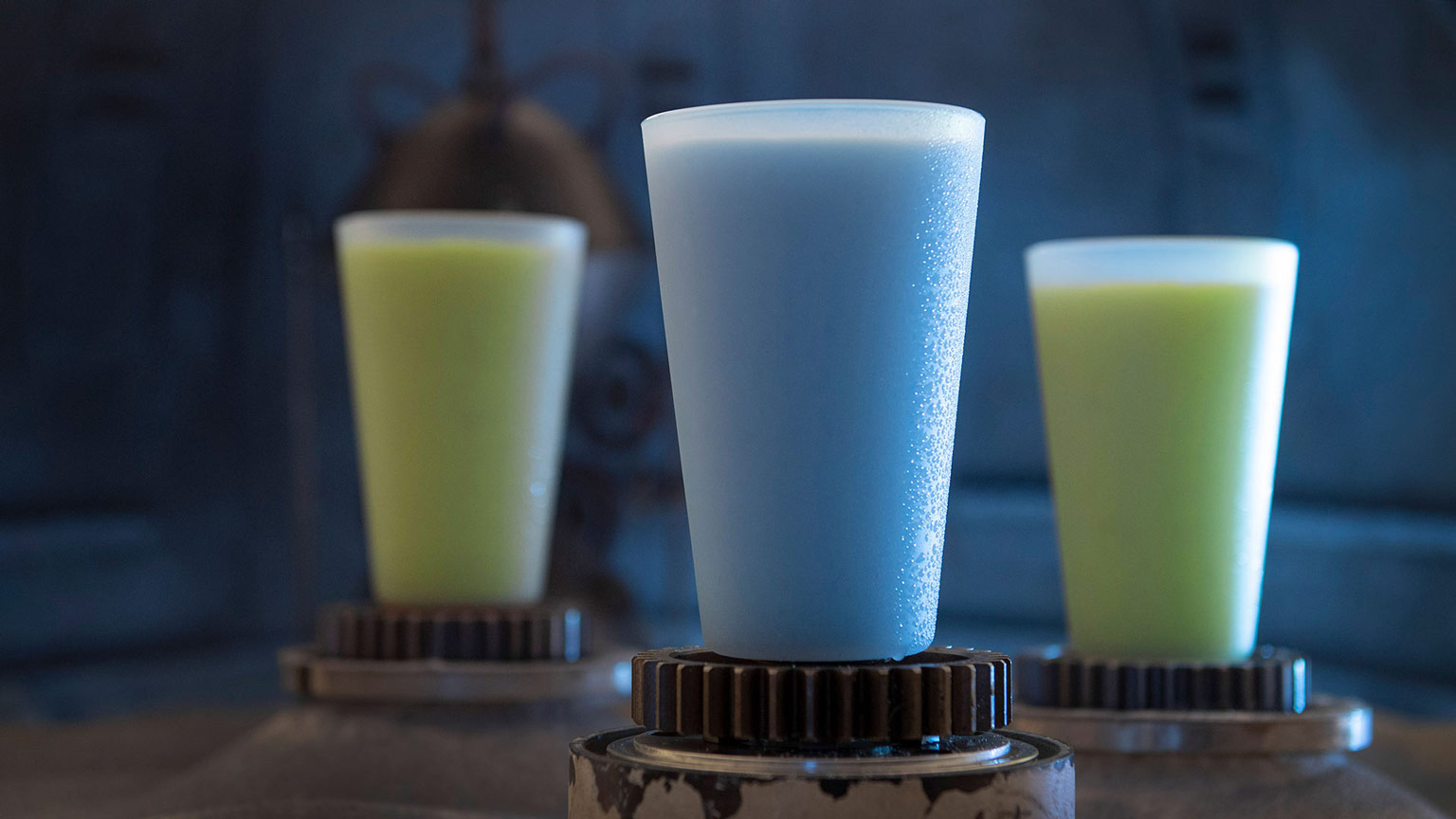 Ronto Roasters Menu:
Food
Ronto Wrap – roasted pork and grilled sausage with peppercorn sauce and tangy slaw wrapped in pita
Nuna Turkey Jerky – choice of sweet or spicy
Specialty Beverages
Tatooine Sunset – Gold Peak Unsweetened Tea, Odwalla Lemonade, melon, and blueberry
Sour Sarlacc – Minute Maid Limeade, raspberry, and spicy mango
Meiloorun Juice – pineapple, Simply Lemonade with blueberry, white cranberry juice, lemon juice, and desert pear
Milk Stand Menu:
Serving a frozen plant-based blend of coconut and rice milks
Blue Milk
Green Milk
Bubo Wamba Family Farms Novelty Drink Vessel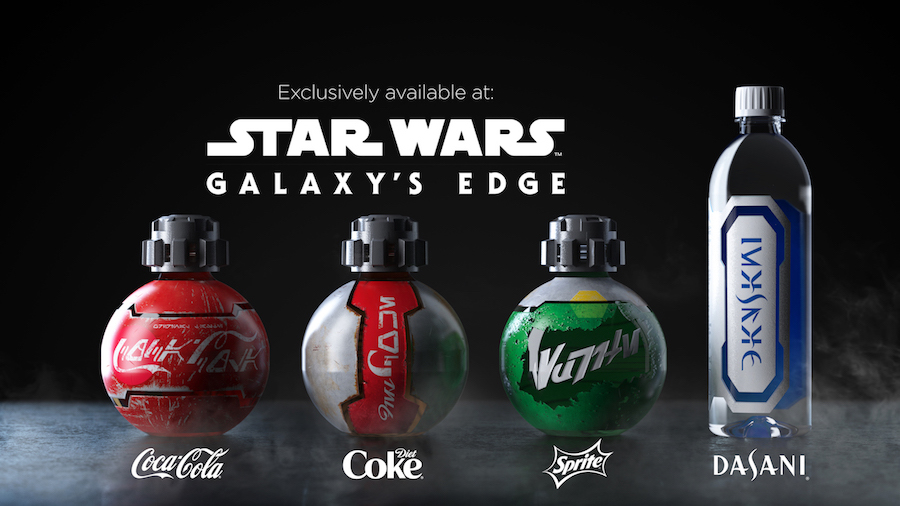 Kat Saka's Kettle Menu:
Outpost Popcorn Mix – colorful blend of sweet and spicy flavors, popped in coconut oil
MSE-6 Series Repair Droid Souvenir Popcorn Vessel
Specialty Bottled Beverages – Coca-Cola, Diet Coke, Sprite, and Dasani
Star Wars: Galaxy's Edge debuts on May 31st at the Disneyland Resort, while Walt Disney World visitors will get their first chance to visit on August 29nd. Meal periods and menu items will vary at each resort, so make sure to do some recon prior to boarding your next flight to Batuu.
Disneyland Resort guests will also get the opportunity to make mobile orders through the Disneyland app for Ronto Rosters, Milk Stand and Docking Bay 7 Food and Cargo (menu items are subject to availability).
If that doesn't get you excited enough, make sure to check out Disney's latest 360 tour of the new attraction, Millennium Falcon: Smuggler's Run. May the Force be with you!