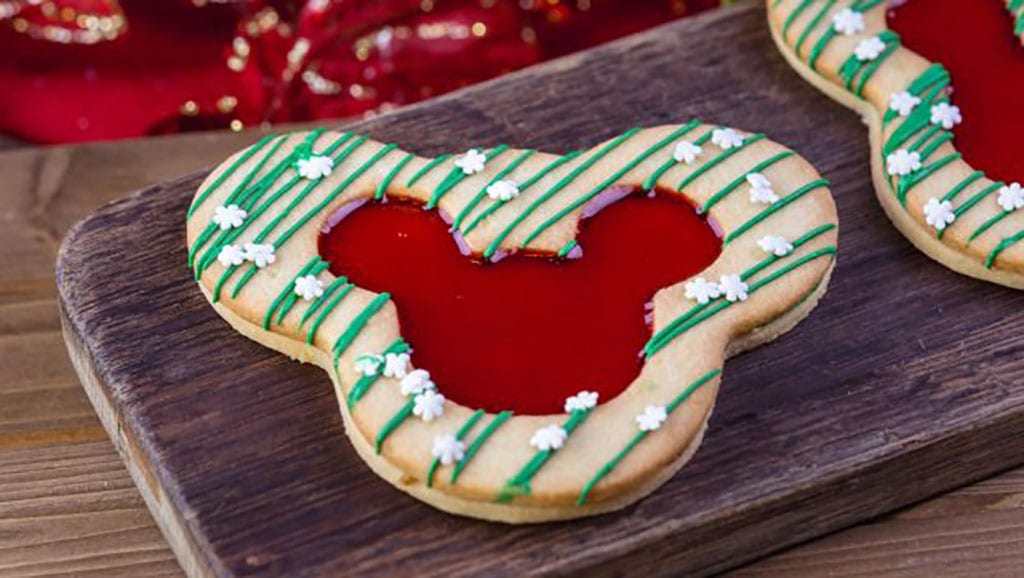 This post contains affiliate links and our team will be compensated if you make a purchase after clicking on the links.

It's the most magical time of the year at the Disneyland Resort, and in a few short days, there will be snow, colorful decorations, holiday entertainment, and food beyond the eye can see. There will be plenty of delicious treats to try, including a hearty collection of churros, seasonal drinks, and much more. You can also see what's coming to this year's Festival of Holidays by clicking here. Here's a quick look at some of the delicious food offerings coming your way for Disneyland's 2018 Holiday Season!
Disneyland Park
Churros near Buzz Lightyear Astro Blasters: Sour Apple Churro with an option to add side caramel sauce
Churros near Big Thunder Mountain Railroad: Churro with crushed pretzels and peppermint
Churros near Sleeping Beauty Castle: Gingerbread Churro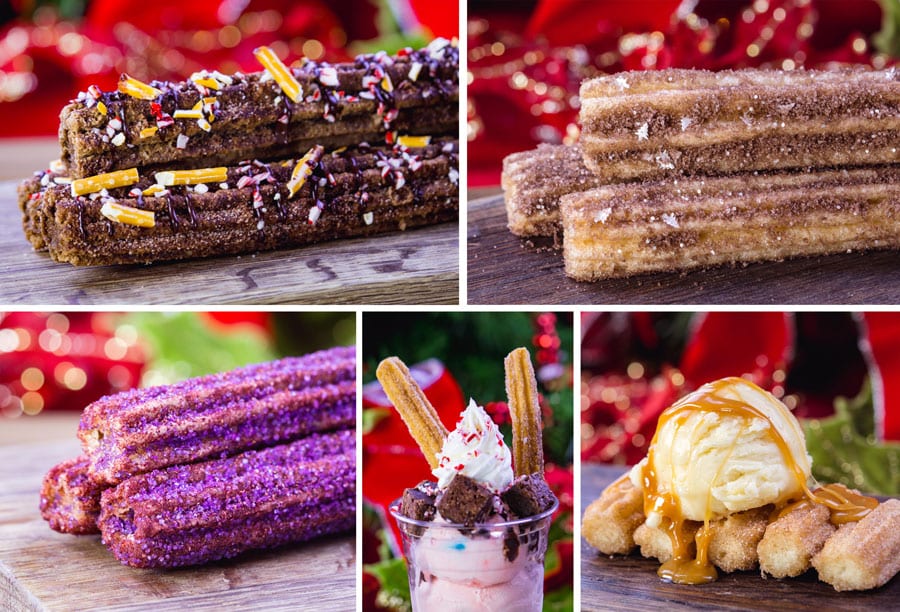 Churros near Haunted Mansion: Sugarplum Candy Churro
The Golden Horseshoe: Churro Sundae: Peppermint ice cream and a cajeta-filled churro garnished with chocolate brownie crumbles, chocolate sauce, and whipped cream
Hungry Bear Restaurant: Churro Bites with eggnog gelato and caramel sauce
Refreshment Corner
Philly Cheese Steak Hot Dog: Premium hot dog with sliced roast beef, peppers, onions, and cheese sauce
Jolly Holiday Bakery Cafe
Santa Hat Macaron with mint white filling and rich chocolate ganache
Caramel Apple Muffin with streusel
Eggnog Latte Cheesecake finished with white chocolate mousse "foam" and a sprinkling of nutmeg
Holiday Vanilla Bean Cupcake filled with red and green chocolate candy pieces and topped with green and white swirled white chocolate mousse and round chocolate swirl candy pieces
Holiday Brownie topped with white chocolate mousse, sprinkles, chocolate presents, and a Christmas tree Gingerbread Cookie
Carnation Café
Roast Beef TV Dinner: Roast beef topped with roasted shallot and sun-dried cherry demi sauce, mashed potatoes, haricot verts, and carrots and served with chocolate croissant bread pudding and crème anglaise
Gibson Girl Ice Cream Parlor
Peppermint Holiday Sundae with peppermint ice cream, chocolate sauce, and crushed peppermint
Market House
Holiday Strawberry Lizner Cookie
Snowman Shortbread Cookie
Gingerbread Cookie
Plaza Inn
Chocolate Mint Yule Log: Chocolate sponge surrounded by mint chip filling and finished with buttercream, white chocolate curls, and white chocolate crispy pearls
Holiday Bundt Cake
Coconut Cream Pie: 5" pie shell filled with coconut pastry cream and topped with coconut whipped cream and red and green-colored coconut
Red Rose Taverne
Snowman Pancake with Applewood-smoked bacon
Snowman Shortbread Cookie
Holiday Pastry Wreath: Pate choux dough filled with cranberry-raspberry compote with orange and white chocolate mousse and finished with green chocolate, silver and gold edible glitter, yellow and blue crispy pearls, a yellow chocolate bow, and a red rose
Gingerbread Cookie
Rancho del Zocalo Restaurante
Chile Relleno: Red and green sauce topped with queso fresco and crema and served with rice, ranchero beans, and pickled vegetables
Dessert Nachos: Cinnamon crisps topped with apple filling, vanilla sauce, cajeta caramel, and whipped cream
Frozen Abuelita Hot Chocolate: Frozen Mexican hot chocolate with chocolate sauce topped with peppermint whipped cream and crushed candy canes
Sopapilla Cheesecake: Cheesecake filling layered between croissant dough baked with melted butter and cinnamon sugar and topped with sugar and whipped cream
Galactic Grill
S'mores Parfait: Layers of chocolate pudding, chocolate cake, marshmallow filling, crushed graham cracker, and ganache topped with chocolate chips and a toasted marshmallow
Alien Pizza Planet
Space Dip Pizza with spinach and artichoke dip, chicken, capicola, and assorted cheeses
Green Alien Holiday Macaron
S'mores Parfait: Layers of chocolate pudding, chocolate cake, marshmallow filling, crushed graham cracker, and ganache topped with chocolate chips and a toasted marshmallow
Bengal Barbecue
Lamb Kofta: Aromatic lamb with tzatziki sauce, spinach, and pickled onions on grilled pita bread
French Market
Dessert Trio with a Jack Skellington Chocolate Cupcake, a Mini Coffee Éclair, and a Sugar Pie
Wreath Bundt Cake: Cinnamon and candied pecan bundt cake with a crème brûlée center topped with green icing, red chocolate pearls, and red mousse
Mint Julep Bar
Royal Street Veranda
Cinnamon Spiced Fritters with eggnog dipping sauce
Harbour Galley
Traditional-Style Pozole: Slow-roasted tomatillos, hominy, and serrano chiles served with limes, onions, radishes, and shredded cabbage
Blue Bayou
Gingerbread Crème Brûlée with Chantilly cream and a mini gingerbread chocolate man
Café Orléans
Santa's Lumps of Coal Beignets: Chocolate-hazelnut beignets tossed in peppermint mocha sugar and topped with peppermint ice cream
Beef and Grits: Braised beef served over cheesy grits with a cabernet sauce
Outdoor Vending Carts
Apple Cotton Candy
Cinnamon Caramel Corn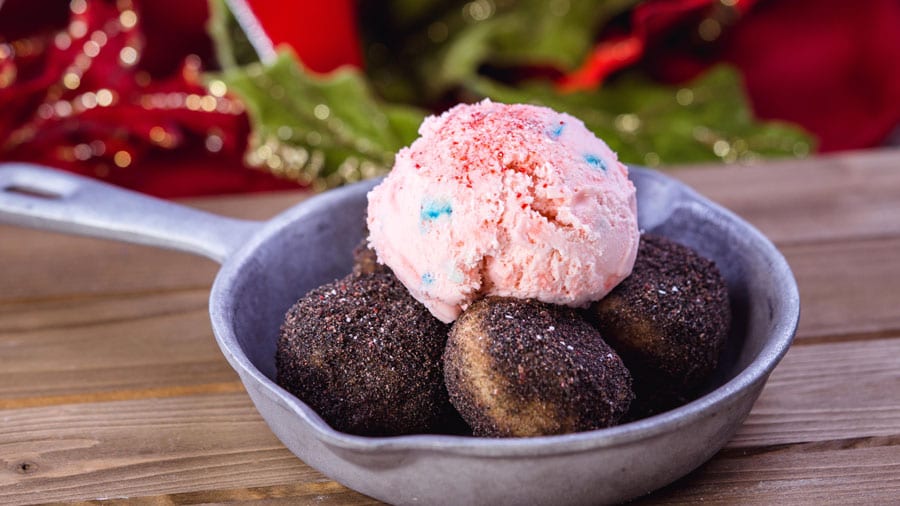 Disney California Adventure Park
Churros near Redwood Creek Challenge Trail: Peppermint Churro with crushed candy canes and chocolate and vanilla icing
Cozy Cone Motel: Gingersnap Churro with cream cheese dipping sauce
Cozy Cone Motel: Pumpkin Spice Churro with cream cheese dipping sauce
Churros near Goofy's Sky School: Holiday Churro with red and green sugar

Fiddler, Fifer & Practical Cafe
Snowman Shortbread Cookie
Holiday Brownie
Gingerbread Man Cookie
Clarabelle's Hand-Scooped Ice Cream
Candy Cane Premium Cone
Red and Green Sprinkles Premium Cone
Chocolate Peppermint Ice Cream Cone with scoops of chocolate and peppermint ice cream and chocolate-dipped cookies in a candy cane premium cone
Chocolate Peppermint Ice Cream Sundae with scoops of chocolate and peppermint ice cream, whipped cream, chocolate-dipped cookies, and crushed peppermint in a candy cane premium waffle cup
Chocolate Peppermint Bar with your choice of ice cream bar dipped in chocolate, drizzled in peppermint icing, and topped with crushed peppermint
Mortimer's Market
Christmas Tree Pull-Apart Sourdough
Snowman-shaped Sourdough
Carthay Circle Restaurant and Lounge
Holiday Cocktail with Bombay Sapphire, St. Germaine, Lillet Blanc, lemon juice, cherry bitters, and Crème de Yvette garnished with a lavender sprig
Award Wieners
Stocking Stuffer Funnel Cake Fries: Churro funnel fries topped with peppermint icing, crushed chocolate cream-filled cookies, candy-coated chocolates, crushed peppermint, and whipped cream
Pumpkin Spice Funnel Cake Fries (only available through Nov. 23)
Gingerbread Funnel Cake Fries: Churro funnel fries topped with crumbled gingerbread, caramel, icing, and whipped cream (available starting Nov. 23)
Schmoozies!
Peppermint Affogato: Espresso over peppermint ice cream
Peppermint Crunch Shake: Peppermint ice cream blended with whole milk and topped with chocolate cream-filled cookie crumbles, crushed peppermint, and peppermint whipped cream
Minnie Wreath Donut filled with chocolate peppermint ganache
Gingerbread Cookie Ice Cream Sandwich with a scoop of brown sugar cinnamon ice cream rolled with crushed gingersnap cookies
Hollywood Lounge
Anchor 2018 Christmas Ale
Modelo Especial
Stone Delicious IPA
Anaheim Brewery Winter Wheat
Legends Cookie Galore Milk Stout
Wonderland Hot Chocolate: Hot chocolate, Schnapps, crushed peppermint, and whipped cream
Winter Hot Chocolate: Hot chocolate, whipped cream, and crushed peppermint (non-alcoholic)
Fireside Cider: Spiced rum hot apple cider
Holiday Cider: Hot apple cider (non-alcoholic)
Feliz Churro Cocktail: Frozen drink with churro-flavored alcohol and horchata
Mistletoe Mule: Cranberry-orange lemonade, ginger ale, and vodka
Fairfax Fruit Market
Studio Catering Co.
Holiday Dessert Nachos: Cinnamon-sugar buñuelos chips with chocolate and caramel sauces, whipped cream, and holiday sprinkles
Plant-etarium Street Tacos with Brussels sprouts, salsa verde, pickled red onions, and apple and pomegranate slaw
Holiday Frozen Horchata
Flo's V8 Cafe
Blue Plate Special: Open-Faced Turkey Sandwich: slow-cooked turkey breast piled high on white bread and served with roasted garlic mashed potatoes, seasonal vegetables, and gravy
4" Chocolate Peppermint Pie
Chocolate Peppermint Shake topped with whipped cream and crushed peppermint road gravel
Cozy Cone Motel
Crushed Peppermint Road Gravel Topping
Luigi's Chicken Pesto Cone: Creamy pesto Alfredo pasta with marinated chicken, balsamic reduction, bruschetta tomatoes, and Romano cheese
Santa Cone Hat Macaron with cookies and cream filling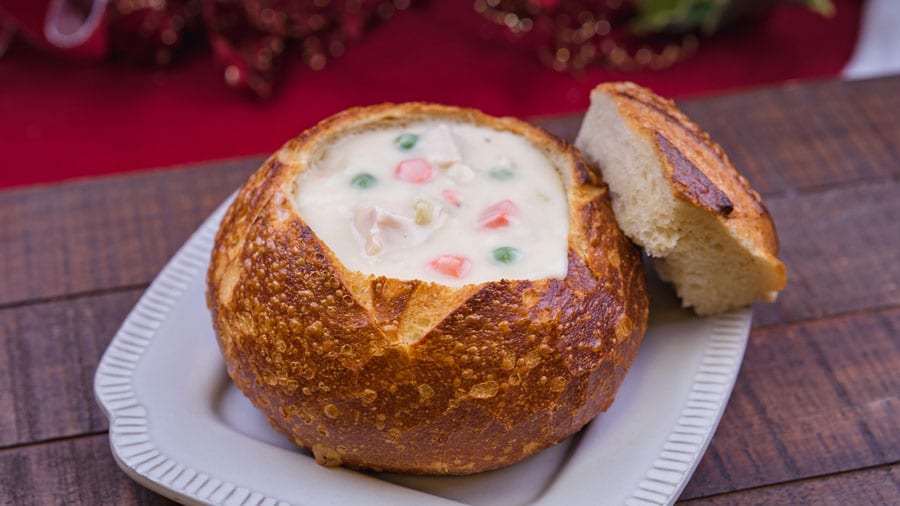 Pacific Wharf Café
Turkey Pot Pie Soup with oven roasted turkey breast, rich turkey gravy, peas, and carrots in a sourdough bread bowl
Candy Cane-shaped Sourdough Bread
Snowman-shaped Sourdough Bread
Gingerbread Man Cookie
Sugar Cookie with red and green sprinkles
Sierra Nevada Celebration IPA
Boudin Bread Cart
Candy Cane-shaped Sourdough
Christmas Tree Pull-Apart Sourdough
Snowman-shaped Sourdough
Gourmet Coffee
Peppermint Mocha
Snowman Shortbread Cookie
Gingerbread Man Cookie
Paradise Garden Grill
Burrito: Flour tortilla with black beans, Spanish rice, molcajete salsa, crema, and choice of meat served with tortilla chips and molcajete salsa
Vegan Chile Relleno: Roasted poblano stuffed with veggie stew, topped with roasted tomato sauce and tofu "cream," and served with Spanish rice and black beans
Torta al Pastor: Soft telera roll, chorizo beans, pork al pastor, cabbage, guacamole, and crema served with tortilla chips and molcajete salsa
Street-Style Tacos: Three corn tortilla tacos filled with carne asada, carnitas, and chicken with white onion and fresh cilantro served with Spanish rice and black beans topped with queso blanco
House-Made Pozole: Mild red chile and pork stew with hominy topped with shredded cabbage, onions, radish, lime, and oregano and served with tortilla chips
Buñuelos with Cajeta: Two golden fried flour tortillas dusted with cinnamon sugar and served with a side of cajeta
Red Sangria
Dos Equis Lager
Dos Equis Ambar
Boardwalk Pizza & Pasta
Holiday Dinner Pizza with roasted turkey, mashed potatoes, turkey gravy, bacon, vegetables, and cranberry sauce
Pumpkin Pie Cheesecake
Lamplight Lounge
Specialty Holiday Cocktail with aged tequila, mezcal, hibiscus, and lemon juice
Turkey Carnitas Poutine: Malted french fries topped with slow-cooked turkey carnitas, Yucatan-inspired gravy, cranberry-bacon habanero gelée, crumbled queso blanco, and green onions
Outdoor Vending Carts
Hot Chocolate Cotton Candy
Snowflake Cotton Candy
Street-style Elote
Disneyland Hotel
The Coffee House
Holiday Donut
Pumpkin Spice Latte
Eggnog Latte
Caramel Apple Muffin with streusel
Trader Sam's Enchanted Tiki Bar
Sam's Slay Ride: honey-flavored whiskey, orange and ginger liqueurs, Sam's Gorilla Grog, lemon juice, and cinnamon syrup garnished with a mint sprig and a cherry
Rum Around the Christmas Tree: spiced rum, lemon juice, simple syrup, apple juice, and ginger syrup garnished with an apple slice dusted with cinnamon
Under the Swizzletoe: chartreuse liqueur, pineapple juice, lime juice, and falernum syrup dusted with cinnamon and nutmeg and garnished with a mint sprig
Disney's Grand Californian Hotel & Spa
Hearthstone Lounge
Hot Chocolate with Rum
Hot Cider with Rum
Hot Chocolate with Peppermint Schnapps
Disney's Paradise Pier Hotel
Surfside Lounge
Pumpkin Spice Latte
Eggnog Latte
Peppermint Mocha
With so much to eat, make sure to make your holiday food checklist, check it twice, and have a wonderful time sampling all that's coming your way. Make sure to share your favorites with us via social media #SoCalThrillsTreats and have a magical time!
Source: Disney Parks Blog