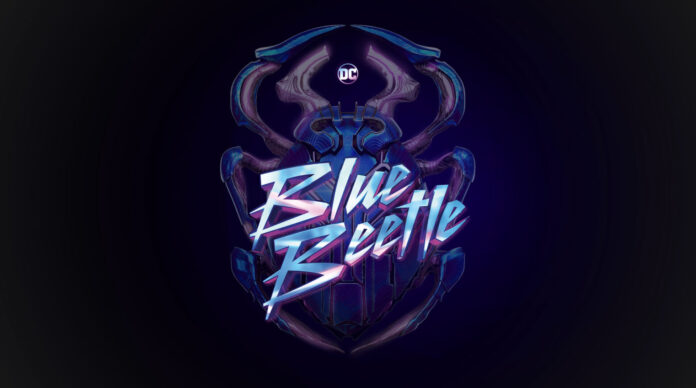 This post contains affiliate links and our team will be compensated if you make a purchase after clicking on the links.

What if the Scarab chose you to save the world? Warner Bros. Discovery Global Consumer Products (WBDGCP) and DC invite everyone into the world of comic book fan-favorite, Blue Beetle, with a new merchandise collection inspired by the upcoming action-adventure from Warner Bros. Pictures. In "Blue Beetle," recent college grad Jaime Reyes (Xolo Maridueña) returns home full of aspirations for his future, only to find that home is not quite as he left it.
As he searches to find his purpose in the world, fate intervenes when Jaime unexpectedly finds himself in possession of an ancient relic of alien biotechnology: the Scarab. When the Scarab suddenly chooses Jaime to be its symbiotic host, he is bestowed with an incredible suit of armor capable of extraordinary and unpredictable powers, forever changing his destiny as he becomes the DC Super Hero Blue Beetle. Fans will be able to make their own symbiotic connection with a wide range of "Blue Beetle" products from global partners like Funko, Spin Master, McFarlane Toys, and more. "Blue Beetle" zooms into North American theaters on August 18.
"Blue Beetle's first-ever feature film inspired our team to develop a varied, cross-category collection that brings the vibrant visuals, humor, action, and heart of the film into the lives of fans around the world," said Pam Lifford, President, of Warner Bros. Discovery Global Brands, Franchises, and Experiences. "This is an incredible opportunity for us to introduce the DC Super Hero to more fans and to extend the storytelling so they can bring Blue Beetle, and Jaime's family and story, to life for themselves."
From toys and collectibles to apparel and home goods, WBDGCP's "Blue Beetle" merchandise comes from premier licensees around the world and includes exclusives direct from Warner Bros. to fans through its DC Shop. Here are just some of the not-to-miss "Blue Beetle" products for every member of la familia:
Toys & Collectibles:
Recreate heroic adventures with Spin Master's epic 12-Inch Blue Beetle Action Figures ($9.99) featuring detailed sculpts of Blue Beetle in Hero-Mode and Carapax in his Red Suit. Bring the iconic DC Super Hero to life with the Battle-Mode Blue Beetle Figure ($19.99) when you activate lights, battle sounds, and iconic phrases with the press of a button and swap between three interchangeable blaster accessories for action-packed play.
The famous collectible manufacturer McFarlane Toys has created a stunning line of action figures and statues based on "Blue Beetle." Witness Jaime's journey as he fulfills his destiny with the meticulously crafted 12" scale statue adorned in the same vibrant suit from the film. Fans can expand their collection with the incredibly detailed Blue Beetle in Battle Mode 7″ scale action figure designed with ultra-articulation ($19.99) and a Blue Beetle 7″ scale action figure with energy rings, energy sword, energy construct and base ($19.99), and don't miss out on McFarlane's Carapax Mega Figure that is able to unleash virtually indestructible weaponry at will ($39.99).
DC Direct, sold through DC Shop, offers fans a stunning realistic Blue Beetle 12" Resin Statue featuring high-end deco with sculpt details ($249.99).
Don't miss our fan-favorite Funko's captivating collection dedicated to "Blue Beetle." With Funko's iconic style, this lineup features new Pop! Figures showcasing Blue Beetle, Jaime Reyes, and Carapax ($12 each). Receiving a SODA makeover, the playful look of Blue Beetle, Jaime Reyes, and Nana are essential additions for collectors worldwide.
Bestow a Timeless Teddy from Build-A-Bear with the new Blue Beetle costume, giving him incredible powers, and the ability to fight crime in this bodysuit of armor. The blue bodysuit costume includes a plush antenna on the back and a mask complete with openings for the bear's ears. This classic collaboration channels the heroic and fearless spirit of Blue Beetle into this action-packed gift set available online and in stores at Build-A-Bear in August ($18-$40).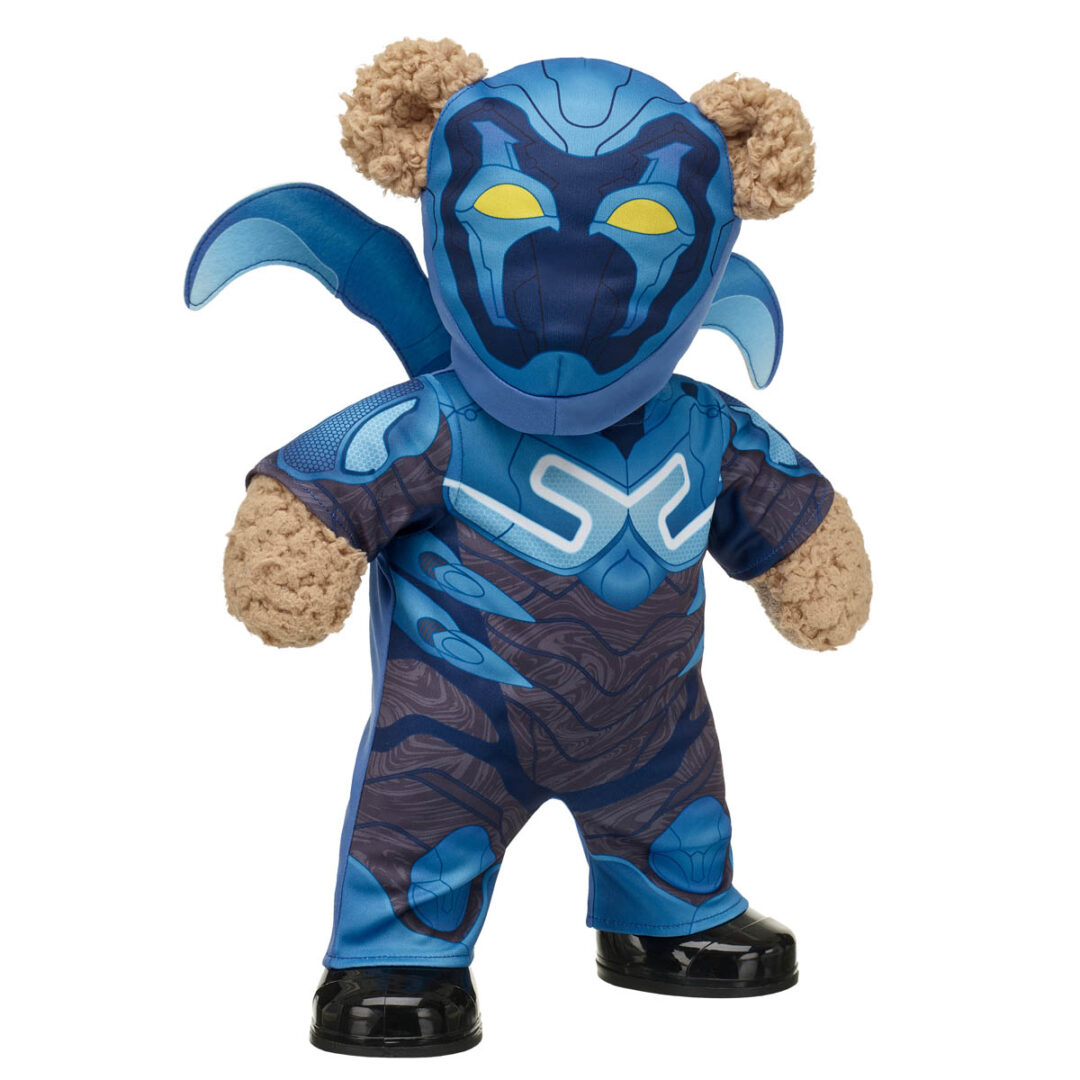 Other collectibles in development include the Prime 1 Studio Blue Beetle 1:3 Scale Statue.
Fashion, Footwear & Accessories:
Rubies, the world's largest designer, manufacturer, and distributor of Halloween merchandise, is proud to offer exclusive "Blue Beetle" Halloween costumes and accessories inspired by the upcoming WB summer action adventure. Blue Beetle costumes, masks and gloves are available in child and adult sizes at retailers nationwide and at Costumes.com. Exclusive versions of the child Blue Beetle costume will be also available in Walmart and Target this Halloween.
Fans can express their DC fandom with the Bioworld "Blue Beetle" collection with neon-colored socks, tees, and a Blue Beetle backpack with a neon reflective glow. Partners Trevco and Bentex will offer a range of apparel, including graphic t-shirts and children's sweatshirts and sweatpants; and from Komar, children's pajamas featuring the DC Super Hero are perfect for sleep or play.
Fans of all ages can tap into the Blue Beetle superpowers with Scarab-inspired sleepwear and underwear on sale at Walmart. Get excited about "Blue Beetle" with officially licensed shirts, hoodies, and more by Mad Engine Global, LLC — coming to Walmart, Target, Kohls, and Hot Topic.
For the fans looking for larger-than-life accessories that look like they're pulled right from the movie, the Scarab Magnetic Pin by Salesone pays tribute to the Blue Beetle's signature emblem ($60, available exclusively at GameStop).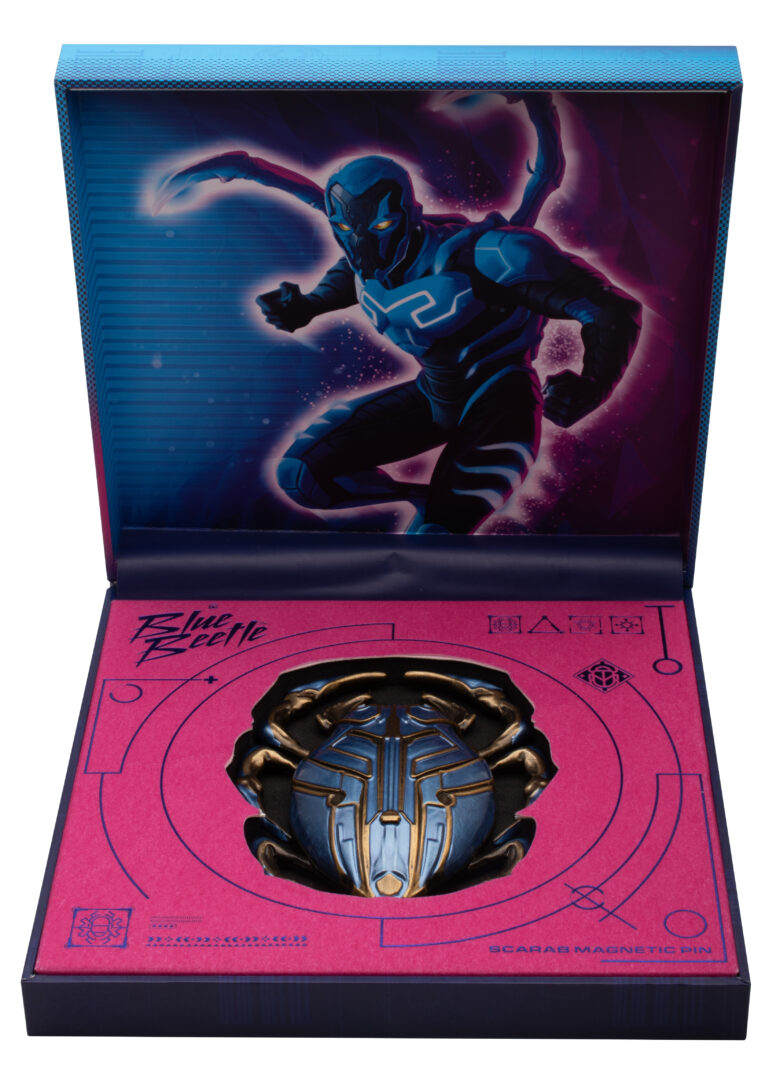 Home Goods:
Trevco's home collection includes a cozy blanket and coordinated drinkware decked out with "Blue Beetle" imagery ($10.99), while Trends International's premium posters and bookmark are available with a variety of framing and mounting options ($6.99-$20.99). Franco's movie-themed bedding collection including throws, blankets, pillows, a Pillow Buddy, sheets, and comforters makes a powerful statement in kids' rooms (prices range $15-$79). Trend Setters Ltd. is offering multiple versions of Blue Beetle home décor, mugs that reveal Blue Beetle images with heat, plus Blue Beetle mugs with striking neon pink and neon blue images ($22.29-$31.72).
Food:
The Blue Beetle: Horchata Flavored Coffee from family-owned company Comics on Coffee is a sweet blend infused with cinnamon, vanilla, and brown sugar ($14.99).
G FUEL Energy will be releasing a zero-sugar energy drink flavor inspired by "Blue Beetle," which will be available at GFUEL.com in a 40-serving powdered Energy Formula Tub as well as a limited-edition Collector's Box and Shaker Cup. Like all G FUEL Energy products, the company's "Blue Beetle" collab is formulated for Game-Changing Energy and Laser Focus and is packed with vitamins, antioxidants, and plant-based ingredients to help fans fuel their grind.
Movie Theaters:
Snap will be offering a Blue Beetle Plush, Blue Beetle Popcorn Container/Backpack, and a Blue Beetle Beverage Buddy in North American theaters.
DC Shop:
Warner Bros. Discovery's own DC Shop has all-new, exclusive apparel and home goods available now. The new offerings include the exclusive Blue Beetle Scarab New Era hat ($45) featuring raised and beveled shapes that give the Scarab dimension with an incredible metallic shine finish, and exclusive Blue Beetle tees ($25-$30). Plus an exclusive Morphing Mug and MightyPrint "Blue Beetle" Poster ($24.99 each). Also coming soon is an exclusive pin of the Scarab (Khaji-Da). The mystical Blue Beetle Scarab has chosen its new guardian!