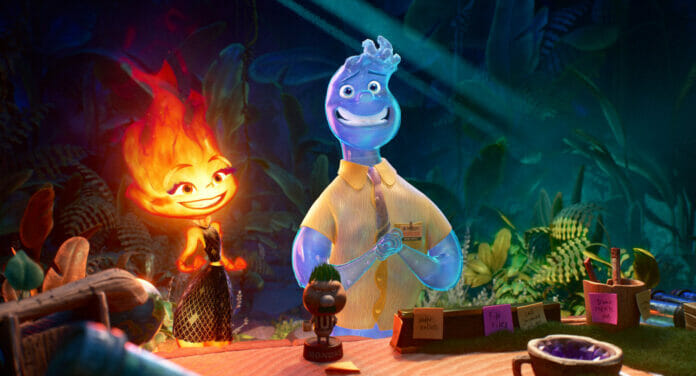 This post contains affiliate links and our team will be compensated if you make a purchase after clicking on the links.

Disney and Pixar's "Elemental" is an all-new, original feature film set in Element City, where Fire-, Water-, Earth- and Air residents live together. The story introduces Ember, a tough, quick-witted, and fiery young woman, whose friendship with a fun, sappy, go-with-the-flow guy named Wade challenges her beliefs about the world they live in and the person she wants to be.
Sohn says the story, which is very personal to him, started with a drawing of a Fire character and Water character interacting. He imagined an unexpected friendship between them—a relationship sure to trigger awkwardness, banter, and funny missteps. "I started layering in my relationship with my wife—I'm Korean and she's American, half Italian," Sohn says. "I hid the relationship from my parents at first because they—in an old-school way—wanted me to marry someone Korean. My grandmother's dying words was literally 'Marry Korean!'"
When director Peter Sohn set out to build a world where Fire-, Water-, Air- and Earth residents would live and interact, he knew it would be a bold undertaking. But he had no idea just how bold he was. "I did not know what I was getting into at all," the director laughs. "I knew that the characters would be complicated, but I guessed wrong which characters would be the most difficult. I knew there would be many obstacles, but I totally came into it with a hopeful naiveté and excitement."
"You know, we were so used to building toys or metal cars, and trying to create a character that was entirely an effect was all new for the studio.  And so, you know, we just had to bring a lot of construction workers [laugh] to build this road for us to even get to an image that would come alive and emote, and before we were even talking about moving it.  And, yeah, it was the conference of amazing artists, and I'm just so grateful for the amazing talent that everyone gave" continued Sohn.
Characters
EMBER LUMEN is a clever 20-something Fire woman with a great sense of humor who can be hot-headed at times. What she lacks in patience she more than makes up for in love for her family. As the only child of immigrant parents, Ember is keenly aware of how much they sacrificed to give her a better life.
Played by Leah Lewis who is known for her breakout performance in the Netflix feature film "The Half of It." Deadline praised the film's "exceptionally bright young cast led by the beguiling Leah Lewis," while Rolling Stone raved, "Lewis is an actress with the rare ability to locate the truth in every scene." Written and directed by Alice Wu, "The Half of It" launched globally on Netflix after winning the Founders Award for best U.S. narrative feature at the Tribeca Film Festival.
"I mean, just like Ember, I think, you know, she kind of mirrors a bit of a younger part of myself, too, one I think in the past was a bit more defensive.  And, you know, even though we kind of see her as really guarded, I think that she's just a bit fearful to kind of like, step out into the world and see what these other elements have to offer 'cause she's kind of only known one thing her life.  But she's beautiful.  You know, she's absolutely radiant.  And I think the way that she moves, too, is just so elegant and so flowy, despite her being fire, which is something that can be so explosive.  I mean, she has so much range."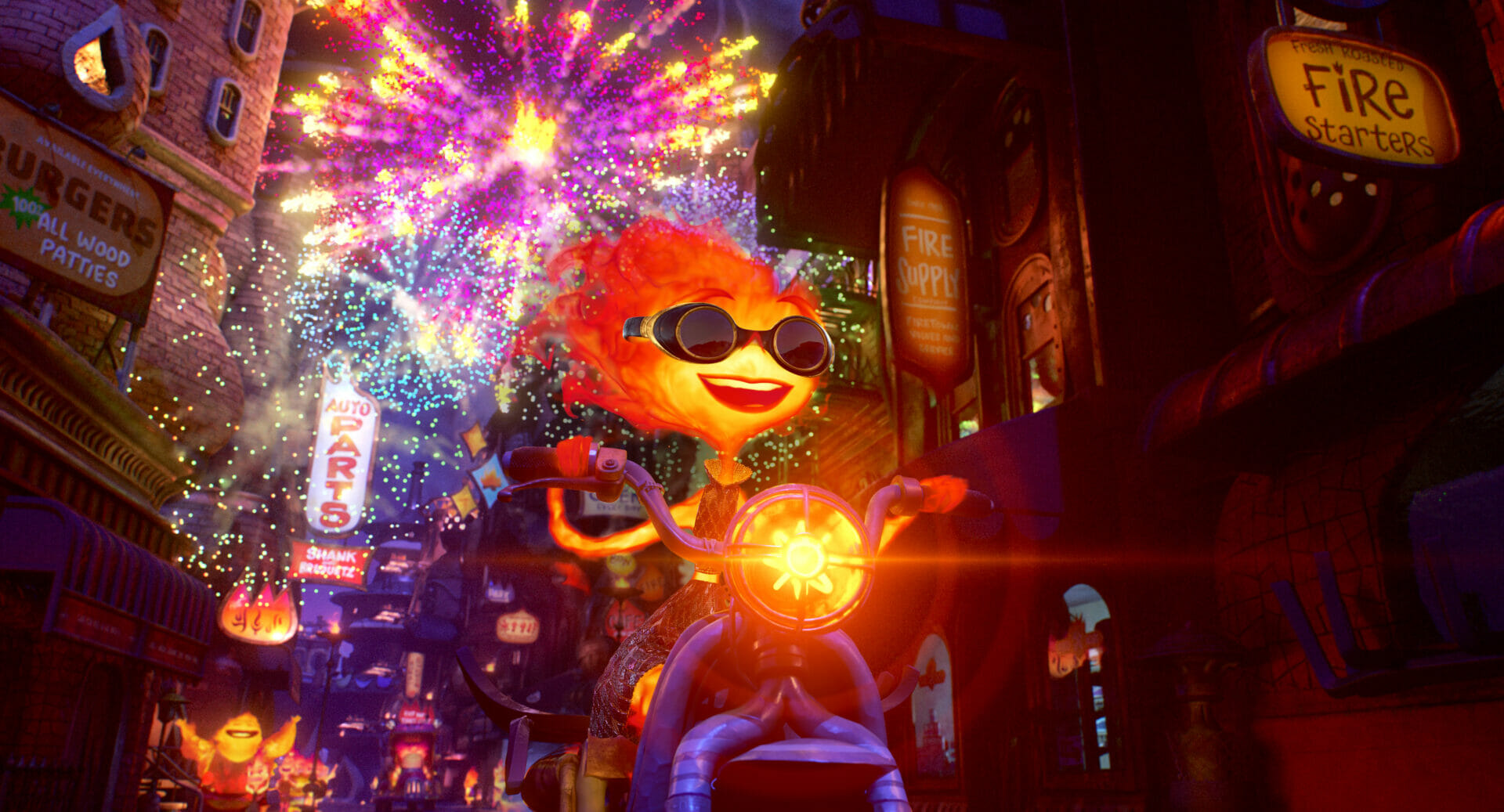 "But you know, she's so loyal to her family and the things that mean the most to her.  And I think that's like a really admirable quality that I also kind of follow suit with.  You know, the things that I really care about, I would go to the ends of the earth to fight for that as well.  And, you know, I think similarly with her having this intense passion that can kind of double as an explosion, has also happened in my life, too.  I've had like [laugh] a bit of an edgier side to myself, but I've actually, just like Ember, been able to kind of turn that into something good, but through the help of people in my life, like my family and my friends and the many different Wades that have come into my life and helped me actually see the light inside of me."
WADE RIPPLE is not afraid to show his emotions—in fact, his emotions are hard to miss. An empathetic, 20-something Water guy, Wade is observant, a good listener and literally bubbling with compassion for others. He is close with his family—a lively and strangely weepy bunch who seek out opportunities to share their feelings. "
MAMOUDOU ATHIE (voice of Wade) is an Emmy®-nominated actor based in Los Angeles, Calif. He recently wrapped two prestige projects debuting in the near future: Maggie Betts' "The Burial" for Amazon Studios, alongside Jamie Foxx and Tommy Lee Jones, and Yorgos Lanthimos's film "And" for Searchlight, alongside Emma Stone, Jesse Plemons, Willem Dafoe, Margaret Qualley, Hong Chau and Joe Alwyn.
"Wade is an eternal optimist.  He is also — and let me know what you think of this, Pete.  I think he's also a realist.  He has a pragmatic element to him when the going gets tough.  He's like, "Okay, what is the thing that needs to happen?  And let's do that." stated Mamoudou during a recent press conference.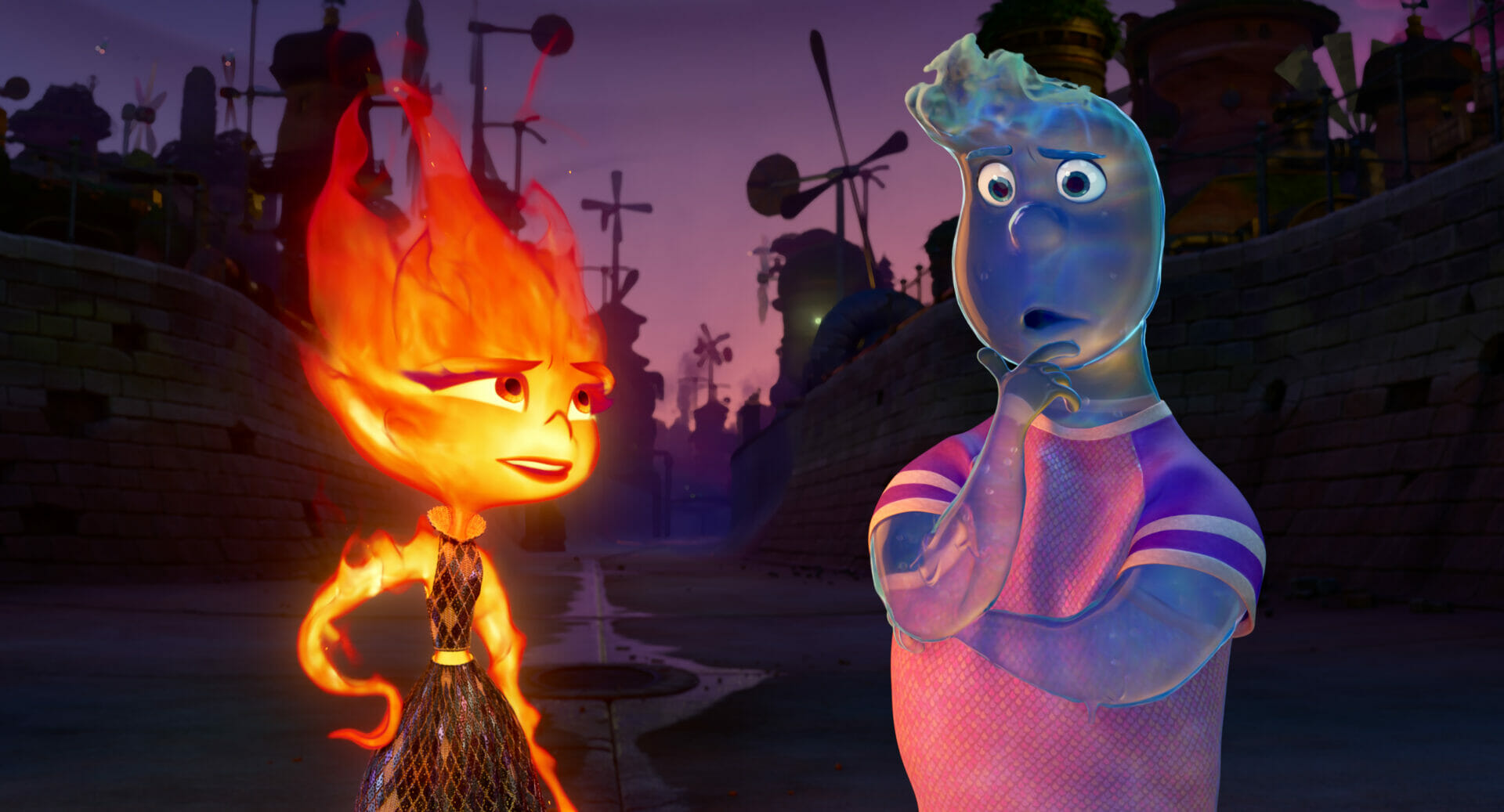 "But he chooses to live his life in a very open-hearted way.  And I say "chooses" very specifically because it's not — sure, his overall nature is like, you know, to be emotional.  But I think he looks for the positive. "
BERNIE LUMEN is a Fire element with a big crackling personality that burns with pride. He's passionate about his homeland, his daughter, Ember, and Fireplace, the shop he runs in Element City.
RONNIE DEL CARMEN (voice of Bernie) is an animation writer and director who codirected and was one of the story writers for the 2015 Pixar film "Inside Out," for which he was nominated for an Academy Award for best original screenplay. He was the story supervisor on Pixar Animation Studios' 10th full-length computer-animated film, "Up," and directed its accompanying short film, "Dug's Special Mission." He joined Netflix in 2020 where he is writing and developing an original animated feature as part of an exclusive overall deal. The movie will be rooted in the lore and mythology of the Philippines.
CINDER LUMEN is Firetown's resident matchmaker, utilizing the natural gift that allows her to smell true love in a Fire person's smoke, whether they know it or not.
SHILA OMMI (voice of Cinder) was born in Tehran and has lived in Los Angeles since 1979. She has starring roles in Apple TV+'s "Tehran" and "Little America," and the upcoming Netflix series "Kaos." Ommi has directed and produced award-winning plays in Los Angeles, and for over two decades, she has toured internationally, performing plays in Persian under the stage name Shila Vosough. As a voiceover artist, Ommi has narrated documentaries, virtual reality tour exhibits for the Getty Museum, and voiced characters for animation series and feature films.
GALE is an Air element with a big personality, a lot of bluster and a fluffy pink complexion. As Wade's boss, she expects a lot from her employees—she's no pushover. Outside the office, Gale is a serious superfan of the Windbreakers, an Air Ball team who play at Element City's Cyclone Stadium—they're finally in the playoffs.
Actor, comedian, and producer WENDI MCLENDON-COVEY (Gale) is a master of comedy. With perfect timing and an unforgettable presence both on stage and on camera, she has been captivating audiences her entire career. As fan-favorite matriarch Beverly Goldberg on "The Goldbergs," New York Magazine's Vulture called her "The Greatest TV Mom of 2015" for her performance in the third season. For this role, she has been nominated for two Critics Choice awards. She is now a producer on the show.
BROOK RIPPLE is Wade's loving and supportive mom. She's wildly driven and successful with an eye for talent and a guiding hand. An architect with boundless empathy for the plights of others, Brook never passes up an opportunity for a good cry.
CATHERINE O'HARA (voice of Brook) is a prolific, multi-award-winning actress, writer and comedian whose film credits include lead and supporting roles in "Beetlejuice," "Home Alone," "Home Alone 2: Lost in New York," "After Hours," "Heartburn," "The Life Before This," "Penelope," "Away We Go," "Where the Wild Things Are," "A.C.O.D.," "The Right Kind of Wrong," "The Nightmare Before Christmas" and many more.
CLOD is a young Earth kid who lives in Firetown and tends to show up whenever Ember is around. Clod has a sweet crush on his fiery neighbor that he doesn't even try to hide. He's street-smart with a caring, gentle heart, and is always throwing corny lines Ember's way earning little more than a smile and friendly dismissal.
MASON WERTHEIMER (voice of Clod) is an animal-loving NYC middle schooler. When he's not recording voiceovers or competing in debate tournaments, he enjoys playing ice hockey, baseball and soccer. Big thanks to Bonnie Shumofsky Bloom and Lucius Robinson at Stewart Talent; Natalie Lyon and Peter Sohn at Pixar; Mama/VO audition director, Josey Miller; Daddy/skating buddy, Jeff; and especially his hilarious little brother, Ryan.
FERN is an overworked, exhausted, by-the-book bureaucrat who has really grown into his job—literally. As a vine-covered Earth element who almost never leaves his desk, his office is a tangle of his extensive leafy tentacles. Fern is dry, sarcastic, slow-moving, and does not suffer fools.
JOE PERA (voice of Fern) is a standup comedian, writer and filmmaker from Buffalo, NY, now living in New York, NY. Pera is best known for his Adult Swim series, "Joe Pera Talks with You," which The LA Times refers to as "TV's quietest, most artful comedy."
Pixar Animation Studios is known for its attention to detail. Helping to find that magic in the details for "Elemental" was graphics art director Laura Meyer. Meyer was responsible for creating all things graphic for the film—"anything with letters on it," she says. The film offered ample opportunity to have fun with the graphics—in fact, director Peter Sohn specifically requested funny, punny graphics. "He has such an amazing sense of humor," says Meyer, who created what she calls a "homegrown" look. "I used very few typefaces straight out of the box—I did most by hand. I wanted it to fit into our environments, which are so stylized." Meyer's objective? "Imperfect and organic," she says.
Director Peter Sohn capitalized on Newman's experience and artistry to amplify the story's emotional core. According to Sohn, Newman's score brilliantly captures the unexpected connection between Ember and Wade, Fire and Water—opposites by all accounts. Not only that, says the director, but it eloquently accompanies the story's deepening relationship between father and daughter. "As a fan of Tom's scores," says Sohn, "one of my favorite aspects of his work is how he finds a way to present the inner thoughts of characters through music and present more sophisticated energy to an emotional moment. This was something that we were very excited to have Tom help out with and I am so moved by the work he created for the film."
"Elemental" invites audiences to journey alongside Ember and Wade as they realize that maybe they're not so different after all. Thanks to Wade, Ember is able to see Element City for the first time without trepidation. The occasion is aptly captured in song, compliments of singer-songwriter Lauv, who collaborated with Newman for "Steal the Show," an original song that can be heard in part during the film and in full during the end credits. Original songs tend to come together during the latter half of production—and that was the case for "Elemental." But Sohn had embraced the magic of Lauv long before "Steal the Show" was even conceived. "They loved my song, 'I Like Me Better,'" says Lauv, "and used it in initial versions as a placeholder."
For Lauv, the experience was unlike anything he'd ever tackled. "This was one of my favorite songs ever to write because the process was really different," said Lauv of the creative process. "I sat down with Thomas Newman and he gave me a couple of sounds that he was working with and I asked, 'Can I have a couple of minutes in a room, pull up a piano and turn on the microphone?' I had melodies, chords and a couple of key lyrics totally freestyled after watching the scene. It was a very in-the-moment thing."