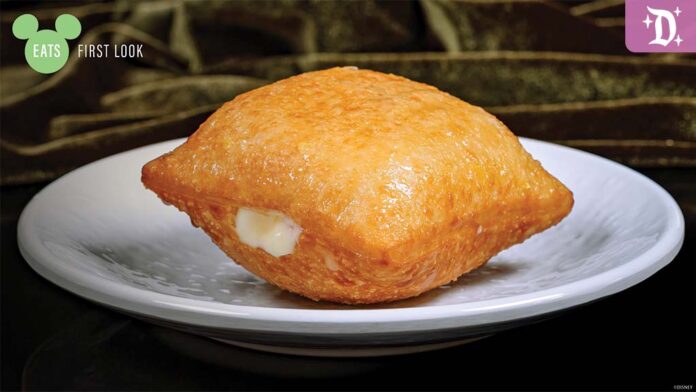 This post contains affiliate links and our team will be compensated if you make a purchase after clicking on the links.

On Sept. 7, Tiana's Palace will open its doors to this new establishment to feed hungry guests a little taste of New Orleans inspired by Tiana herself. Nestled on Orleans Street, in Disneyland Park, this soon-to-be hotspot will be serving up can't-miss classics like gumbo and beignets with a tasty twist. Guests can even use mobile order to get all the new bites on the way.
If you want to book a trip now fill out this form for a FREE QUOTE.
With flavors and ingredients coming right out of New Orleans, guests won't need to chat with Dr. Facilier's "friends on the other side" to know that this new spot is going to be the place to be on their next visit to Disneyland Resort.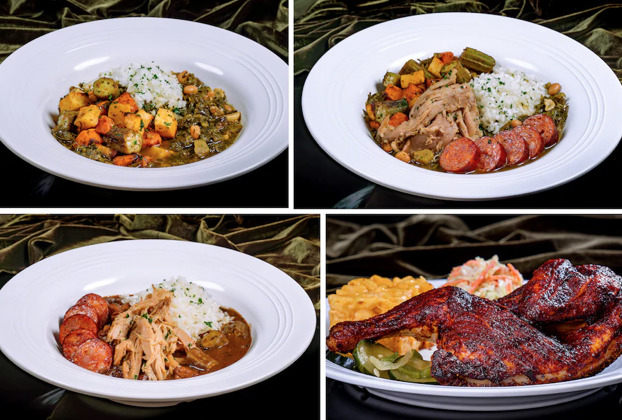 Gumbo lovers are in for a treat because this spot will feature a couple of different options to try. The 7 Greens Gumbo is a must-try plant-based option. It features white beans, okra, yams, sweet potatoes, and heirloom rice. Those looking for something a little extra can feast upon the 7 Greens Gumbo with Chicken & Andouille Sausage. And of course, we've got the House Gumbo. This dish is a New Orleans staple combining braised chicken, andouille sausage, and heirloom rice into a mouthwatering delight that'll leave guests coming back for more.
For those wanting a little extra spice from down in New Orleans, the Cajun Spice Half Chicken is the dish to try. The chicken is brushed with a house-made chicory BBQ sauce and served with baked macaroni and cheese & coleslaw.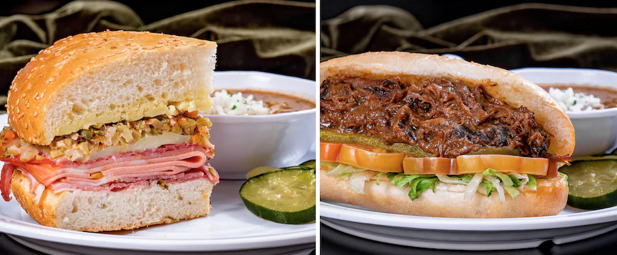 The Muffuletta Sandwich stacks mortadella, salami, rosemary ham, cheddar, provolone and house-made olive relish on toasted New Orleans sesame seed bread. Another staple, the Beef Po-boy Sandwich features some slow-cooked beef perfectly coated with gravy and fully dressed with shredded lettuce, tomato, and mayonnaise atop toasted New Orleans French bread. Both tasty bites are served alongside red beans and rice and house-made pickles.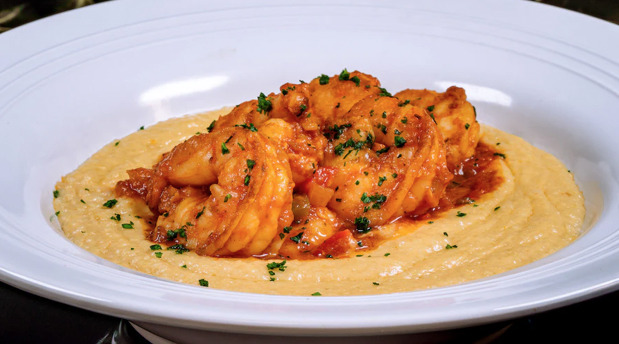 Tiana is also serving up Gulf Shrimp and Grits! Grilled to perfection and tossed in a Creole sauce, the shrimp are then paired with cheesy grits to form a classic dish that will transport you down the bayou with each bite.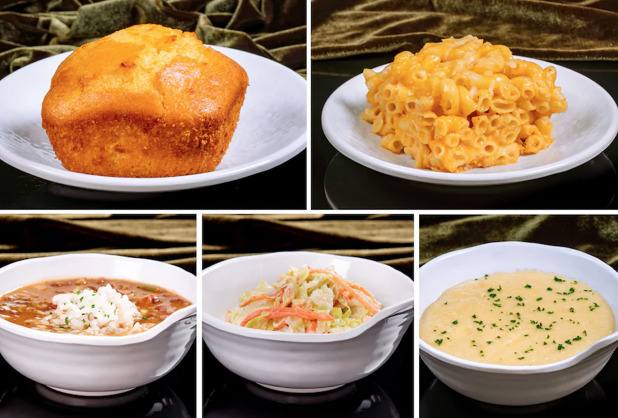 The chefs have put together a lovely array of classic sides, like the Buttermilk Cornbread, Baked Macaroni and Cheese, Red Beans and Heirloom Rice, Coleslaw, Cheesy Grits, and plant-based Heirloom Rice.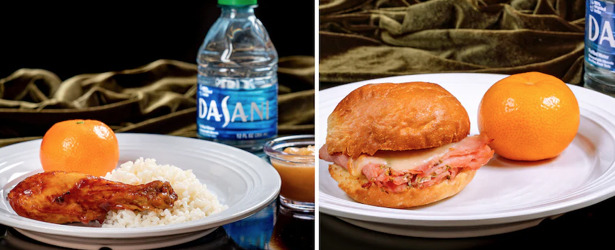 For the little ones, there are also some kid meals they'll love. The Roasted Chicken Drumstick is served with a sweet BBQ sauce and heirloom rice, while the Toasted Ham and cheese Sandwich is topped with savory ham and provolone. Also, a classic Baked Macaroni and Cheese is on the menu for the kids too! All three of these are accompanied by a Cuties Mandarin Orange and applesauce with a choice of DASANI Water or small low-fat milk.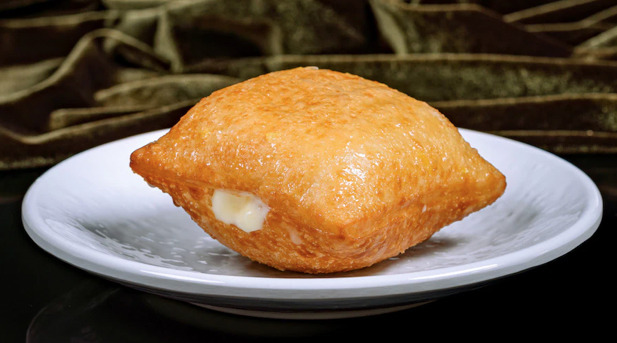 Now onto the star of the show … No restaurant inspired by Walt Disney Animation Studios' "The Princess and the Frog" could be complete without beignets, and at Tiana's Palace, dessert is always first. But these delights aren't your average beignets. The House-filled Beignet features a delicious lemon ice box pie filling topped with lemon glaze for the perfect bite. Disney also stated that there will be different seasonal flavors coming soon.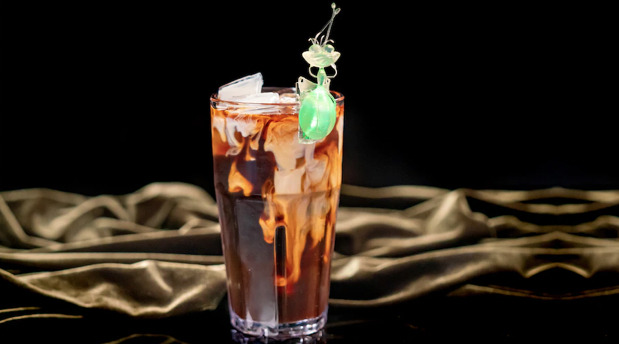 A specialty sip is also on the menu. The Joffrey's Coffee Chicory Cold Brew topped with sweet cream is a must for those coffee lovers out there. The Ray Firefly Glow Cube* is also available with the purchase of a beverage. This adorable addition will light up the drink just like Evangeline lights up the night sky.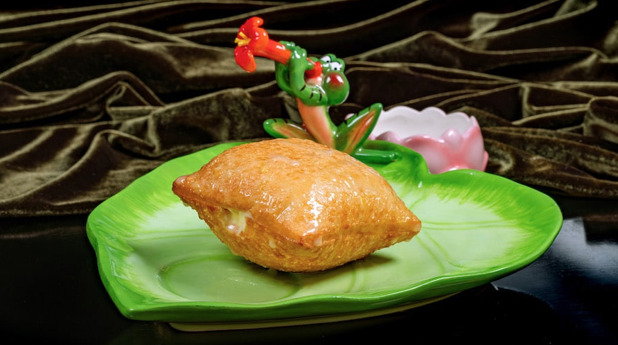 Last but certainly not least, those wanting to take home a piece of Tiana's Palace will love the Lily Pad and Lotus Cup Ceramic Set**. And it even comes with a House-filled Beignet.
With exciting new openings like Tiana's Palace, there's no limit to the foodie fun to be had at Disney Parks.
If you want to book a trip now fill out this form for a FREE QUOTE.
(Note: All offerings are subject to change and availability. *Limit 10 per person, per transaction for the Ray Firefly Glow Cube.**Limit two per person, per transaction for the Lily Pad and Lotus Cup Ceramic Set)