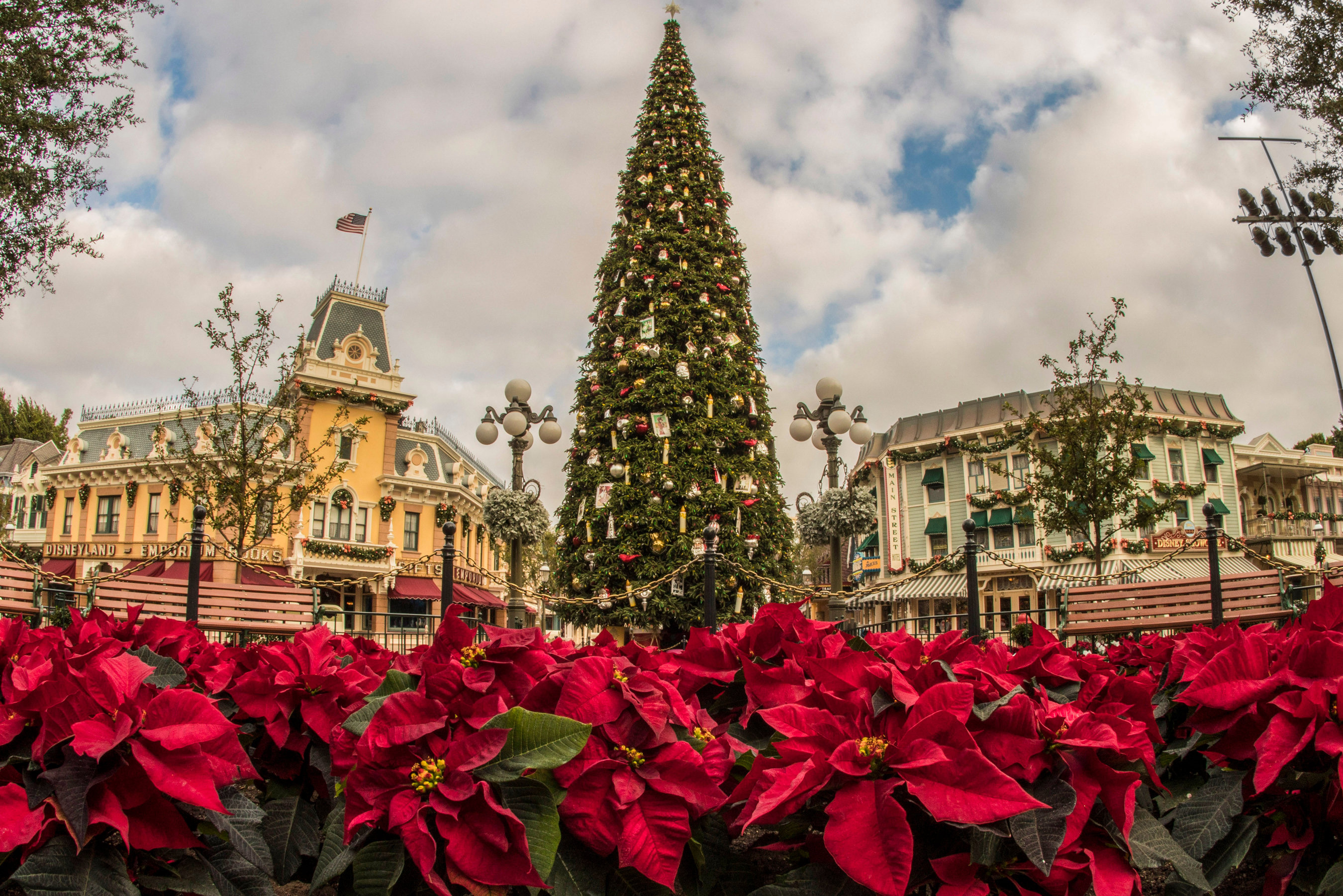 This post contains affiliate links and our team will be compensated if you make a purchase after clicking on the links.

Visiting Disneyland Resort during the holiday season has become a tradition for many guests. They discover a winter wonderland the moment they step into Disneyland Park, Disney California Adventure Park, the Downtown Disney District, and the three on-property hotels. The holidays begin here at the Disneyland Resort, with festive décor and celebrations that transform the resort into the Merriest Place on Earth from Nov. 8, 2019, through Jan. 6, 2020.
Two of the Disneyland Resort teams that work together to bring the holiday magic to life are the Resort Enhancement and Horticulture teams. They deck the halls throughout the resort, with their magical work spanning everything from the festive landscaping to the holiday storefront windows; from the façade of "it's a small world" Holiday to the seasonal installations and décor that guests see throughout the resort.
Here are 19 fun facts about decorating Disneyland Resort for the holiday season, plus some festive tips from the Resort Enhancement team for holiday decorating at home.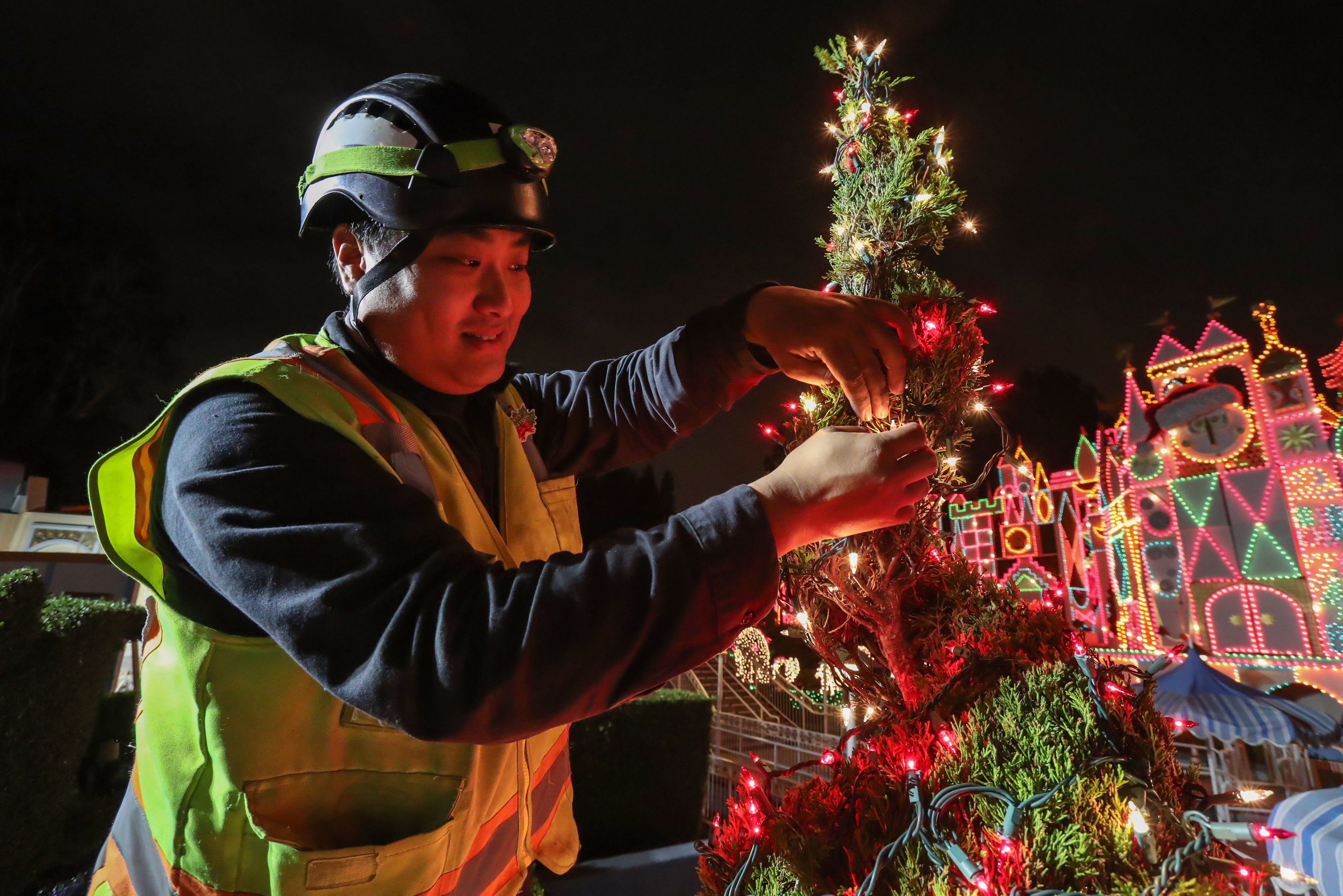 Disneyland Resort
1 – Planning for the Holiday transformation each year is a year-long process. As soon as Disneyland Resort is fully set with holiday décor, the team immediately starts designing, planning, ordering supplies and creating decorations for the following year's installation.
2 – Approximately 300 additional trees are brought in during the holidays to add a festive touch throughout the resort.
3 – Nearly 10,000 poinsettias and 10,000 cyclamen are installed around the resort for additional festive decoration.
4 – Approximately 80% of the cast members on the Resort Enhancement and Horticulture teams work shifts that begin after Disneyland Resort closes. This allows them to decorate, plant, trim and work their holiday magic before guests arrive.
Disneyland Park
5 – New this year is a festive and wintery holiday look around the Partners statue in the Central Plaza at the end of Main Street, U.S.A. This beautiful holiday installation is made up of more than 7,500 individual plants, featuring approximately 80 pine trees decorated with more than 150 strands of warm, mini lights that illuminate each tree. This new display also features more than 500 branches of beautiful red winterberry (Ilex verticillata) and more than 800 red dogwood branches.
6 – The Disneyland Christmas tree stands 60-feet tall on Main Street, U.S.A., and has become a favorite spot for guests to snap their holiday photos. This Christmas tree features 1,500 Victorian-inspired ornaments and 100 oversized faux candles.
7 – As guests walk along Main Street, U.S.A., they find storefronts, lampposts and rooftops wrapped in wreaths and garland. The exterior of Main Street, U.S.A., features approximately 220 garlands that measure more than four miles long, with approximately 80 wreaths and 120 bows bringing the season to life on this charming street.
8 – Sleeping Beauty's Winter Castle shimmers during the day and is illuminated each night with more than 126,000 twinkling LED lights, sparkling "icicles" and shimmering snow-capped turrets.
9 – "it's a small world" Holiday and the surrounding plaza are illuminated with more than 400,000 twinkling lights (50,000 on the façade of the attraction, and an additional 350,000 mini-lights in the trees, hedges and animal topiaries) surrounding the attraction in whimsical Fantasyland. The popular attraction transforms each year for the holidays, celebrating children around the world and the holiday traditions of their countries. The warm holiday atmosphere of the plaza area in front of "it's a small world" Holiday is further enhanced with colorful garland, festive poinsettias and international holiday wreaths.
10 – The Disneyland Resort has its own team of holiday "elves" who help create the magic of "it's a small world" Holiday each year. It takes a talented and dedicated team of nearly three dozen cast members 35 days to install the glittering façade and nearly 18 days to decorate the holiday attraction's dazzling interior.
11 – Haunted Mansion also transforms into Haunted Mansion Holiday for the holiday season, inspired by the classic film, "Tim Burton's The Nightmare Before Christmas." This year marks the 19th anniversary of the transformation, as well as the 19th creepy creation of the gingerbread house in the Haunted Mansion ballroom. This year's design celebrates the 50th anniversary of the Haunted Mansion attraction and features 15 spirited, spooky and recognizable ghosts made out of gingerbread. It took a team of six culinary cast members from the Disneyland Resort Central Bakery 13 days to create, build and decorate this year's gingerbread house masterpiece.
12 – Mickey's Toontown gives the holidays a wacky twist with its own distinctive "toon" trees and decorations to show off the characters' personalities.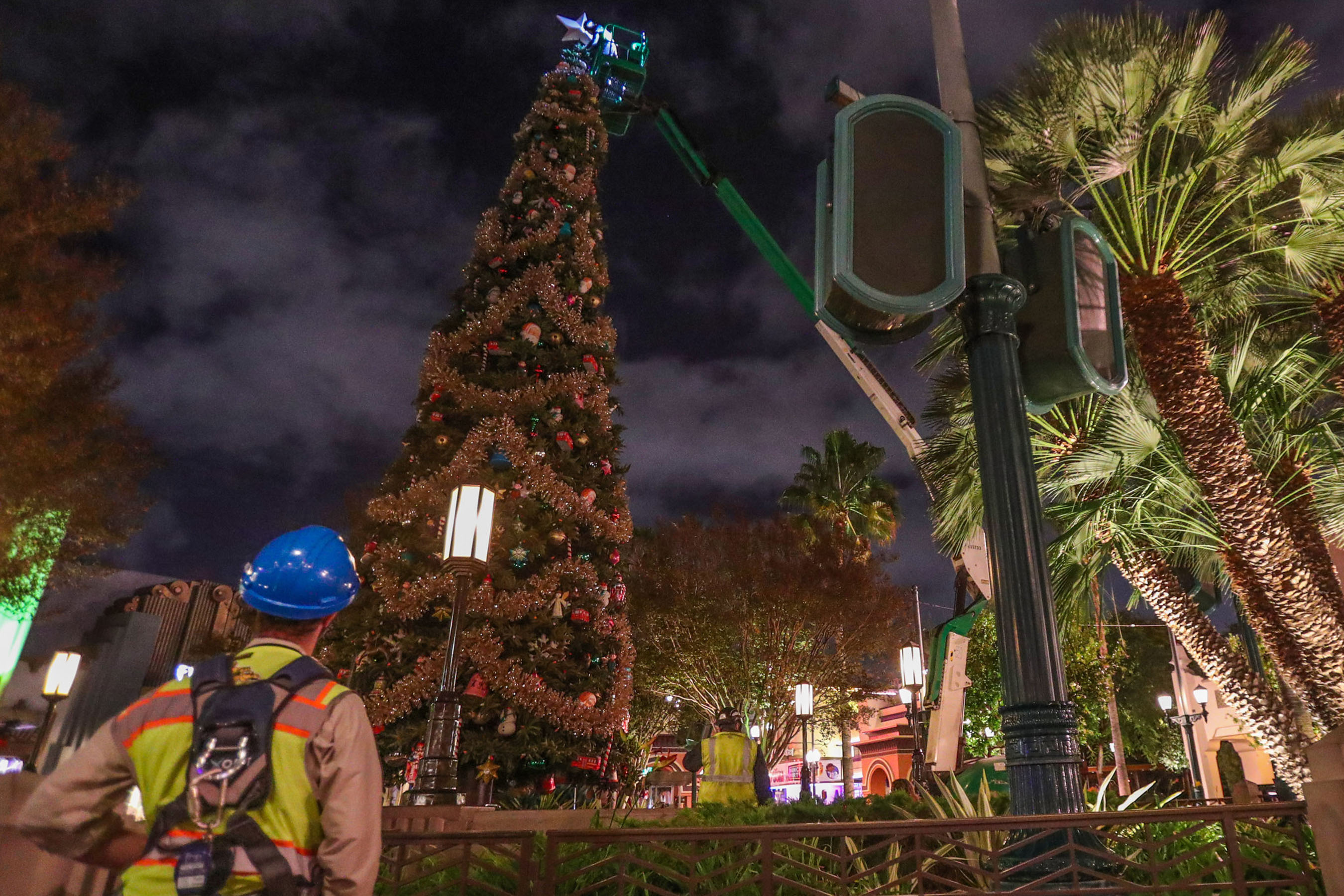 Disney California Adventure Park
13 – At Disney California Adventure, many areas celebrate in their own way, with distinctive displays at Grizzly Peak, Hollywood Land, Pacific Wharf and Paradise Gardens Park. The residents of Cars Land and Buena Vista Street are also extending an extra special holiday welcome with enhanced seasonal décor.
14 – As guests enter the park and stroll along Buena Vista Street, a dazzling, 50-foot Christmas tree adorns Carthay Circle to help guests get in the holiday spirit. The tree and surrounding buildings are decorated with vintage-style ornaments in keeping with the theme of Buena Vista Street, inspired by Los Angeles as it appeared when Walt Disney arrived in the 1920s.
15 – Cars Land is adorned with special holiday décor throughout Radiator Springs, with decorations that reflect the unique personalities of the "Cars" characters who live there. Two attractions transform for the haul-idays and add to the season's greetings. Luigi's Rollickin' Roadsters becomes Luigi's Joy to the Whirl and Mater's Junkyard Jamboree becomes Mater's Jingle Jamboree. Each attraction is enhanced as Mater and Luigi add catchy tunes that bring about the holiday cheer and encourage sing-a-long moments.
Downtown Disney District
16 – Downtown Disney District will "glow" in a whole new way this holiday season with a different look during the day and night (additional details to come).
Hotels of the Disneyland Resort
The three Hotels of the Disneyland Resort deck the halls with festive lobby displays, immersing guests in the seasonal style of each hotel.
17 – The Disneyland Hotel features beautiful pine trees and holiday florals.
18 – Disney's Paradise Pier Hotel is decorated with blue, green and silver holiday décor, along with shells and starfish garland and an underwater-themed Christmas tree to create a beachy holiday setting.
19 – In the lobby at Disney's Grand Californian Hotel & Spa, guests will marvel at the 7-foot-tall gingerbread house, which is a replica of the hotel. It took 600 pounds of powdered sugar, 250 pounds of fondant, one pound of "pixie dust" and a 25-member team to construct this impressive confection. Guests will also find holiday decorations throughout the hotel, from garland woven with natural materials to the towering Christmas tree lit with "arts and crafts" motif lanterns.
Tips for decorating for the holidays at home, from the Resort Enhancement team at Disneyland Resort:
Head to a local Christmas tree lot and ask for extra pieces of greenery. Arrange the greenery in a circle on a table and place a pillar candle in the middle. Add a few ornaments, to finalize a beautiful holiday centerpiece. Not only will it look great, but it will also add natural fragrance to the room.
Fill assorted apothecary jars with colorful holiday candy.
Customize plain pillar candles with colorful ribbon trim, wrapped around their bases.
Fill a bowl with pinecones, acorns, and greenery. This is a simple way to make a beautiful holiday centerpiece.
Dress up inexpensive garland with artificial berries and pinecones and then place them on top of a mirror.
Place a wreath on top of a table and put a pillar candle in the middle to create an easy centerpiece. Add battery-powered fairy lights to give it an extra glow.
Add holiday candles throughout your home. It will appeal to another sense and provide that extra special seasonal touch.
Always remember safety first. Don't leave candles burning unattended. Or, opt for flameless flickering candles.