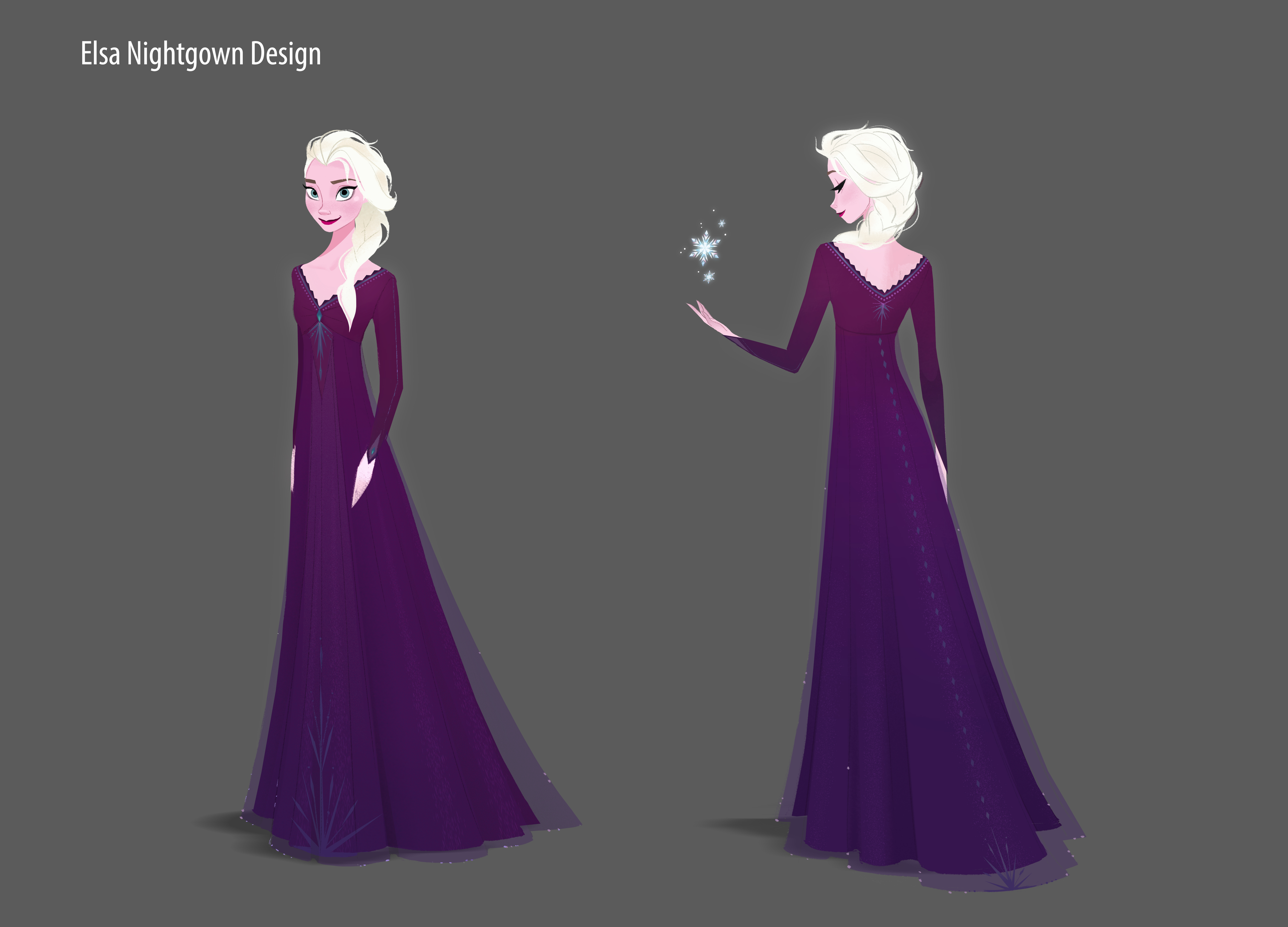 This post contains affiliate links and our team will be compensated if you make a purchase after clicking on the links.

Much like the first film, which was inspired by Hans Christian Andersen's 1845 fairy tale "The Snow Queen," "Frozen 2" embraces the tenants of fairy tales, mythology and similar stories that were often written to explain the inexplicable. This all-new story takes place three years after the conclusion of the first movie, Elsa is queen and Anna is happy to have everyone she loves, her family, Elsa, Kristoff, Olaf, and Sven. The bond between sisters is strong and helps develop the story. But, according to the filmmakers, there is an underlying current of unrest and angst that ultimately leads to a great adventure—one that will bring clarity to everything we know about these characters.
Filmmakers set out to deepen their understanding of their main characters in an effort to uncover the answers to questions that lingered after the conclusion of "Frozen."
The filmmakers found themselves delving into the inner workings of both fairy tales and mythology. They realized that in the first movie, it was unknowingly had both a myth and a fairy tale going on at the same time. Elsa was definitely a mythic character, which generally carries the weight of the world on their shoulders and does things the rest of us can't.
Brittany Lee, who's the Visual Development Artist and worked on the first Frozen, explained in animation, we can infuse narrative into everything that you see in the frame.  Anything that's there, the environment, or characters or anything, we're hopefully trying to infuse some bit of narrative and in Frozen 2, the characters and costume design, for a character like Elsa, is important because she's so complex and constantly evolving.  So we hope that through design we are able to tell you a little bit about her through what she's wearing and what her hairstyle is and so forth.  So when you see her and her sister in Frozen 2, they're both bright and open, and playful.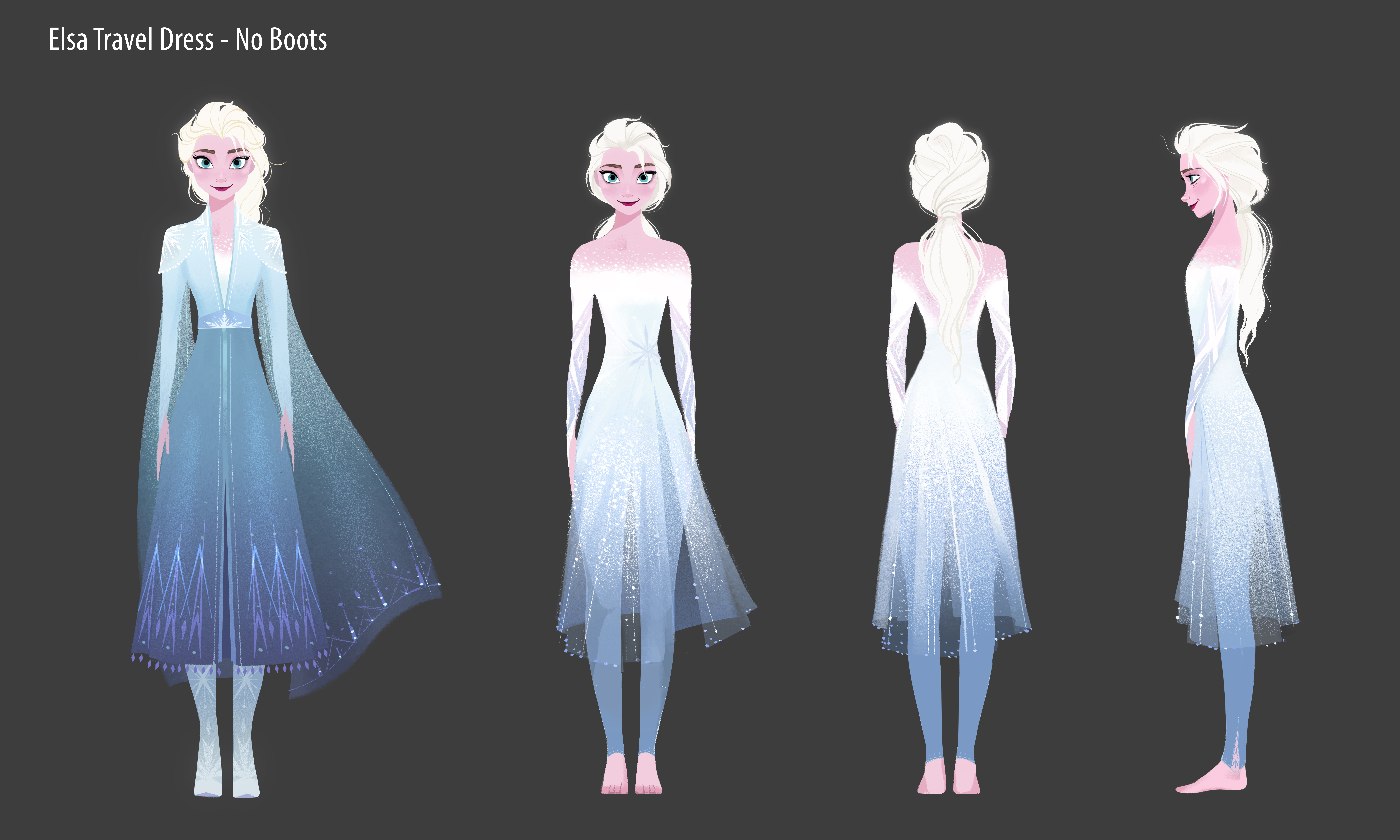 But as Elsa becomes more secretive and secluded as she's growing up, her silhouettes and her palette change, and her silhouettes become longer and more restrictive, and her colors become deeper and darker and that's meant to show you as an audience that she's becoming more and more closed off to the world.  And it's not until ultimately in 'Let it Go' that she reveals what we know of her to be as her true self.  But you go back to this palette that we actually met her in as a little girl, in her nightgown, and more open and flowing silhouettes.  And this is meant to signify her.  This is who she is.  But when we see her again in 'Into the Unknown', she's in a deeper and darker color, and what could that mean?  So we needed to approach this with particular things in mind.  First of all, we knew that 'Into the Unknown' was going to take place at night, and it was gonna be a scene that was happening right after the characters were very cozy and comfortable.  So what Elsa needed to be wearing in this sequence was a nightgown, so this is a nightgown and not a dress.
We've seen her build her clothing out of ice before.  And so we have the luxury of being able to give her sheer, ethereal materials that speak to who she is, and aren't as heavy and restrictive as wools or heavier-weighted things that everyone else in Arendelle has to wear.  But she is restricted by the colors of the clothing she wears.  Elsa needs to sort of life in the cool range.  If her colors get too warm we feel like something's wrong.  She's the Snow Queen so anything beyond something like a violet, into the red spectrum, feels like she has an issue.  So we chose something that was more magenta-violet to both feels like there's a change happening, so that there's something going on in her world, and in the song 'Into the Unknown', she is conflicted. With costume design, we're designing down to the very last stitch, every bead, every embroidery thread, every sequin.  We designated where that should be, and what that should say about the character.  And so for Elsa, a lot of her details have always been revolving around snow.  And that remains to be true.  Ice and snow are very important to her design and who she is, and so we tried to add these little touches, little details everywhere on her, to reinforce the fact that you know who she is.  And so this is an example of what we go through as far as down to the very last thread and direction of the thread, and so that hopefully even before she even sings a single note, you are learning something about who she is.
"I've had my adventure. I don't need something new. I'm afraid of what I'm risking if I follow you… into the unknown!"

~ Elsa, "Into the Unknown," "Frozen 2"
Story-wise it's been a few years since the events of the first film, and Elsa's been settling down in her role as Queen of Arendelle.  At the beginning of this film, we kind of get a glimpse that things have been off.  Elsa's been hearing this call, this voice.  If you've seen the sequence, you hear that sort of ahh that she's hearing but no one else seems to hear.  So things are a bit off that she's not admitting to anyone.  So what we're trying to do also, in an animated film usually at this point for the main character we usually get to hear an 'I Want' song.  And for this movie, it's a little different, where Elsa's been sort of shying away from what she truly feels, what she truly wants, and avoids that call she's been hearing. She's gonna try to reach it, and she reaches even more than a human can do, using her own like ice power to reach even more on that little ice pedestal, and engage fully for a brief second with that power that's gonna create this explosion of all these hanging little frozen crystal symbols that will have a big impact in the movie.
From the Academy Award-winning team directors Jennifer Lee and Chris Buck, producer Peter Del Vecho and songwriters Kristen Anderson-Lopez and Robert Lopez—and featuring the voices of Idina Menzel, Kristen Bell, Jonathan Groff, and Josh Gad, Walt Disney Animation Studios' "Frozen 2" opens in U.S. theaters on Nov. 22, 2019.