This post contains affiliate links and our team will be compensated if you make a purchase after clicking on the links.

"Welcome to Jurassic Park!"
Over the past two and a half decades, Jurassic Park has created an unparalleled legacy that continues to wow and amaze fans the world over. With groundbreaking and never-before-seen visual effects, Spielberg had created a gold standard in modern cinema. As the world awaits the release of Jurassic World: Fallen Kingdom, the dino-fueled franchise shows no signs of slowing down. To commemorate the 25th anniversary of the original film, Universal and Fandango partnered with the Greek Theatre in Los Angeles to host a special fan screening of Jurassic Park.
To kick off the event, participants received a special 25th anniversary popcorn along with complimentary water. Fandango hosted a prize giveaway, photo ops, and much more. The venue also had a T-Rex for those who dared to strike a pose. Merchandise was available for sale, ranging from t-shirts to Funko Pop! figures. Fans even had the opportunity to try out some custom dino-themed drinks. Though, there would be more surprises in store, including a message from director, Steven Spielberg.
The famed director expressed his gratitude to the fan base and took a moment to reflect on the franchise before teasing fans with a trailer for Fallen Kingdom. The crowd was then treated to a special one on one chat with legendary producer, Frank Marshall. Marshall was part of Spielberg's legendary production team (Opposite Kathleen Kennedy) and is responsible for films like Raiders of the Lost Ark, E.T, and Back to the Future. He recounted his experiences with Jurassic Park, focusing on the innovations and technical challenges that Spielberg presented the team with. "It was a wonderful experience. Steven, I think works better and is more creative when he's given a challenge".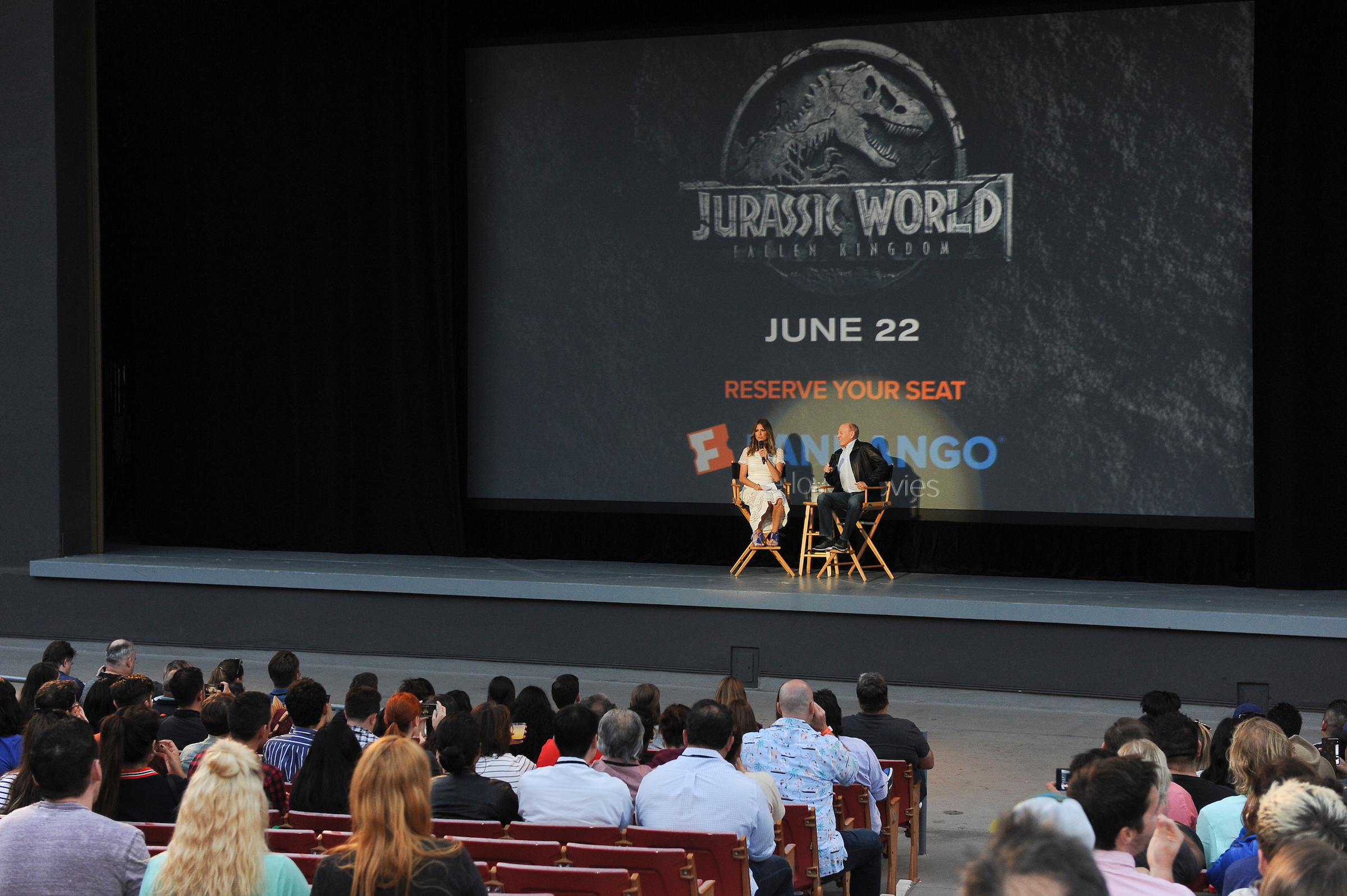 The biggest hurdle was also the film's biggest star: the colossal and terrifying T-Rex. In 1993, despite technological advances, practical and digital effects were not sophisticated enough to create Spielberg's vision. "Back in those days, we didn't have CG. He wanted the T-Rex to run up and down the street…we didn't know quite how to do it", Marshall admitted. "We had this magic moment up at ILM when Dennis Muren showed us this dinosaur…sort of a wire skeleton running on a computer and he said he can put a skin on this…now we got it!" Combined with practical creature shop effects, Jurassic Park hit the ground running and didn't look back.
As the interview was coming to a close, Marshall was reunited with actress Ariana Richards. The two had not seen each other since shooting the film when Richards had just turned 13. Famous for her role as John Hammond's granddaughter, Lex, Richards recounted her audition, thanked fans for their support, and reconnected with Marshall. After so many years, it was a fantastic reunion that can only be topped by visiting the star of the franchise on the way out.
It was a night to remember for all JP fans in attendance. In celebration of the screening and the film's anniversary, Fandango will be making the original Jurassic Park Trilogy available to moviegoers through their premium streaming platform, FandangoNOW. Fans can chose to rent or purchase the series for instant viewing.
The adventure continues with Jurassic World: Fallen Kingdom, which roars into theaters on June 22nd.