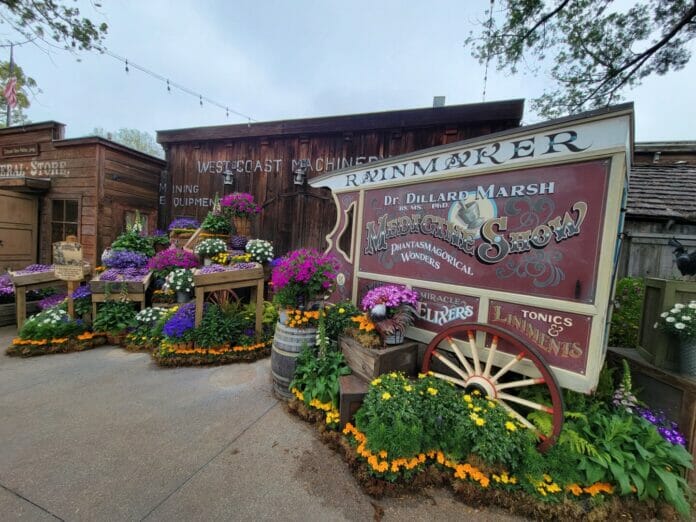 This post contains affiliate links and our team will be compensated if you make a purchase after clicking on the links.

Knott's Boysenberry Festival makes a return to the 2023 season with new tastes and familiar favorites. The sweet and tart flavor of the darkly pigmented fruit shines as the key ingredient of tasteful savory, sweet, and crafty inspiration to enjoy for the senses. The best way to treat your taste buds is with a Food Tasting Card available for $55 plus tax at several locations throughout Knott's Berry Farm.
Guests may also choose to purchase items a la carte. But a tasting card will certainly ease the decision-making down to 6 tastings. They also work with select alcoholic beverages like Boysenberry margaritas, IPA, lemonade seltzer, cider, wine, sangria, and mudslides. Guests with a seasonal or daily dining plan also have a few options to choose from during the festival. However, for 2023, the selections are reduced mostly concentrating on pizzas, salads, and corn dogs.
Festival Food Photo Gallery
Food, drinks, and desserts are not the only fun to grow from the farm. Merchandise has sprouted in the shops throughout the park. Get 'em while the picking's are good. Show how much of a Boysenberry fanatic you are where you go. You can't find these items anywhere else. There's everything from clothing, mugs, glassware, bubble makers, glowing necklaces, buttons, keychains, plush, and more. You can even take home and try your hand at growing your own Boysenberry plant.
Merchandise Photo Gallery
Arts and crafts have become a welcome stable in Knott's Berry Farm. Small businesses are able to share space with the theme park bringing in visual delights to inspire the masses with one-of-a-kind works of art. Skillful talent grace the walkways from woodcraving, glassblowing, candles, lotions, essential oils, knitting, jewelry, flavored popcorn, warm nuts, jerky, loose tea, leather work, stickers, and patches. Business owners also love to make conversations with customers.
Knott's Tied-Up is the theme for this year's art installation. A gallery of artists who put their personal style and spin in honor of the boysenberry fruit and the theme park heritage it is wrapped around with. Some items are for display only while others have print copies available for purchase. It's amazing how much creativity abounds and bursts at the seams from every corner of the theme park.
Tied-up in Knott's Photo Gallery
The atmosphere is not to be overshadowed. The decoration and horticulture team always brings their A-game when it comes to sprinkling doses of charm and color bringing life to the mundane. Ghost Town gets a heavy helping of flowers, western props, and oversized boysenberries. Camp Snoopy leaps into spring with oversized eggs, flowers, bunnies, and lamps.
Check showtimes for entertainment schedule for musical adventures with swing, bluegrass, and rock and roll at the Camp Snoopy Theatre, Krazy Kirk and the Hillbillies at the Wagon Camp Theatre, classic Americana melodrama at the Birdcage Theatre, and high-kicking celebration of 100 years of Knott's at the outdoor Calico Mine Stage. Other fun is to be had with meet-and-greet characters, farm animals, pie-eating contests, and more.
Atmosphere & Daytime Entertainment
Boysenberry Festival 2023 is happening now through April 16 at Knott's Berry Farm. Be sure to look for the weather report for any closures to the park before planning to attend.