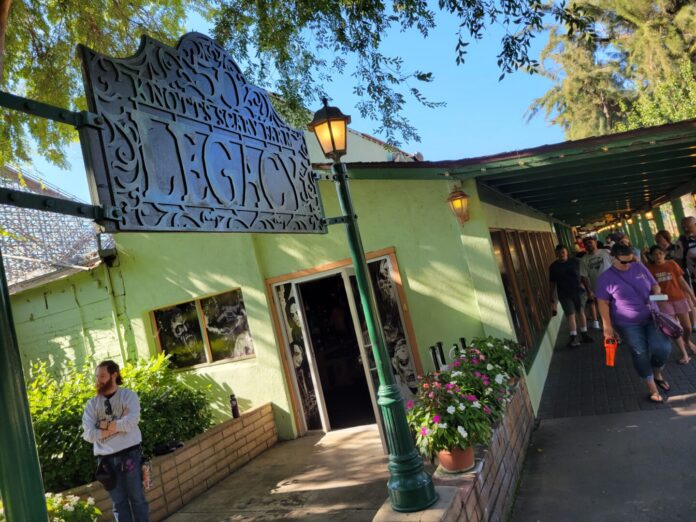 This post contains affiliate links and our team will be compensated if you make a purchase after clicking on the links.

As part of Knott's Scary Farm's 50th anniversary milestone, Knott's Berry Farm transformed The Emporium shop in the California Marketplace into a one-stop shop and photo-op for all things spooky for the 2023 haunting season. Uncover everything from shirts, hats, sweaters, bags, mugs, koozies, bottles, pins, ornaments, lanyards, books, stickers, games, and edible treats. Other exclusive not-to-be-missed items include the newly interactive lantern, Loungefly backpack, limited tiki mug, and figurines.
The Green Witch welcomes all trick-or-treaters to her home. Try your hand with the interactive lantern, take a photo of the jack-o'lantern-covered stairway, and get a closer view of costumes and props.
Hold your breath whilst digging through the graveyard full of foreboding tombstones, gargoyle statues, and dimly lit candles. Watch for the carriage guiding souls to the afterlife.
Step into the crypt for more engaging photo-ops with the inviting throne. Here lies one of many resting places for the commemorative 50th anniversary. Their next home could be yours.
Slide under the CarnEVIL Big Top for lighter flares of oddities and whimsy. Engage in fun popcorn, games, and flashing glassware.  Take a stroll through the alley for an alleyway down memory lane with past Scary Farm signages.
Ghost Town comes dead alive with tributes to celebrated iconic hosts from Seymour, The Master of the Macabre, to Elvira, Mistress of the Dark, and Tales from the Cryptkeeper. Props and concept art pay homage to the best of past scares.  Take your time to roam and admire the hard work and dedication bestowed on the first Halloween haunt event in a theme park.
The next crossroads of Ghost Town leads to the saloon set for more photo-ops, decorations, backlit shirts, and other last-minute items for your shopping needs before reaching the sales counter.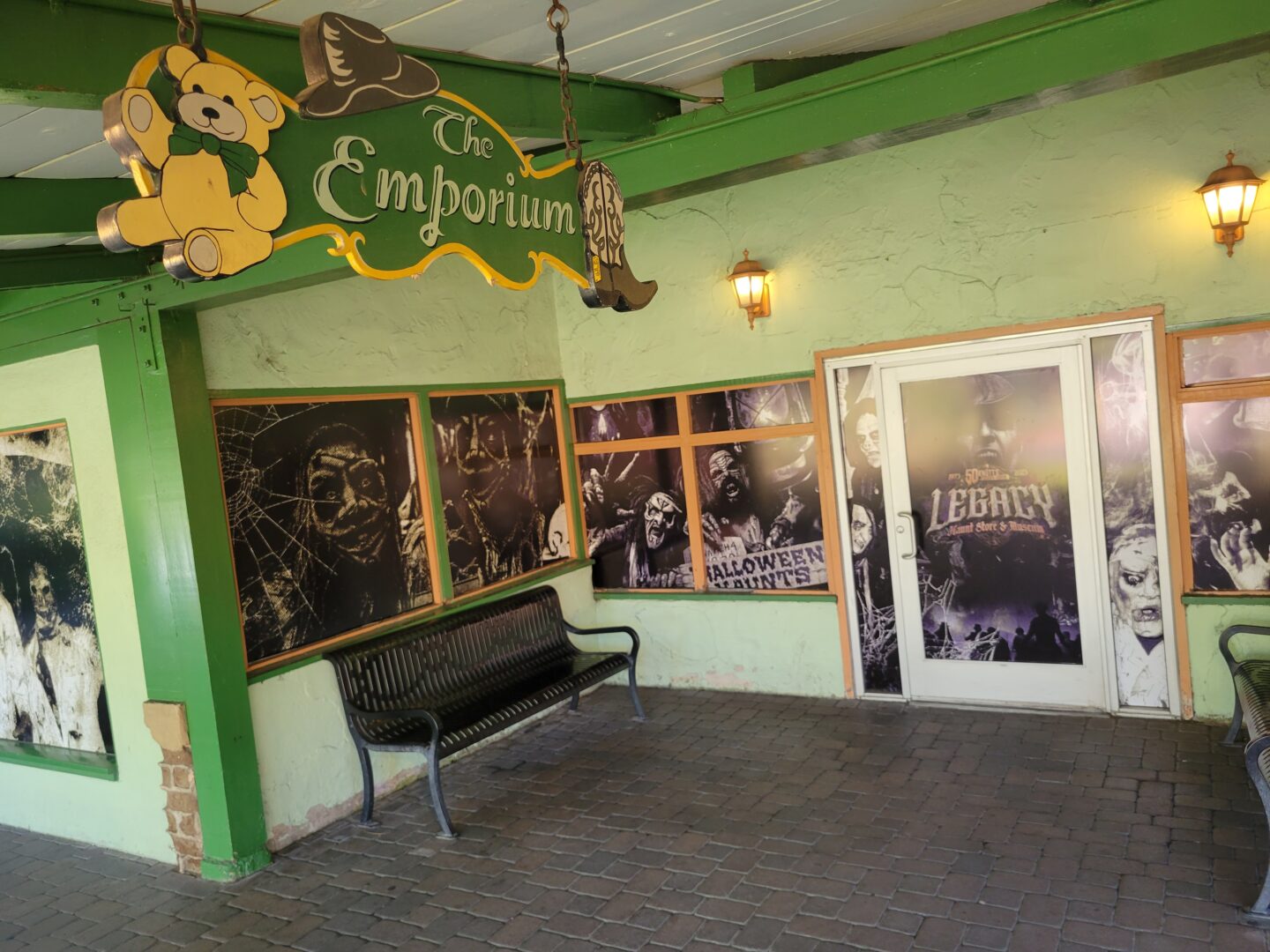 Due note that the entrance into the 50th Anniversary Legacy Haunt Store and Museum is located on the corner of the building as the door from the main walkway is the exit only.  The spacious retail location is one of the best in recent memories for Knott's Berry Farm. The moment guests step inside, you are immediately immersed and thrust into haunt mode. There's so much to see and discover.
The set design, details, and lighting quality is just as good as patrons would find in the scare mazes inside the theme park. But the store gives you more time to wander in awe and take engaging photos. This is a perfect beginning to celebrating the 50th-anniversary milestone of Knott's Scary Farm. Some items can be shopped online at https://marketplace.knotts.com/