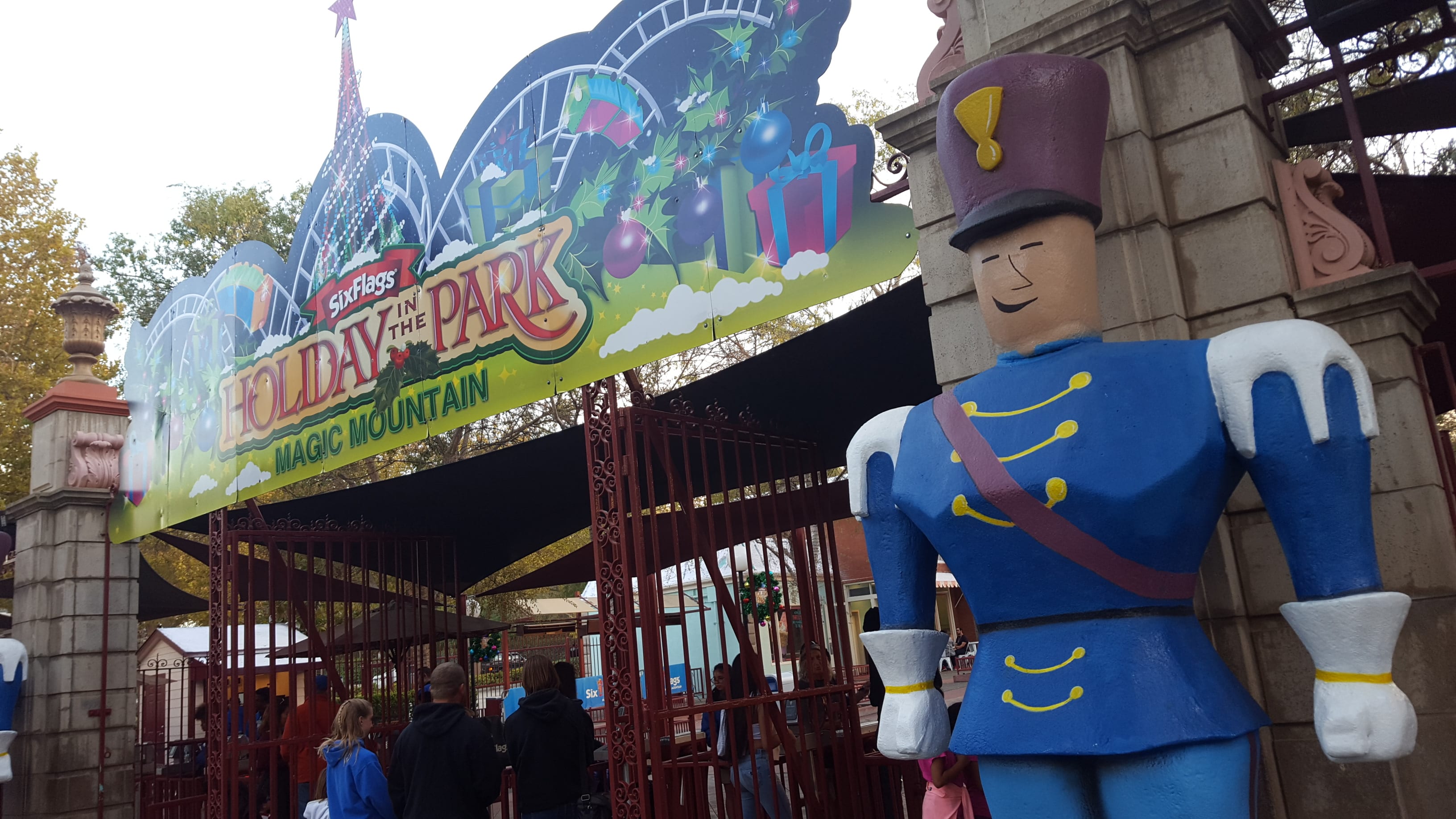 This post contains affiliate links and our team will be compensated if you make a purchase after clicking on the links.

The wintery forecast over Six Flags Magic Mountain brings glittering lights, heavenly snowfall, and delicious delights.  The park prepares for the drop temperature in Southern California weather with seasons greetings.  Be prepared for lots and lots of twinkling lights and a blizzard of snow every few minutes at each of Holiday in the Park's seven festive areas.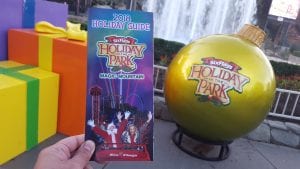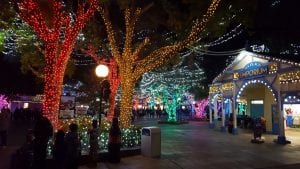 Your first stop Holiday Square as soon as you step foot past the turnstile and into the park's entry plaza.  The buildings are covered in snow with the trees shimmering in a colorful spectrum of dazzling lights.  A troupe of stilt-walking toy soldiers marches and greet with guests by oversized ornaments and gift boxes.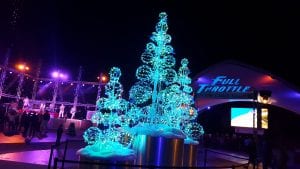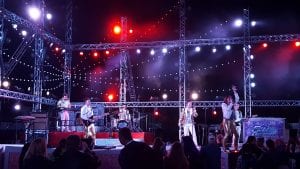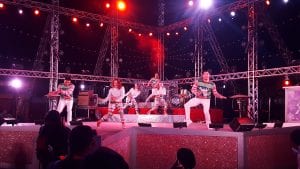 For the party-like celebration, head towards Snowy Nights where you'll find a live band and spirited dancers.  The rockin' stage in front of Full Throttle decks the halls and airwaves to the sound of holiday cheers.  A DJ host spins a yuletide beat that will even get the most stubborn Scrooge to tap their toes to the engaging rhythm.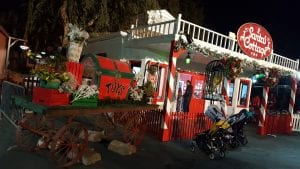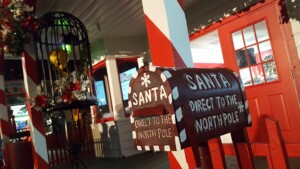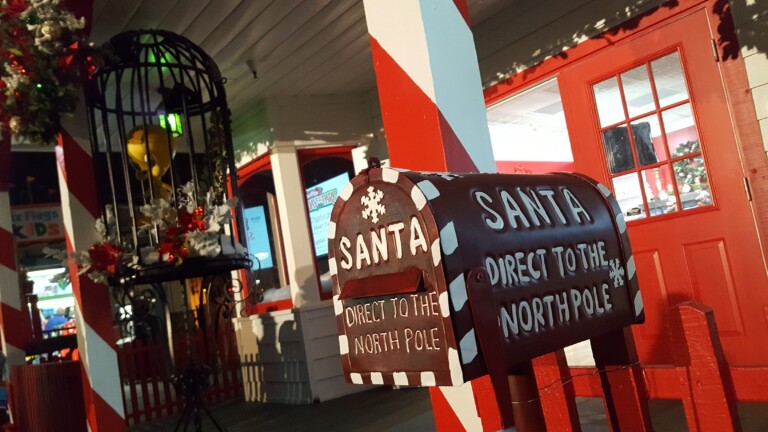 Time to pull your sled into Santa's Cottage to meet with the big guy in red himself!  Bring your kids to get a photo with Santa and cherish the memories.  Mrs. Claus is also around for arts and crafts with the merry elves.  A fire pit has also been constructed outside to provide a warm and welcoming glow.  You'll want to be sitting by the campfire with loved ones making delicious hot schmoes.  I mean… s'mores…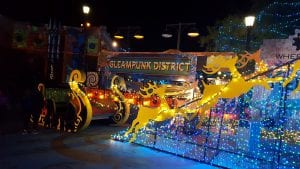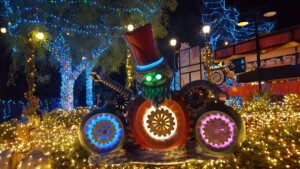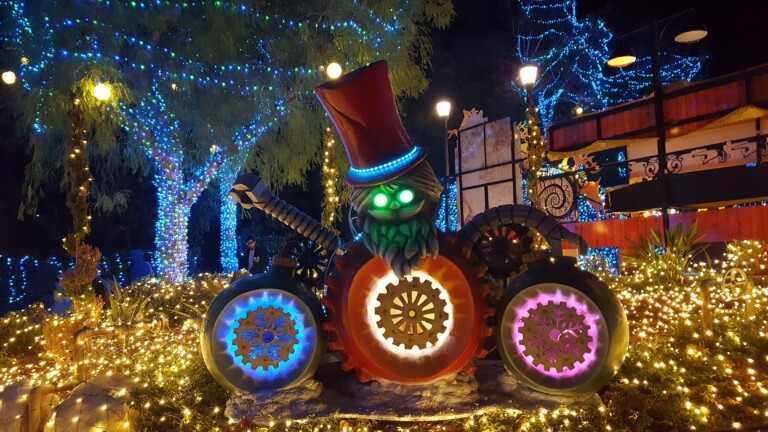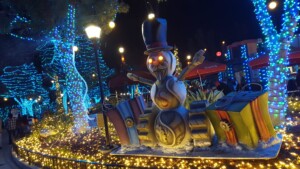 Next on the list is Gleampunk District.  This is a holiday overlay of the park's year-round steampunk area when Twisted Colossus was created.  A popular photo spot will be a sleigh your whole family can sit in that's being pulled mid-air by flying reindeers.  Thousands of sparkling lights also brighten your path amongst the landscape on your way through the area.  Beware of Tinker Toy Silt Walkers as they have been eager to tinker with you.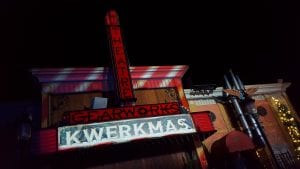 The best is yet to come with a live steampunk-inspired circus show.  Located inside the Gearworks Theatre, the Kwerkmas shows invites you inside a steampunk toy and candy factory full of visual spectacle of acrobatics and choreographed dance numbers.  You may spot a clever detail in the cogs as they are shaped into snowflakes for the holiday season.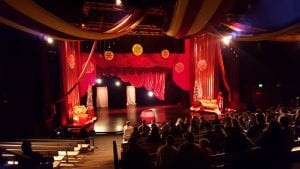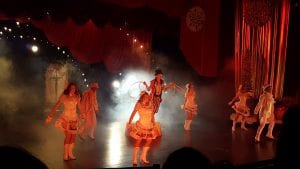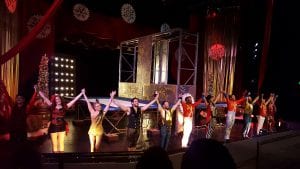 This high-energy cirque-style show will leave you breathless and in awe.  The vaudeville performances feature juggling with legs, aerial silk dance, and trampolines.  Who would have thought you'd find a not to miss fun-for-all-ages Vegas style show in a Six Flags amusement park?!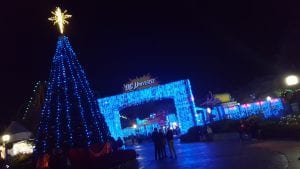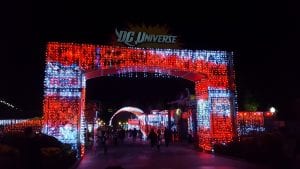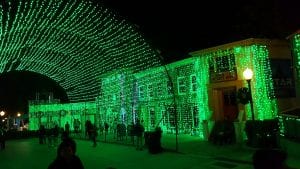 For those interested in the choreography of the bright and colorful lights category, Six Flags has you covered.  DC Universe becomes Rockin' Universe for the Clark Griswold in all of us.  An endless blanket of lights covers the entrance and facade of this area to bring you dancing lights alongside holiday rock and roll music to go with the backdrop.  We recommend taking a stroll up and down the street and under the canopy with some hot chocolate to fully enjoy the pageant.  Simply standing in one place would not do the light display justice (pun intended).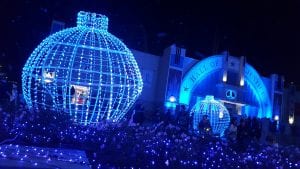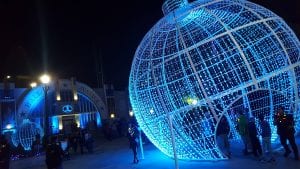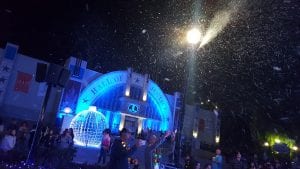 Speaking of justice, let's fly down across the way and into Merry Lane.  Located in the plaza in front of Justice League: Battle for Metropolis and Riddler's Revenge, oversized ornaments light up the wide-open place with its own set of the choreographed light show.  The ornament-shaped display is so massive, guests are able to step inside and take a selfie with a colorfully bright backdrop.  Don't forget about the blizzard of snow every few minutes.  This, of course, brings to mind a quote from Batman: "Mistletoe can be deadly if you eat it.  But a kiss can be even deadlier if you mean it."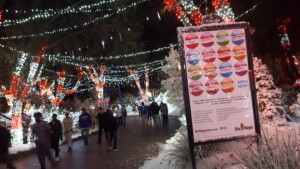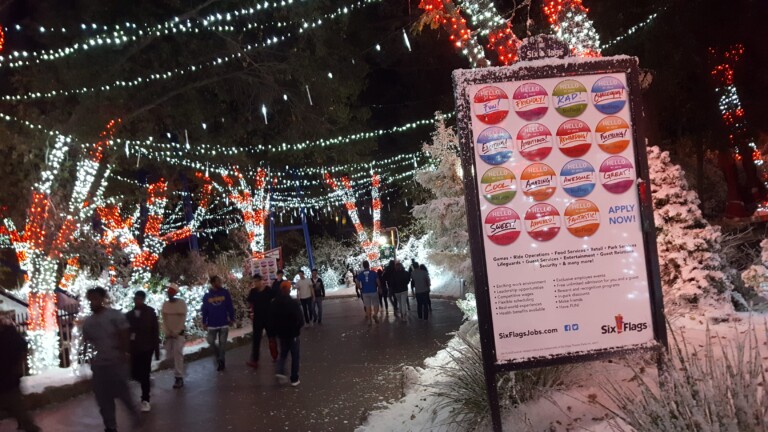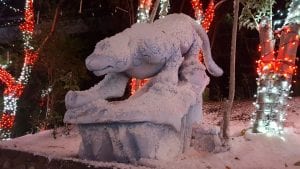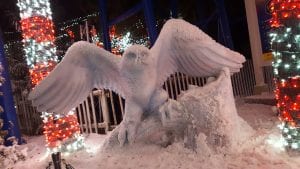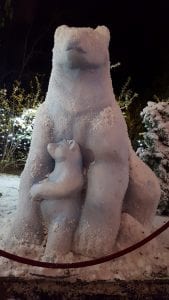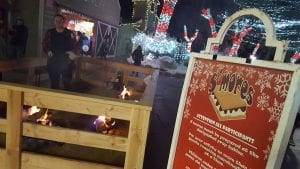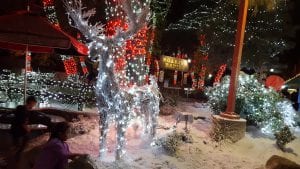 Now for probably the most lit offering Magic Mountain has to offer can be found in Winter Wonderland.  Follow the path of showering lights and dripping icicles to scattered animal friends.  These snow sculptures depict a whirlwind selection of leopards, owls, beers, and deers.  A second location to satisfy that craving for s'mores comfort snack can be found in front of Mrs. Claus' Kitchen.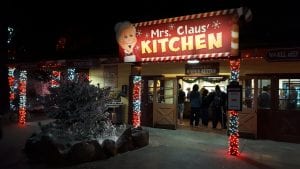 Speaking of snacks, it's now time for the newest Holiday in the Park from Six Flags coming in the second half of December to ring in the new year.  Taste of the Holidays Food Festival will offer delectable treats in a smattering of dishes to have your taste buds cheering to match the sights and sounds already enjoyed by your senses from the park's festivities.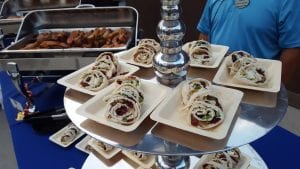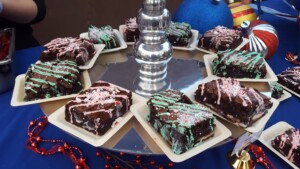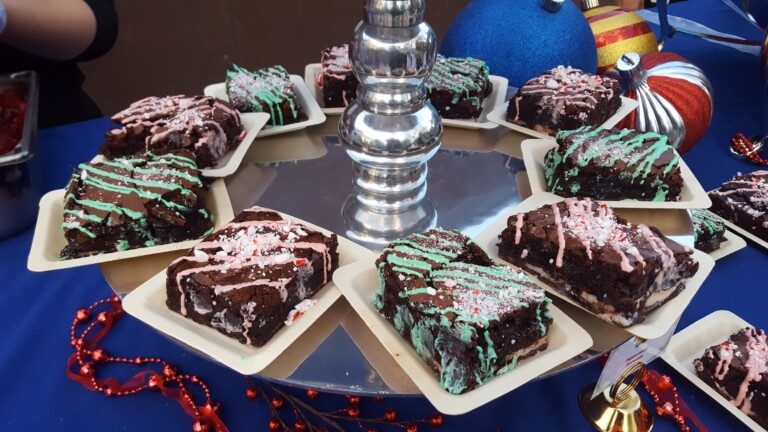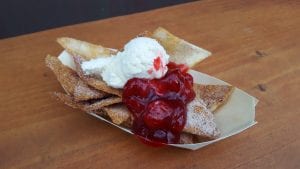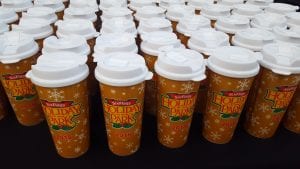 Don't forget to wash down all the yummy goodness with hot chocolate in a keepsake mug.  Light but delightful morsels include cranberry walnut pinwheel and mesquites.  The cherry pie nacho tastes better than what one may expect.  Just spread out the toppings among the crispy chips and you are golden.   You can be sure peppermint sweetness will fill your palate with pudding parfait and brownies.  Joining the sugar-heavy dessert is the pudding and the slice of a refreshing root beer cake.  There is also the savory side of the plate with peach ribs, spicy cranberry BBQ pulled pork slider, prosciutto mac n cheese, bacon and pecan yam, and Guinness sloppy joe.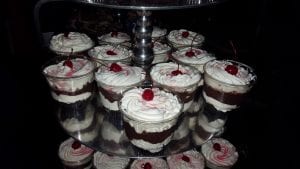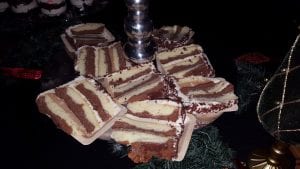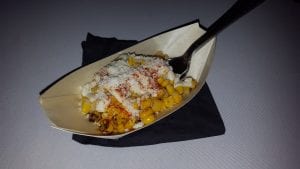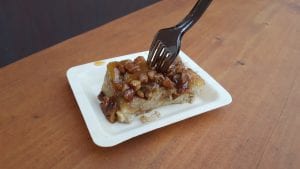 With all of these dishes making our mouths water, we had to contempt with a couple items that either turned out bland or too unique for the most audience.  The chicken and waffle was underwhelming with the chicken being more like nuggets and the waffle literally tough to chew on.  For the more adventurous foodie, there's the rice pudding with holiday trimmings sprinkled on top.  Others may like this option more compared to others.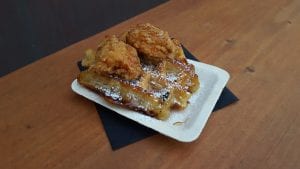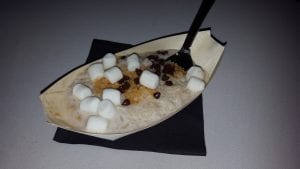 Overall, Holiday in the Parks at Six Flags Magic Mountain is enjoyable addition the celebration for those already making their way to the park for some festive fun.  Guests get a little bit of everything from meeting Santa Claus, roasting s'mores, dazzling light shows, rock concert, tasty bites, and a magical snowfall.  The event occurs December 1, 2, 8, 9, and 15-30 with the celebration beginning at 5 pm.  Santa's Cottage opens at noon on event days until Christmas Eve.  Kwerkmas are weekends only with the first showtime at 2 pm.  Taste of the Holidays Food Festival is every day December 15-30.