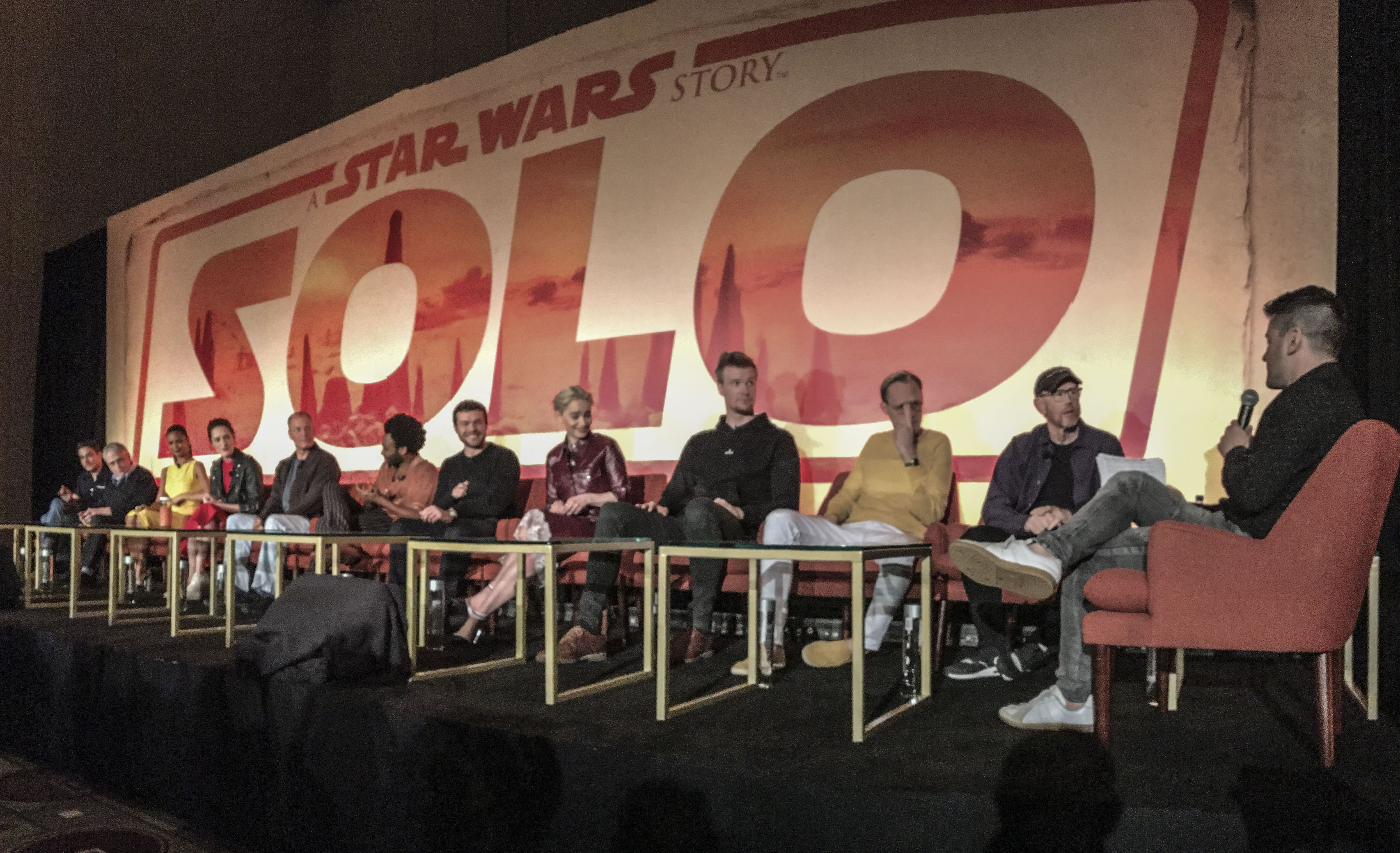 This post contains affiliate links and our team will be compensated if you make a purchase after clicking on the links.

"He's reckless, cynical, doesn't trust anybody, does things he shouldn't do and is a little bit stupid." Legendary writer Lawrence Kasdan described how he first saw Harrison Ford as Han Solo and being fascinated by his character while seeing him in the cantina in A NEW HOPE. That fascination carries over 41 years later for Kasdan, who co-wrote SOLO with his son, John. The love for Han, his legacy and the universe he exists in was shared amongst the panel during the press junket for SOLO: A STAR WARS STORY. 
Here's a few tidbits that were shared:
Ron Howard felt honored to be able to direct a STAR WARS movie, saying that he told himself, "Ron, don't f*** this up." He knew the weight and importance of these films, and how gargantuan of a task taking on a film of this magnitude would be. He was happy to inherit an incredible crew, including cinematographer Bradford Young.

 

On finding the right role for his brother, Clint, Ron remarked "there was this great scene with L3 and it just sort of came up in conversation that L3 needed somebody to be pissed off at. And I said, 'My brother!'"
Howard also praised the script the Kasdans wrote, and how well it handled each character's impact on the younger, naive Solo. The screenplay also allowed him to focus on character beats, rather than wrapping his head around references to the larger Star Wars canon; he left that job to his technical advisors. Coming in to the movie, Howard said he "would treat this like it's a true story" and worked off instinct to tell the story. He found it difficult at times to stage the big action sequences, but discovered that the set pieces were really about testing Han and furthering his character. In the end, that defined the way the action played out.
Howard, about halfway into the press junket, was also the first to mention previous directors Phil Lord and Chris Miller, noting that he took over after "creative differences created circumstances where they were not going to carry on."
The father-son duo of Lawrence and John Kasdan were able to find a great working dynamic between them when writing the movie. John said he "shared a deep love with [Star Wars], and I came at it from a totally different [perspective]. I grew up playing with the toys, and that with me as a fan, and [Lawrence] as an older Jedi master, we could figure out some sort of dynamic where the story felt contemporary and true to the spirit of Solo."
The Kasdans tried to approach the movie in terms of "is there a genre movie – a crime movie, a western – that we could fit Han Solo into?" The younger Kasdan wanted to plug Han into the kind of story they wanted to see. "At its base, it's trying to be its best version of a western," John remarked.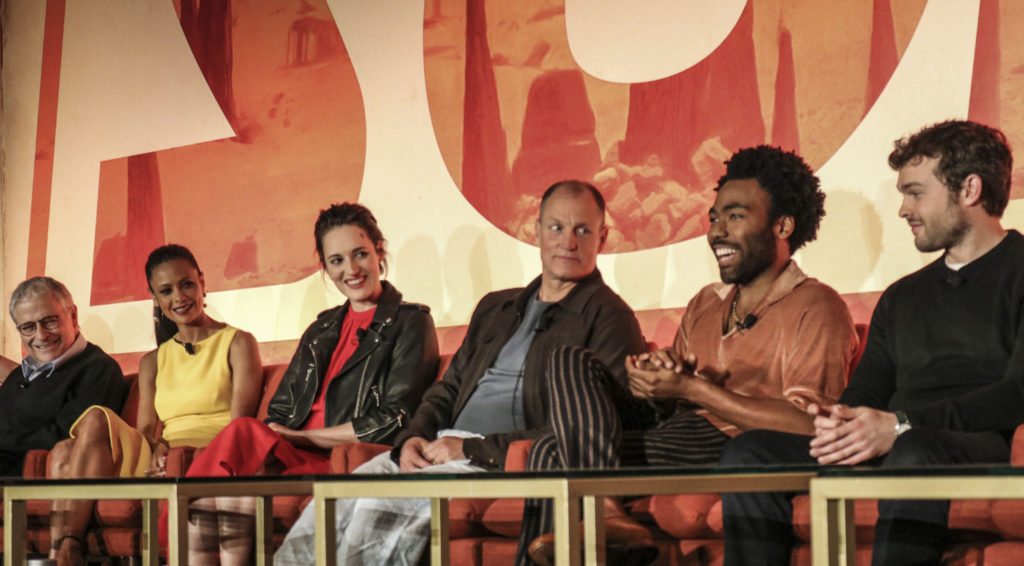 Inheriting the role of Han Solo, Alden Ehrenreich found it "wild and exciting to step into the Millennium Falcon." Early on into his process, he watched the original Star Wars trilogy to absorb Solo's character and view of the world. Harrison Ford even gave him some pointers during a meeting, and also surprised Alden the morning of the press junket during an interview. Ehrenreich was so happy that his predecessor was extremely effusive and supportive of the movie.
Fresh off an SNL hosting gig and the release of a controversial, yet important music video, Donald Glover dons the cape that Billy Dee Williams wore before him as Lando Calrissian. Glover said that Star Wars feels like the bible to him, as he had toys of Land and Darth Vader, amongst others when he was younger. "When I heard they were making these, I told my agent, 'If they're making anything with Lando in it, I have to be Lando.' And he was like: 'I hear you. I don't like your odds.' That was exactly what I needed to hear. I really auditioned like it was the only role I wanted in the world. It really was," Glover said. Don't ever tell Glover the odds, as he beat them handily to nab the role of young Lando.
Joonas Suotamo plays the lovable Chewbacca, and felt honored to carry on the legacy of Peter Mayhew. This role was a life changer for him, and was very thankful of getting to step into this franchise. He joked, "[for Chewie bootcamp,] tickets were sold out, but I was lucky to squeeze in," as he let out a classic Chewie yell to the delight of everyone in the crowd.
SOLO contains many familiar characters, but also introduces a few new characters into the universe, including Woody Harrelson's Tobias Beckett. Woody was attracted to the project because of how well written Beckett is, and was overjoyed at the chance to be in a Star Wars movie.
Emilia Clarke found her character very exciting, but expressed that it was sometimes difficult to play mysterious. In the end, she loved playing the enigmatic Qi'ra, the love interest to Han and a new character created for this movie.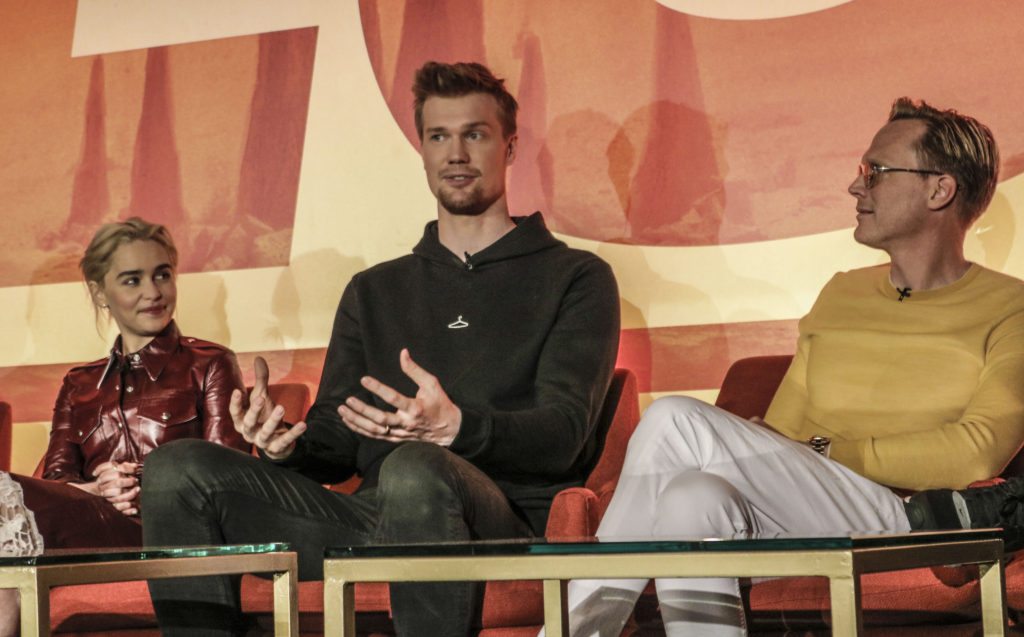 Playing the nasty villain, Dryden Vos, was a pleasure for Paul Bettany. He found it very fun to play bad, and was eager to be in the Star Wars universe, going so far as to text Ron Howard to find him a role. Bettany compared his role as Vision in the Avengers movies as being a fundamentally good character, while Dryden Vos is viciously bad.
Thandie Newton, who plays Val, a member of the crew Han joins, reminisced about the fun times filming, as well as the size of the sets and scope of the movie. She told a story about how her son's first interactions with the Star Wars universe was him blabbering back and forth with R2-D2 on set. "This is the stuff dreams are made of."
Phoebe Waller-Bridge did motion capture and voiced L3-37, Lando's droid companion. She says that L3 is "a self-made droid, so she created herself out of other droids, which is kind of frightening when you put it like that." L3 is also upbeat, independent and inspirational to Waller-Bridge (who was also responsible for one of the funniest lines of the movie).
The last remarks of the morning put the movie into a more relevant perspective. John Kasdan stated that "Star Wars… has been a classic story of the dark and the light, the good and the evil. And we saw this as an opportunity… to make it so every character had some ambiguity to them, and everyone was after their own particular end." He hopes that the world we live in now is reflected in their art, and they tried to be faithful to what they think is appropriate for today and how the perception of Han would evolve through time. He went on, saying "Han is centrally conflicted, at his core, there is conflict and it's beautifully laid out in A NEW HOPE between his ideals and his desires."
SOLO: A STAR WARS STORY, starring Alden Ehrenreich, Donald Glover, Woody Harrelson, Emilia Clarke and Paul Bettany, and directed by Ron Howard, opens on May 25 nationwide.