This post contains affiliate links and our team will be compensated if you make a purchase after clicking on the links.

Venturing into Pixar Pier, there is so much to do, so much to see, and most importantly, so much to eat. Pixar Pier has debuted a huge food selection, ranging from quick snacks, to unique meals, to delectable desserts.
First off, let's tackle the snack and quick portion of the Pier. For a sweet start to your adventure, fly over to Senor Buzz Churros. Buzz has selected two treats, which include the Caliente Churro (A twist on a classic that packs a punch), and the Cinnamon Sugar Galaxy Churro. Both are available for $5.25 and will be located directly across from Toy Story Mania!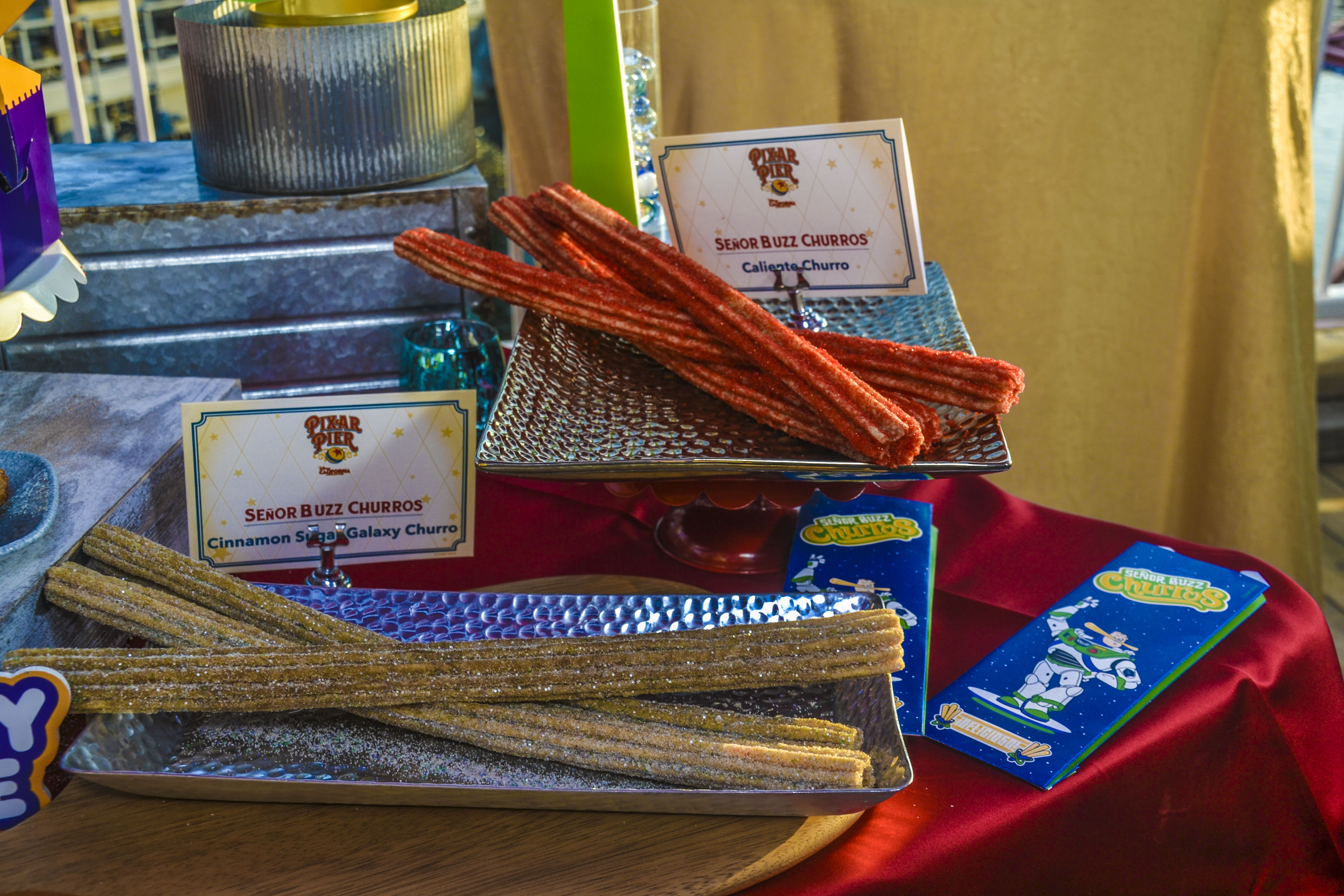 Angry Dogs is also available, featuring two choices of hot dogs for fans needing a quick moment to refuel. Anger from Inside Out has given some of his attitude to the stand, creating the Angry Dog and Slightly Annoyed Dog. The price ranges from $6.99 to $7.99.
The Slightly Annoyed version of the meal is a standard hot dog that comes with a small bag of chips. However, if you want a chance to have a bit of a kick, the Angry Dog comes with a spicy all beef hot dog. The chip side is also spicy, being of the Flamin' Hot Cheeto Fry variety. When we experienced the dog for ourselves, we decided to dress it up a bit, combining the fire and creating our own custom treat. The dog features the hot fries in addition to spicy condiments (Brown Mustard and Spicy Buffalo Sauce). When you get your hot dog, you can add your own condiments, ranging in heat, to bring the most out of your meal. It's a fun addition that fits perfectly for on the go trips.
Should you want something more substantial, Pixar Pier has you covered. For the full meal experience, you have two locations to choose from.  If you love chicken and want something fast, Poultry Palace is your one stop shop. You can grab a classic turkey leg or a box of chicken drumsticks, each coming with a side of coleslaw. The drumsticks are amazing, having a nice seasoning that is full of flavor.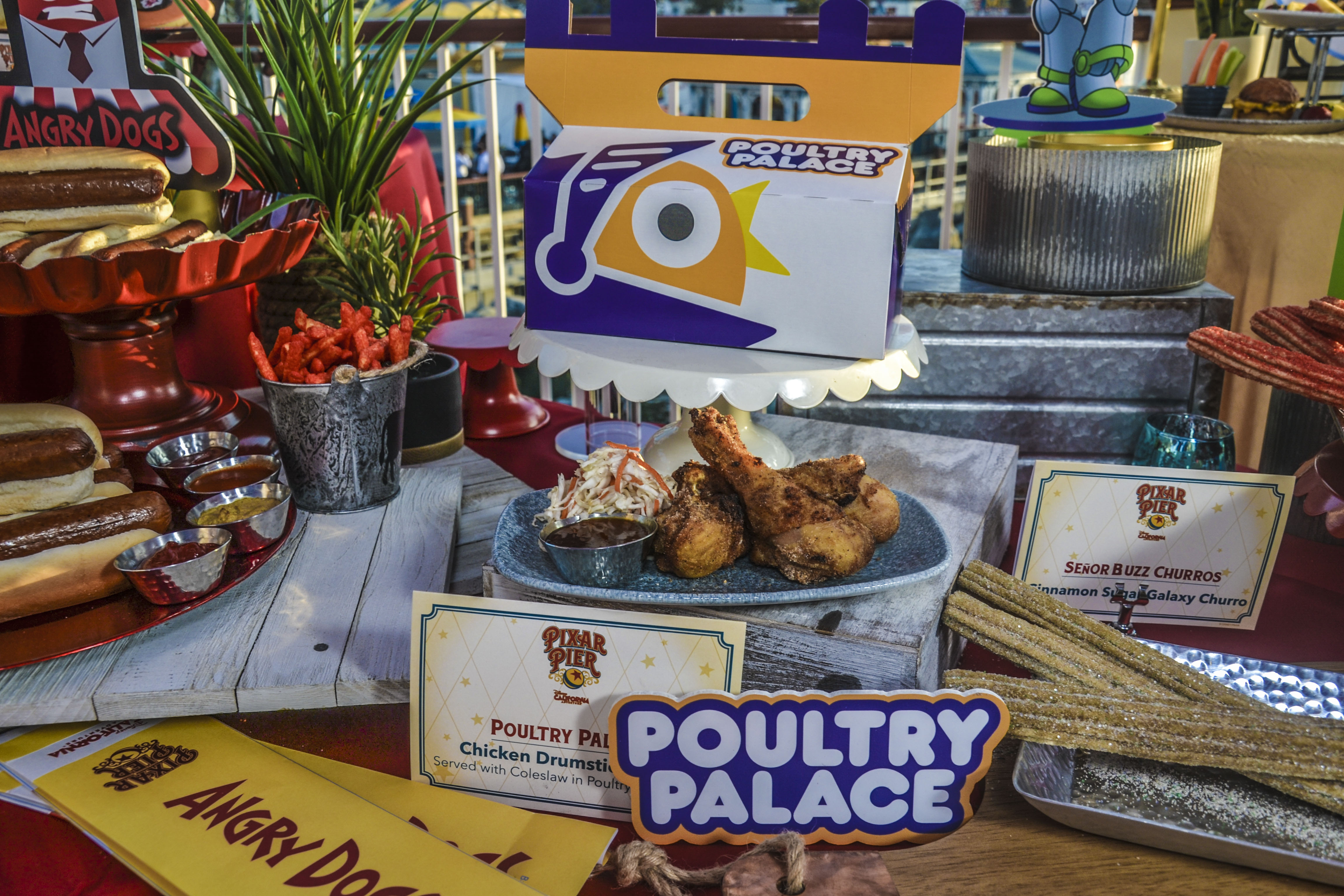 Chicken aside, the best of the Pier comes in the newly opened Lamplight Lounge. This classy ode to all things Pixar really brings it all together. You get the calm atmosphere, the stunning visual artistry and design, as well as some really incredible bites and meal offerings. As you enter, you are given a taste of famous Pixar moments with unique art prints from all over the Pixar library. Quotes can be found all over, featuring some of your favorite lines from The Incredibles, Up, and Toy Story.
Menu options range from fun and delicious appetizers like the crispy Potato Skins, which we sampled and fell in love with, to hearty meals such as a custom blended Cheddar Burger and film famous, Ratatouille. You can take a look at the full menu here. The small bites and drink menu will be available in the upstairs lounge. Previously the location for Cove Bar, guests can walk up and enjoy the lounge in a first come, first serve style. The downstairs restaurant will feature the full menu and be primarily based on reservations. The venue is booking fast, so make sure to check out reservations before they are all gone! Walk ins will be made available, but will be on a limited basis, so make sure to ask a host when you visit.
The drink menu comes in the form of a special sketchbook, featuring animated titles and mixes. Whether or not you are interested in an adult beverage or a non-alcoholic blend, there is plenty to choose from. Take a look at some of the drinks below!
Once you have had a chance to settle in, make sure to explore the lounge in detail, as you will find subtle nods, one of a kind memorabilia, and secret rooms. Around every corner is a surprise, and you will not be disappointed. To wrap it all up, make sure to try the lounge's signature dessert, donuts. They are freshly fried, coming with two special dipping sauces that are perfect for sharing. If you are unable to finish, you can ask for them to go, as they come in a special and compact box. Evey detail is exquisite. Even the coasters are a good souvenir, highlighting various characters and artists from the entire Pixar universe.
The secret room, which you can see from the last image above, is a nice relaxing location, surrounded by one of a kind sketches of the thinkers and animators behind Pixar. To access the room, a door must be opened after a specific sequence of levers and buttons. It creates a fun puzzle, allowing an exclusive experience that fits well with the theme of the venue. In addition to the main table, a secondary set of chairs can be found along with another passageway. The door will lead you outside to a small deck, looking out towards the Pier and the "Incredicoaster". Though whether or not it will be available for all guests is still a question. Feel free to ask more about the room when you arrive, as it may be for special occasions.
To wrap up your adventure in Pixar Pier, make sure to check out the sweeter side of things with Jack Jack's Cookie Num Nums and the Adorable Snowman's Frosted Treats. Jack Jack's can be found just outside the "Incredicoaster" and will have three baked options for you to sink your teeth into. The signature is his own favorite, Cookie Num Num, which is the ultimate chocolate chip cookie with an ooey goey center. You can also find a nice shortbread cookie in addition to the "Incredicookie". Make sure to grab a glass of milk, as there will be plenty of varieties available.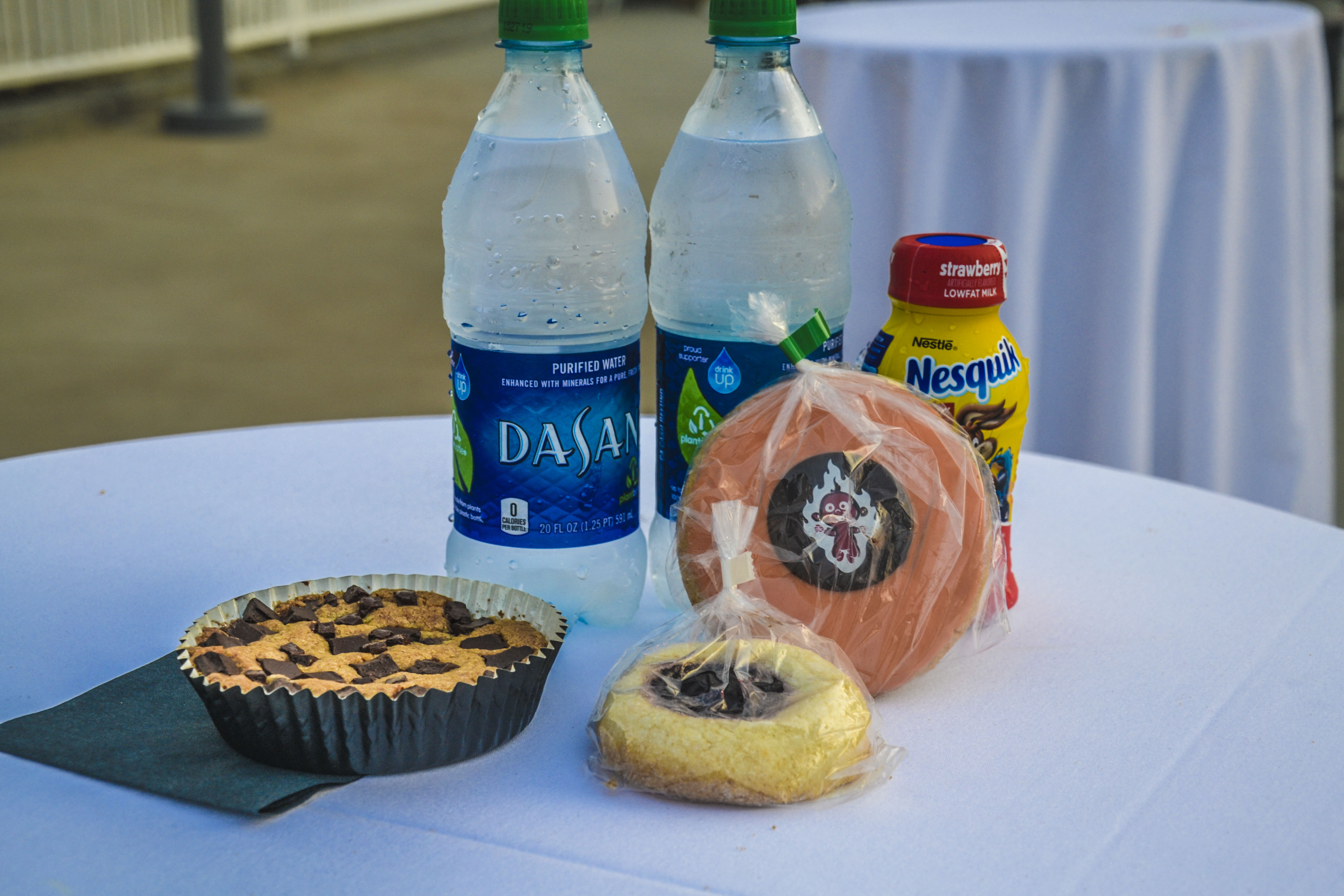 If you need a cooler option, Adorable Snowman hosts special lemon soft serve varieties in addition to vanilla and chocolate classics. The premiere item is the Pixar Pier Frosty Parfait. It's a perfect and quite shareable dessert that gives you a very memorable fruit explosion. The It's Snow-Capped Lemon! tops it all of with a special white chocolate topping with lemon soft serve. Please don't eat it too fast, as brain freezes are quite possible.
So many amazing food options, but there is still more to come! Bing Bong's Sweet Stuff is still being completed, which will be a fun candy store directly inspired by the imaginary friend from Inside Out. From what we've seen so far, there will be a lot of tasty additions that include cake pops, candied apples, and prepackaged goodies.
Pixar Pier is now open and will be available as a part of Pixar Fest. You can read all about it by clicking here! A full slide show is below, showcasing plenty of the amazing foods you will find along the Pier. There will be plenty of fun to go around, so make sure to swing by today!