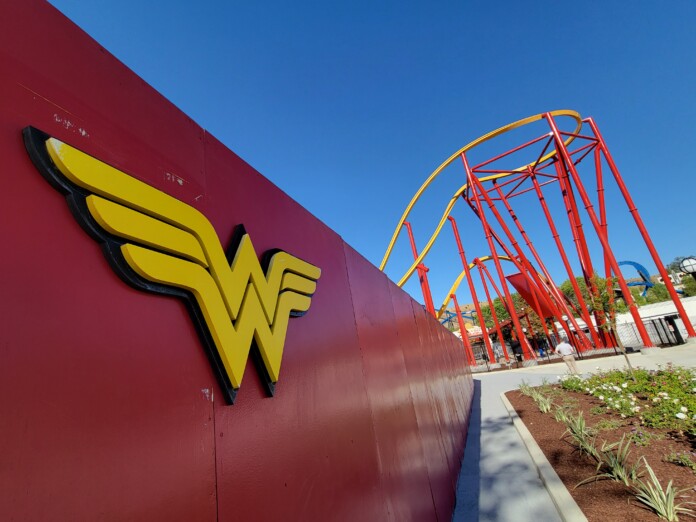 This post contains affiliate links and our team will be compensated if you make a purchase after clicking on the links.

Strap yourselves in and prepare for thrill ride of summer 2022 you've been waiting for. Wonder Woman – Flight of Courage has made a solid landing and speeding off to new heights at Six Flags Magic Mountain.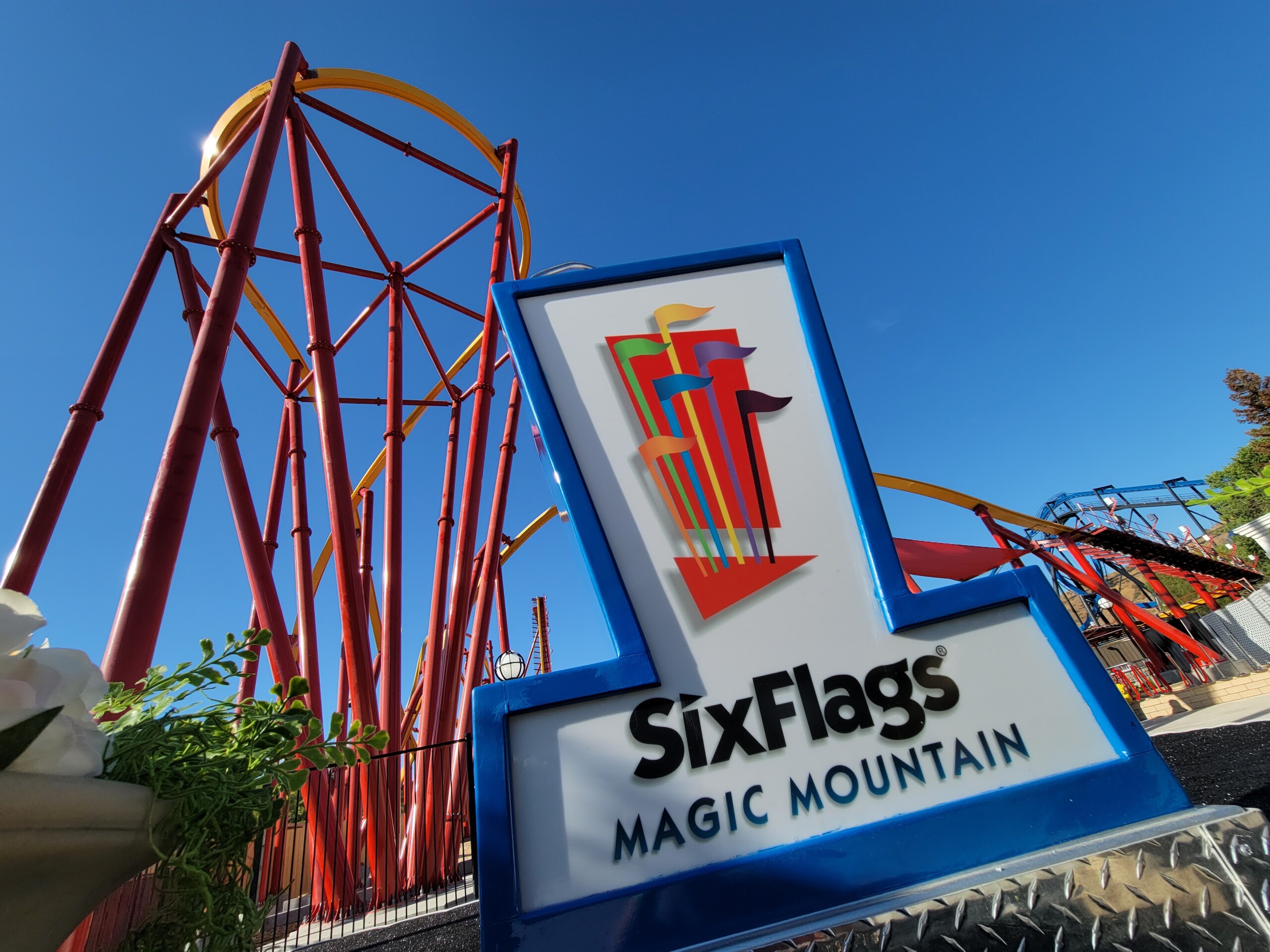 Opening the runway in the newly renovated DC Universe area, the amusement park sets and breaks world records solidifying itself as the thrill capitol of the world. This will be Six Flags Magic Mountain's 20th roller coaster operating in the park. The Rocky Mountain Construction roller coaster is not only the world's longest single-rail roller coaster in the world at 3,300 feet, but also the world's tallest at 131 feet.
That first drop plummets brave riders down an 87 degree angle. The 12 passenger trains whizzes by at a top speed of 58 mph. 3 inversions including a raven dive, 180 degree stall, and zero-g roll. Several airtime hills that includes left and right tilts along the track. Not to mention dramatic a high speed turnaround and gut-wrenching overbank cutback.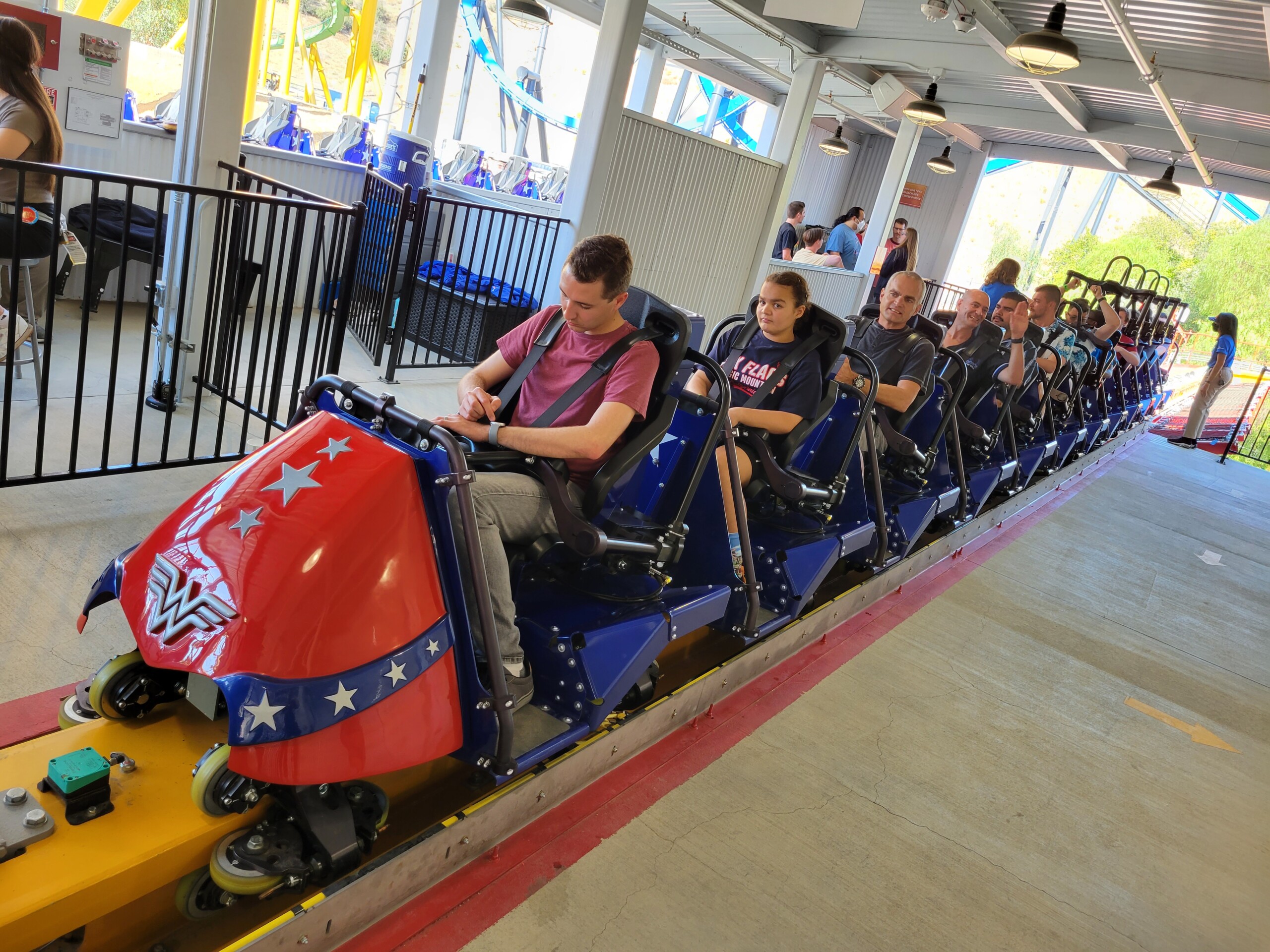 The single-rail steel roller coaster is a comfortable, smooth ride in single row seating configuration. Helpful attendants secure and lock the over-the shoulder restraints as the vehicle slowly crawls from one end of the load station to the other. The shoulder belts gives a sense of security, especially when hanging upside down for a few seconds during the ride. Although they may slip for anyone with small shoulders and while whipping around back and forth. Not too worry as the lap bar locks your legs into place.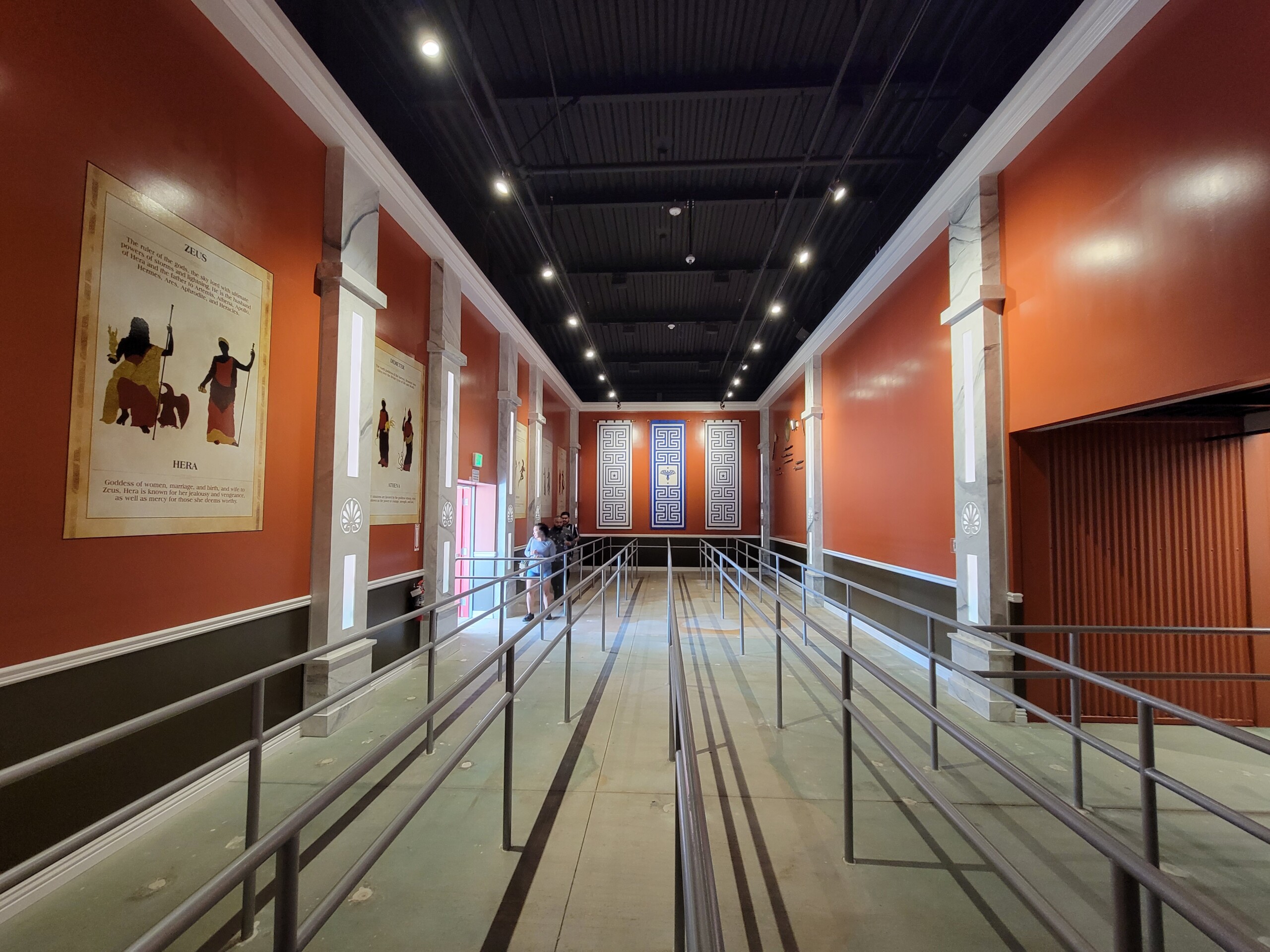 There is an indoor segment of the queue themed to the Embassy of Themyscira. The exterior is painted to appear like marble, while the interior is decorated with banners, armor, weapons, shields, banners, and description of other Greek characters. Around the turn, lockers are provided for a minimal fee or leave your belongings with a non-rider. There is a small clear-plastic zip pouch in front each seat for pocket-sized items like wallets, smartphones, and car keys. The Flash Pass option will also be available at an additional cost for a shorter wait in line.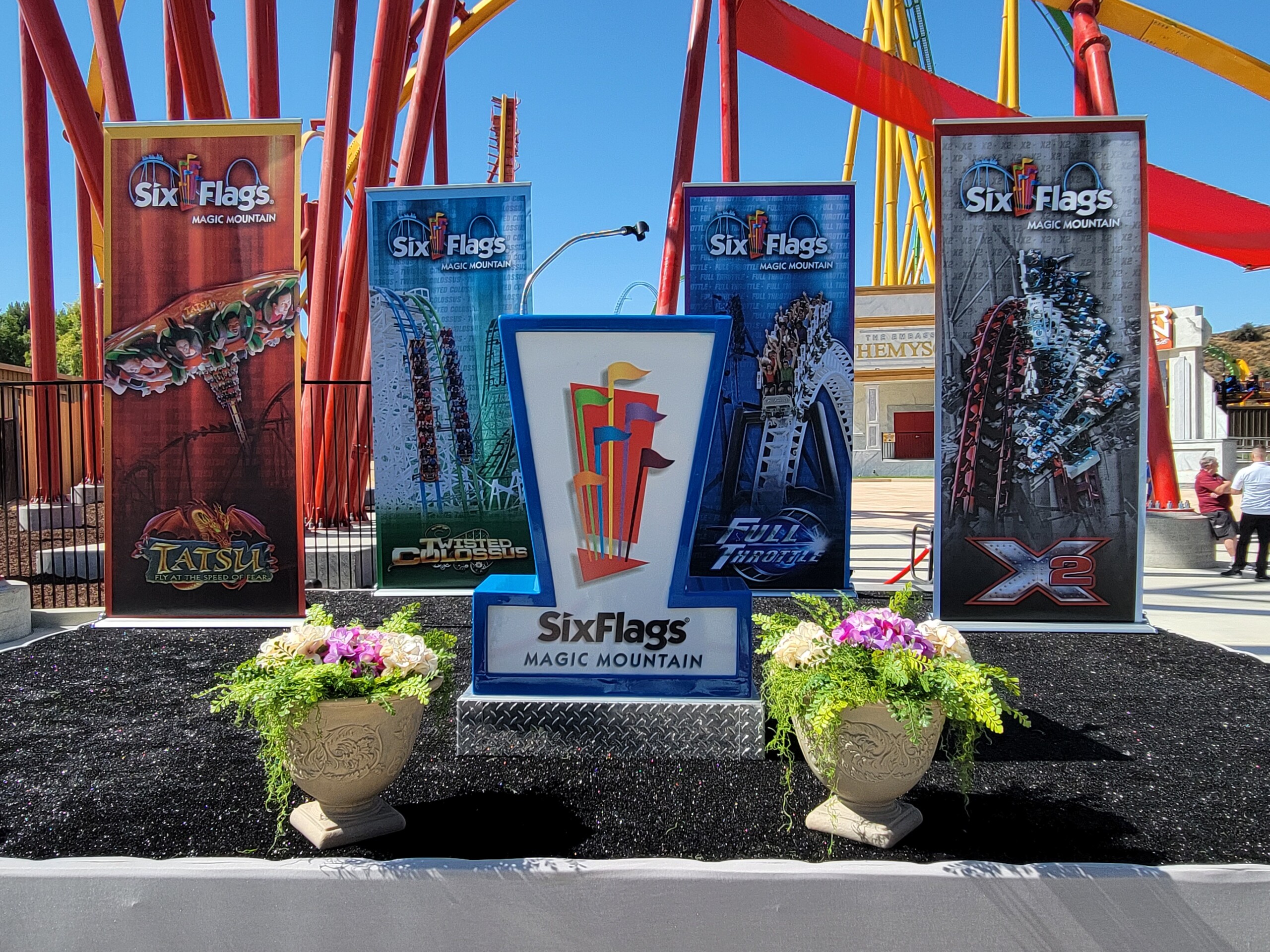 The opening ceremony invited Los Angeles first responders as the first official riders. Wonder Woman herself made an appearance to greet fans and coaster enthusiasts. The billowing wind dispersed a cloud of sparkling confetti whilst spreading the light of truth, justice, and equality over all in attendance.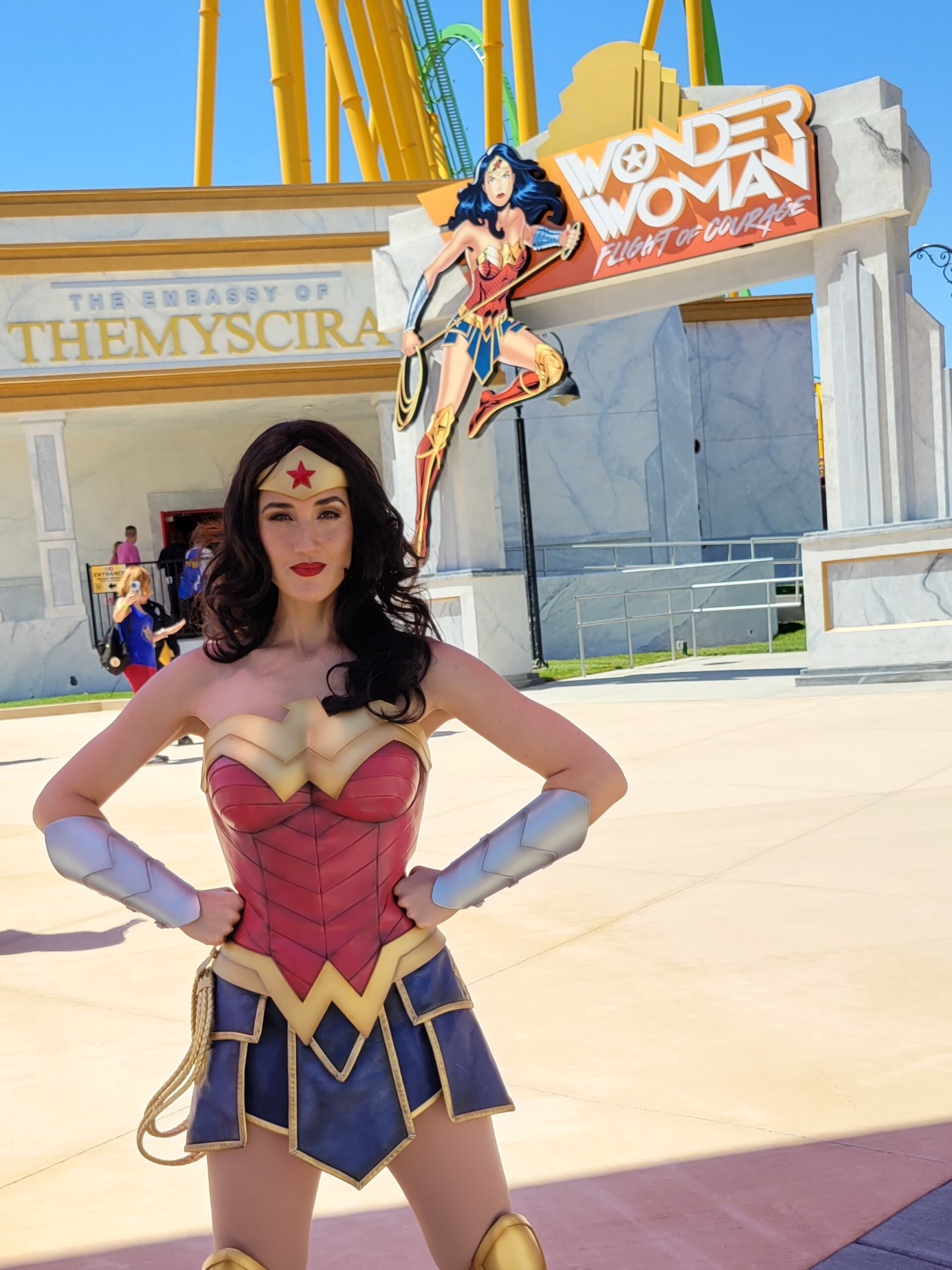 Wonder Woman will toss, turn, and hang you upside down extracting all the fear and tension from your body producing uncontrollable streams of giggles and laughter. By the end, the only truth left to admit is how thrilling and exhilarating the experience was that you'll want to go back again and again. Honestly, that's no lie. The front seats delivers an unprecedented scope of views in all directions of the park. The back seating drags and pulls riders in and hugs onto the twisted steel track. The middle seat section supplies a prime form of comfort in between.
Flight of Courage Photo Gallery
Although nearly identical to Jersey Devil roller coaster in Six Flags Great Adventure in Jackson Township, New Jersey, it doesn't take the fun out of this amazing ride. You're clear for takeoff with Wonder Woman – Flight of Courage, now flying at Six Flags Magic Mountain.