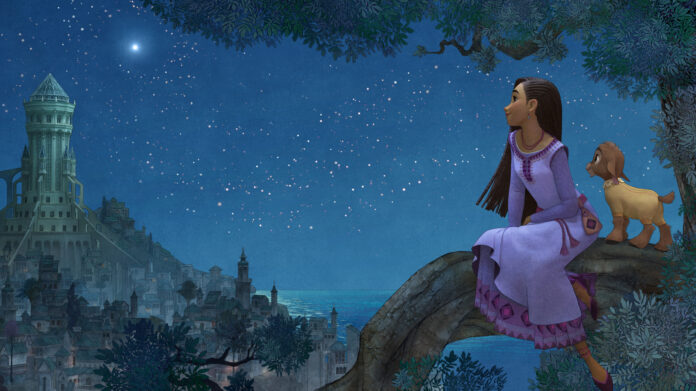 This post contains affiliate links and our team will be compensated if you make a purchase after clicking on the links.

The wishing star has been a part of the Disney mythos since its earliest days, looking back to 1940 when we first heard our conscience, Jiminy Cricket, sing out of his heart of hearts the ballad, "When You Wish Upon a Star!". The song would go on to be an immortal part of the Disney legacy, building upon what came before and creating the bridge to what would become over 100 years' worth of fantastical animated stories that have touched all our lives both young and old. Now we get a chance to look back at where the magic all begins in Disney's latest animated feature, Wish.
Will the film live up to the legendary tales that have come before, and does it stand a chance to be enshrined along with the rest of these classic stories? For all those curious, Wish is a dream come true, bringing a century's worth of magic full circle with a beautiful story, a stunning hybrid animation style, and catchy songs that will warm your heart all season long.
First announced at the 2022 D23 Expo, Wish was promised to be an origin story of sorts, a spark that would help connect all the different animated features in a fun and exciting way. The North Star, Second Star to the Right, you name it. The power of a wishing star is pivotal in the world of these iconic stories.
In what has become a very Disney-esque trope, what if "x" object had an origin/feelings/backstory, Wish begs the question, what really happens when we look up at the shimmering stars above, and what makes up the very wishes we hold in our hearts? Wish proves there is a story to unlock, and it does so with such whimsy, wit, and grace.

It all starts in the mystical land of Rosas, where the very wishes within the hearts of the people are given in order to provide peace and prosperity to the kingdom, with each wish being under the careful protection of its charming and self-made king, Magnifico, played by Princess Diaries 2 and Into the Woods alum, Chris Pine. Yet, not all is what it seems, and we get a chance to learn the sinister truth behind the magic that holds the kingdom together through the eyes of our latest Disney heroine, Asha.
Voiced by Hamilton and West Side Story starlet, Ariana DeBose, Asha is a starry-eyed optimist (pun intended), hoping to take up the role of King Magnifico's apprentice. Little does she know what that dream will cost, and what powers it will unleash when she questions him about the purpose of the kingdom's wishes and which ones he chooses to grant.

Asha is joined by her furry goat companion, Valentino, voiced by the legendary Alan Tudyk, who once again finds all the right notes with nonstop laughs. They team up with the powerhouse ensemble cast that features Angelique Cabral (Amaya), Victor Garber (Sabino), Della Saba (Bazeema), Jennifer Kumiya (Dahlia), Harvey Guillén (Gabo), Evan Peters (Simon), Natasha Rockwell (Sakina), and Jon Rudnitsky (Dario).
Yet, the breakout star of the film is quite literally the actual star of the picture, named adequately, Star. This mega-cute, fun-filled fireball has the biggest personality of them all, bringing the adorable factor to a breaking point without speaking a single word of dialogue. Star will touch your very soul and warm your heart, which will make it that much easier to want to purchase every single Star-themed item you can get your hands on. We see what you did there Disney!

In all seriousness, Star adds such a fun element to the concept of Wish and one that really lifts the film to new heights, along with its other use of imaginative world-building.
It all comes together through the use of clever references and nods to Disney classics that we all know and love, including the likes of Snow White, Peter Pan, Bambi, and Cinderella. Viewers will find a treasure trove of Easter Eggs throughout every element of the film from costume and character designs to dialogue, and other visual props from various tales throughout the last hundred years of storytelling.
Though these references aren't just sprinkled in to celebrate the studio's hundredth anniversary, they also act as real-world elements of Rosas that help develop the very lore in which many of the stories we know and love originate. It also creates a new layer for our favorite Disney films, prompting us to go back and view them with a different lens. The end result is a bold choice that really stands out as an absolute winner.

The legacy of Disney shines through and through, all the while pushing the boundaries and moving forward with how the story is told, which is very aligned with Walt Disney's desire to constantly push the envelope of storytelling, finding new ways to instill the same core lessons and fables. As he so famously put it, "We keep moving forward, opening new doors, and doing new things because we're curious and curiosity keeps leading us down new paths."
From start to finish, Wish delivers a visual treat, paying homage to the classic hand-drawn techniques of the studios' origins, along with a hybrid of modern-era animation that comes off the screen like a watercolor matte painting. It's stunning and though may take some getting used to, really creates a fun medium to explore that doesn't take either animation style for granted. Though, as always, we would love to see more hand-drawn elements, as this is a style that should not be lost and will always hold a special place for animation fans the world over.
Wish is a great balance and one that goes well beyond its visuals into every piece of the feature. This includes a plethora of new songs, with some definite standouts that are sure to get stuck in your head, such as the title song, "This Wish", as well as the inspiring ballad, "I'm a Star".
The heart of Wish really comes from this song, which sets the tone with a very simple concept. The magic we long for, the shining stars we see above us, are made of the same essence and power that makes us who we are. We are all capable of making our dreams come true, and that in true Disney fashion, anything is possible.
Wish casts its spell in theaters on November 22nd. You can learn more about the film, as well as hear from the cast and crew by checking out our full exclusive coverage.
Remember, you are a star and part of the magic!