This post contains affiliate links and our team will be compensated if you make a purchase after clicking on the links.

You've never heard of the Millennium Falcon? It's the ship that made the Kessel Run in 12 parsecs. It's outrun Imperial Cruisers, brought freedom to the galaxy, and is now waiting to board for its next great adventure. Prepare for the full mission briefing, but be forewarned, what lies ahead contains spoilers for Millennium Falcon: Smuggler's Run. If you're ready, let's punch it!
https://youtu.be/cgigrkyvuUA
ARRIVAL
As you enter Black Spire Outpost on the distant planet of Batuu, you turn around the corner of Oga's Cantina, and there you get your very first glimpse of THE Millennium Falcon.  This modified YT-1300 Corellian light freighter was piloted by the daring smuggler Han Solo and his Wookie copilot Chewbacca, taken to the edge of the Battle of Endor by Lando Calrissian, and through the harrowing escape of Crait from the clutches of the First Order by Rey.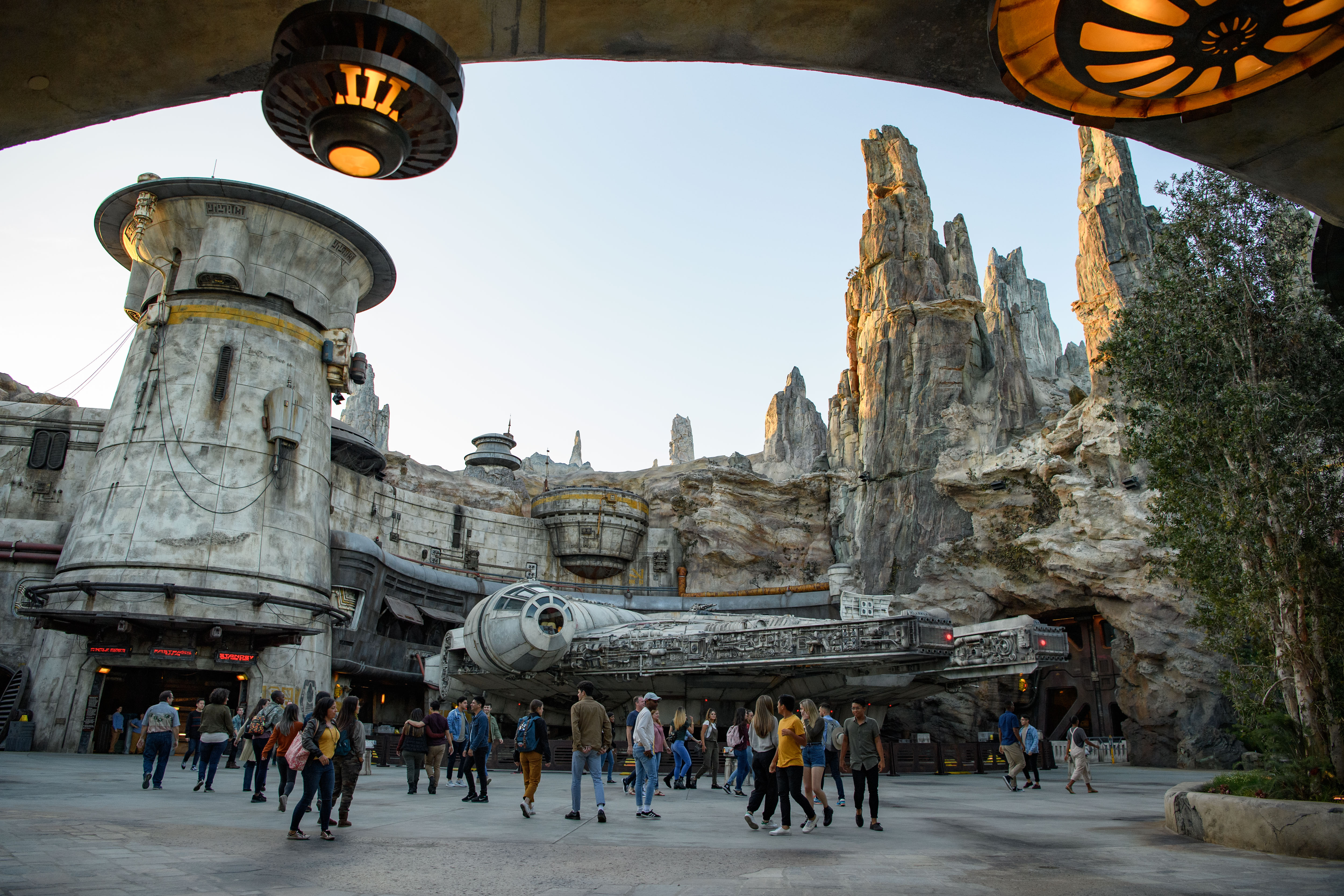 The moment will take you buy surprise, just like Luke Skywalker when he first stumbled upon the "piece of junk" at Docking Bay 94 in Mos Eisley. The Falcon looks absolutely breathtaking and is even more stunning than you've ever imagined. The details really come alive. Every inch of the ship hardened through carbon scoring, mechanical modifications, and certain parts in desperate need of repair. This ship has seen better days, but deep down, that's what gives this ship it's character. Though, you didn't come all this way to just stare blankly into its hull. It's time to take your chance and hop aboard!
QUEUE
Inside the caverns, guests ascend ramps inside the Ohnaka Transport Solutions repair shop.  It seems that space pirate, Hondo Ohnaka, has taken up residence at the docking bay to set up a new business opportunity.  His operation was so hastily pieced together, even the attraction warning signage shows signs of the previous docking bay's occupant.  As you take a look around, you will get a chance to familiarize yourself with your new surroundings.
The garage prepares an anchored engine for Hondo's next big smuggling mission. The engine isn't without its flaws though, as it experiences a few hiccups. Shipping containers are also laid out on the floor, with droids being used as trash cans, old scout trooper helmets scattered as buckets.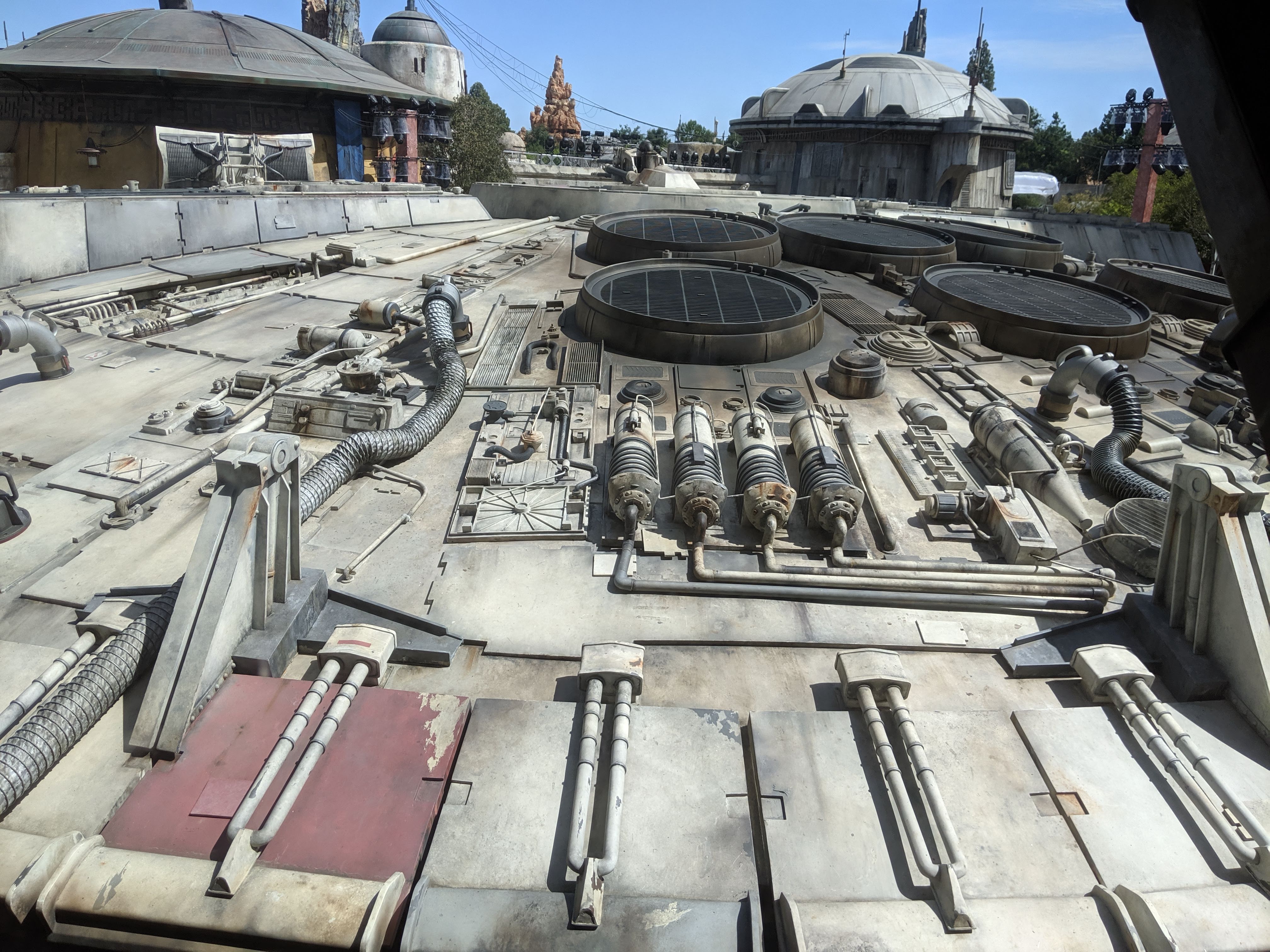 It doesn't take long to wonder what's going to happen next. What is Hondo smuggling exactly? Still, the question fades away for a brief moment, as from upstairs you will get amazing view that looks down at the Falcon. Any die-hard fan could spend hours overlooking the stunning details of the ship.
PRE-SHOW
Guests are divided into two separate groups as they prepare for their adventure. The airlock door slides open, revealing Hondo himself at the control tower, orchestrating his smuggling operation from high above. With no hesitation, you get the chance to join his crew. In return for a big smuggling job, you may get a chance to split the profits…if Hondo doesn't keep it all for himself. Thanks to Chewbacca, the Falcon is on loan, providing you with the perfect opportunity to take the controls.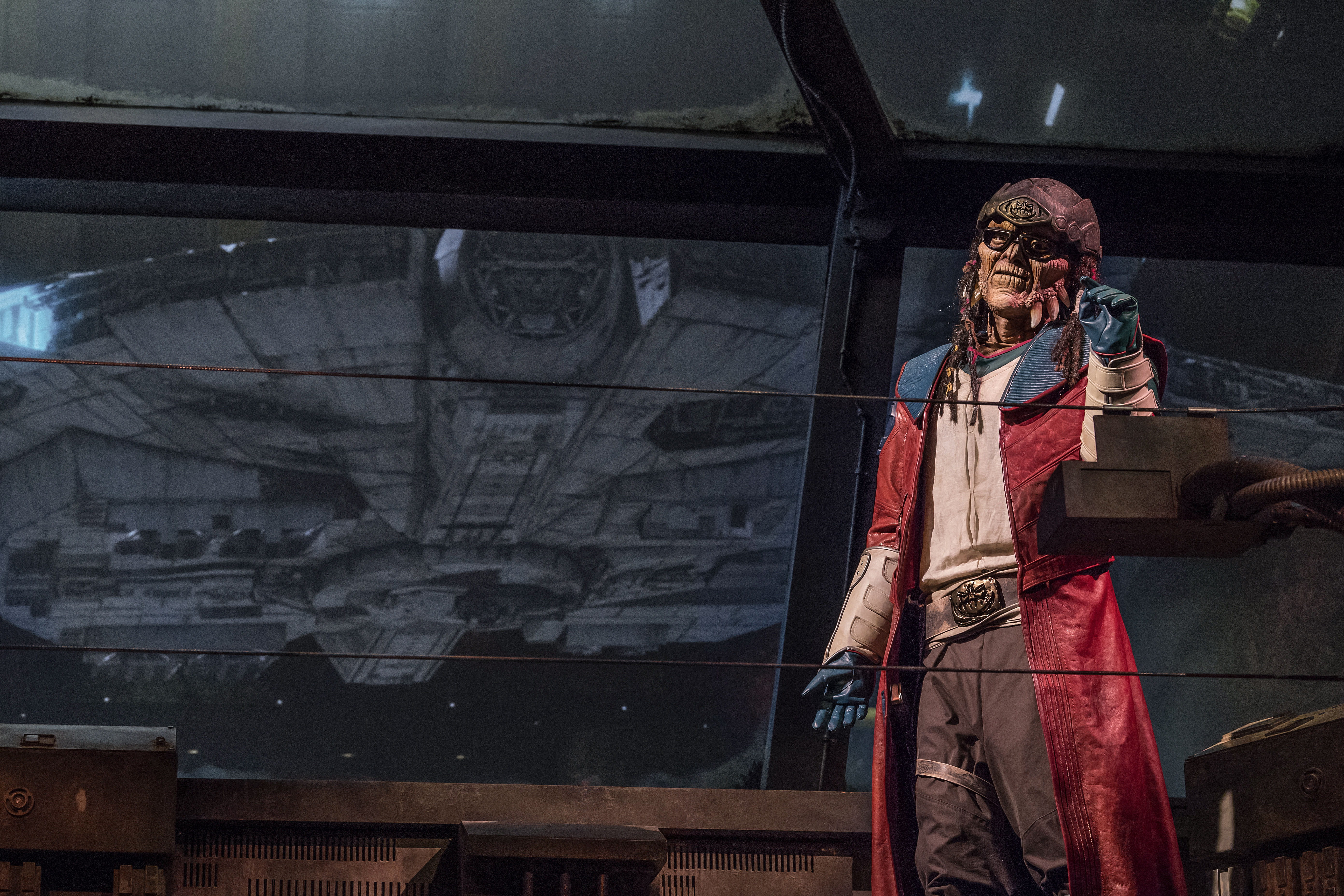 As you prepare your crew, the video showcases the ship repositioning itself for the mission ahead. Then, you receive your assignments. The crew of six is composed of two pilots, two gunners, and two engineers.  For the most part, the brief description of each role is "pilot flies the ship", "gunners shoot at targets", and "engineers keep the ship in one piece".  There's a little more to it than those simple instructions.  You're also told by Hondo's crew to "push the flashing buttons when they light up".
THE CHESS BOARD ROOM
If you've gotten this far and take Hondo's offer, you are guided down a narrow hallway that leads to the ship. Guests will then be split up into teams, including any "solo" riders. From this point, you are given the essentials, which include a boarding pass, brief role descriptions, and your team color. Keep an eye out for Chewie, as he may be hard at work getting you ready for your big mission!
This is the moment many Star Wars fans may start choking up and bursting into tears.  Now, be forewarned, you may not get as much time in the chess board room as you would like.  Get ready to snap your pictures, especially while sitting at the chess holoboard itself.  The dispatch interval is quite quick.  We wouldn't want you disappointed if you get called away too soon.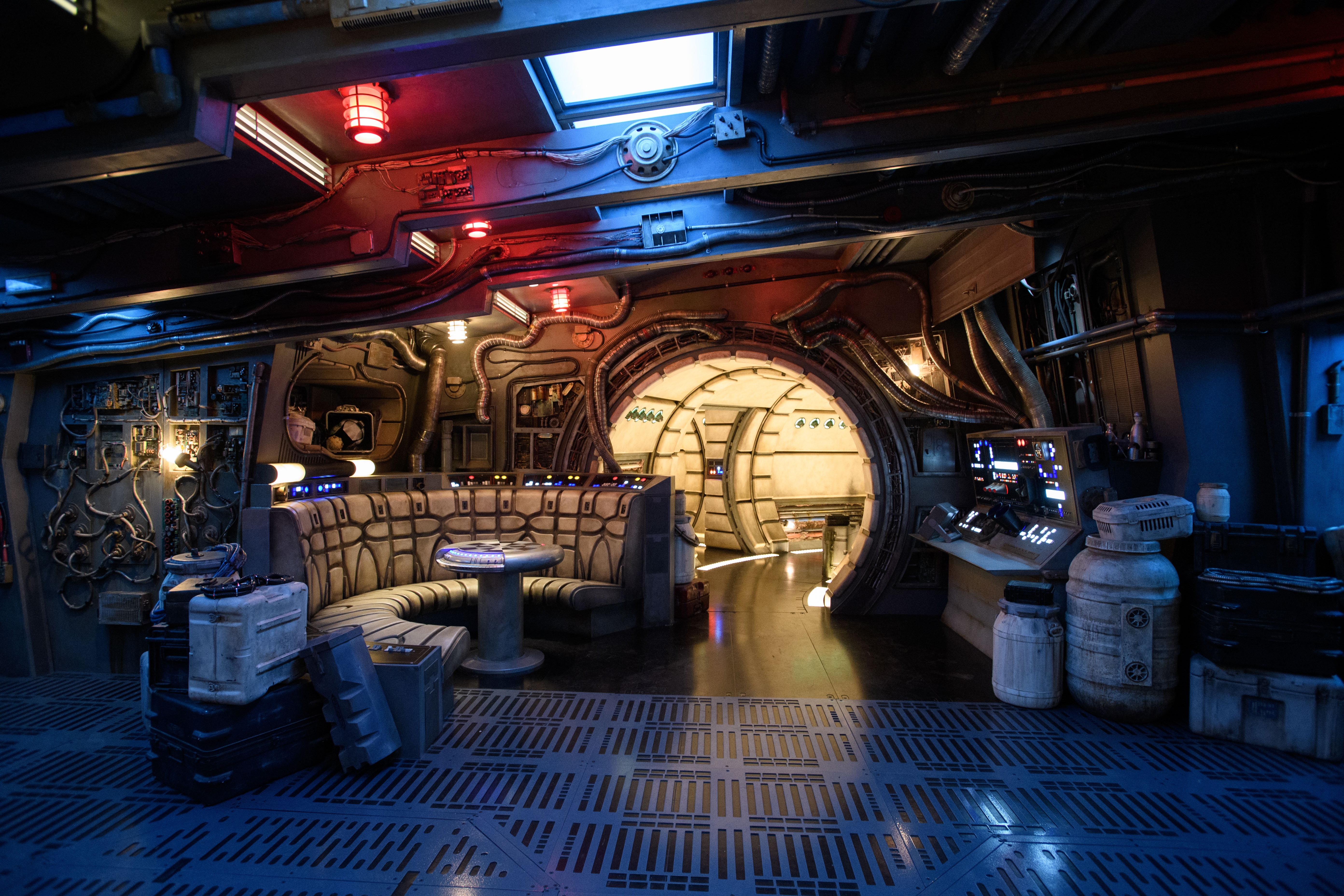 For the nerdy couples, the room does include an area with the same background where Han Solo first kisses Princesses Leia in "The Empire Strikes Back".  You can visibly spot the "X" and "O" lighting on a wall panel (this symbolizes the love scene).  However, it's in a corner that is used as an alternate route to the cockpit, so kindly request a quick photo so you can go about your business.
You'll want plenty of time to inspect the smaller details and easter eggs such as animal cages for capturing Porgs.  Speaking of which, a few of them collected pieces of wiring and created nests throughout the ship. You will also catch references from both Episode IV: A New Hope as well as Episode V: The Empire Strikes Back. Bonus points if you can point them out!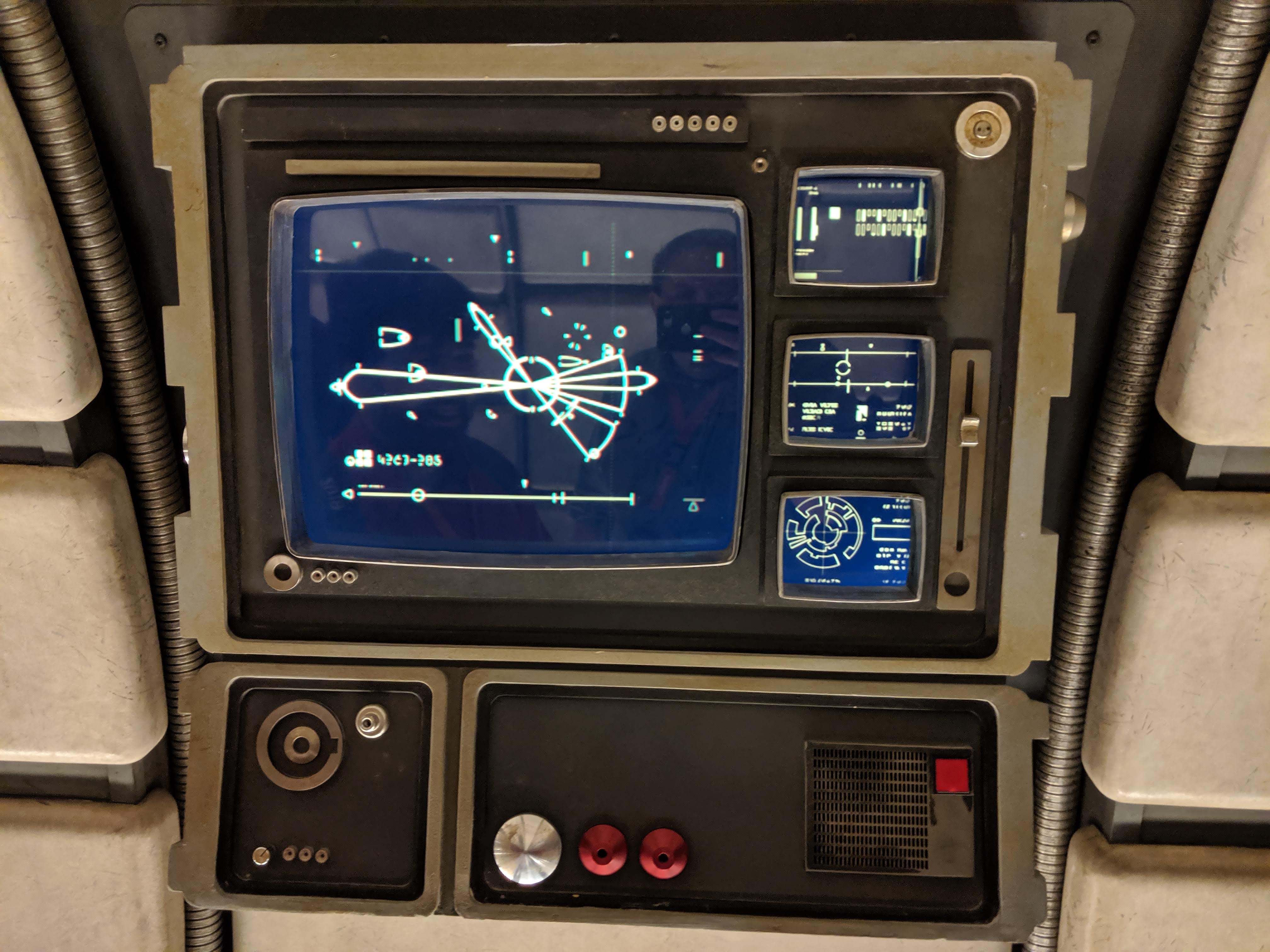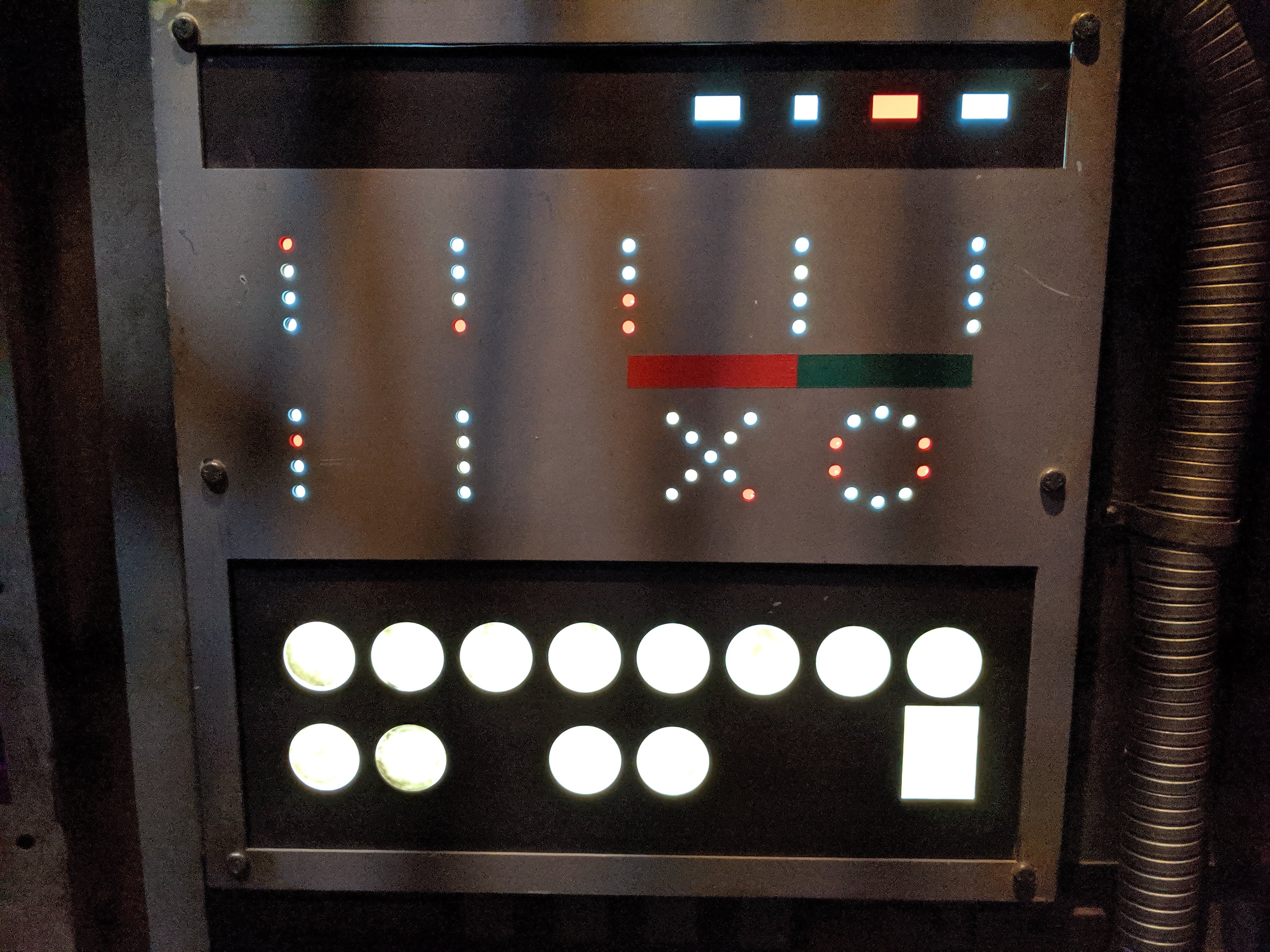 There are plenty of fun details to uncover, such as the Falcon's alarm. Every few minutes, the lights will turn red and crew will shout out for someone to push the red button. Any guest can then approach the wall with the red blinking light and reset the ship's system. Make sure to keep an eye out for other buttons as well, as there are plenty of subtle ways to prepare yourself once you get a chance to go to the cockpit.
At long last, Hondo's team members call out for your group.  You are briefed one another time about your roles for your mission.  It is here where your boarding passes will be collected and you get your chance to walk up to the cockpit.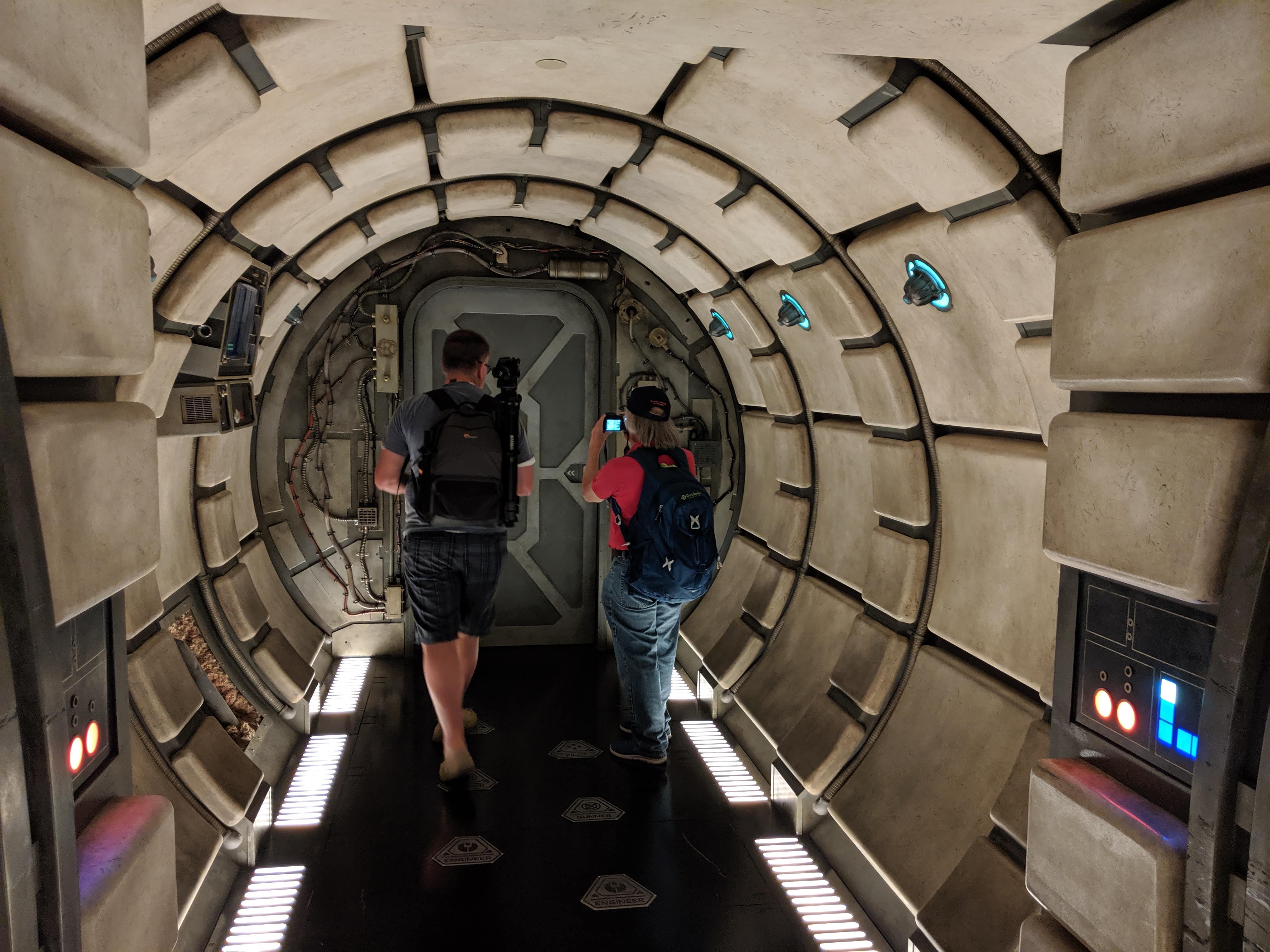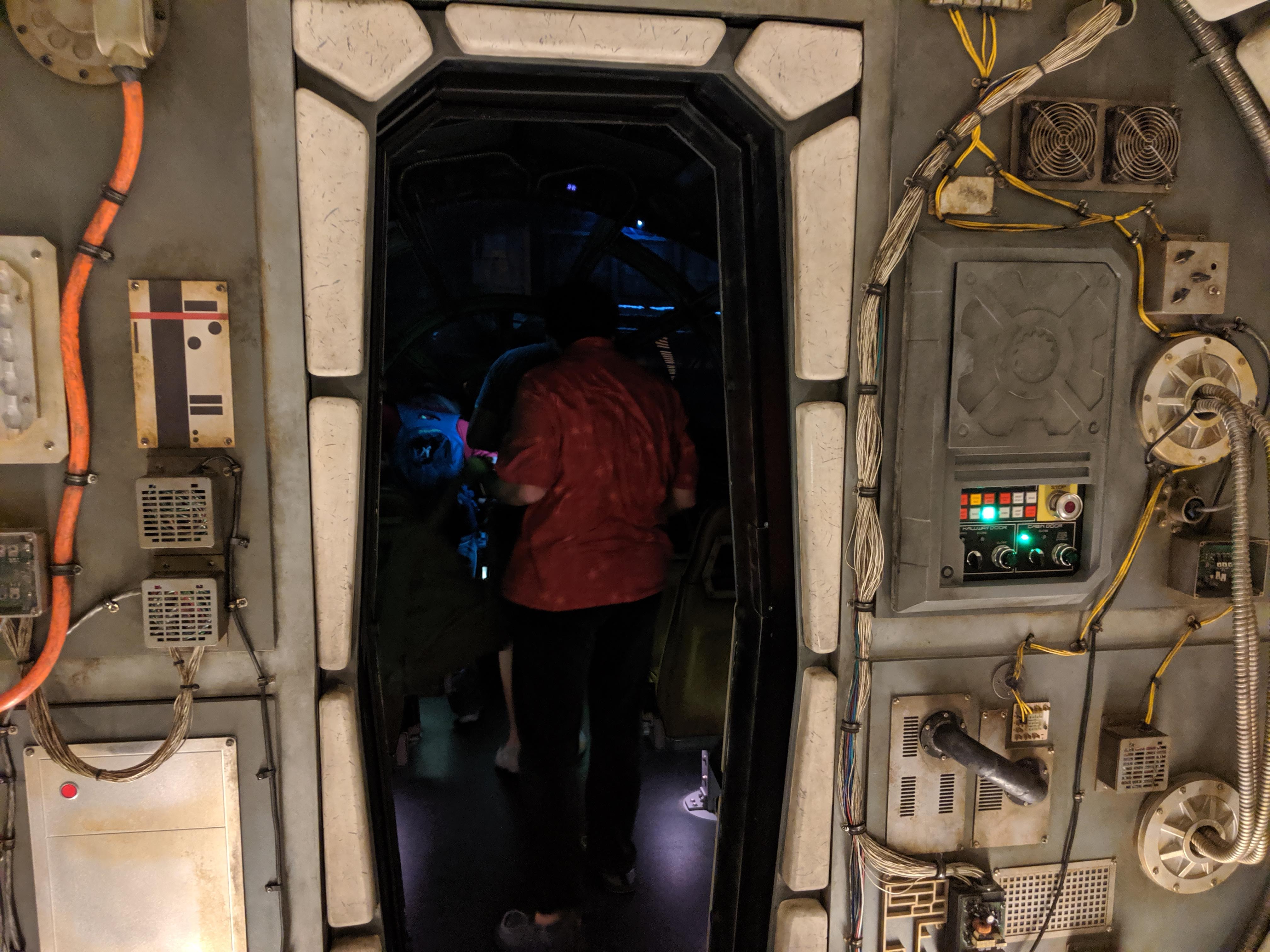 Hondo will transmit your mission details, which call you back to the Falcon's homeworld of Corellia. From there, you will be tasked with flying past a squadron of TIE fighters guarding a transport shipment of precious coaxium.
Work together as a team to find glory and create the foundations for a solid crew. Drift apart, and you may be in for more than you bargained for. Choose your roles wisely!
PILOTS
The mission requires two copilots, each controlling their respective direction (Left, Right). Each pilot will also be given control of the ship's boosters and brakes. Just make sure to keep an eye on the control panel. Once the blinking begins, it's time time push that button to activate a special function that will help you in your mission. The outcome also is determined on your reactions, so don't get cocky!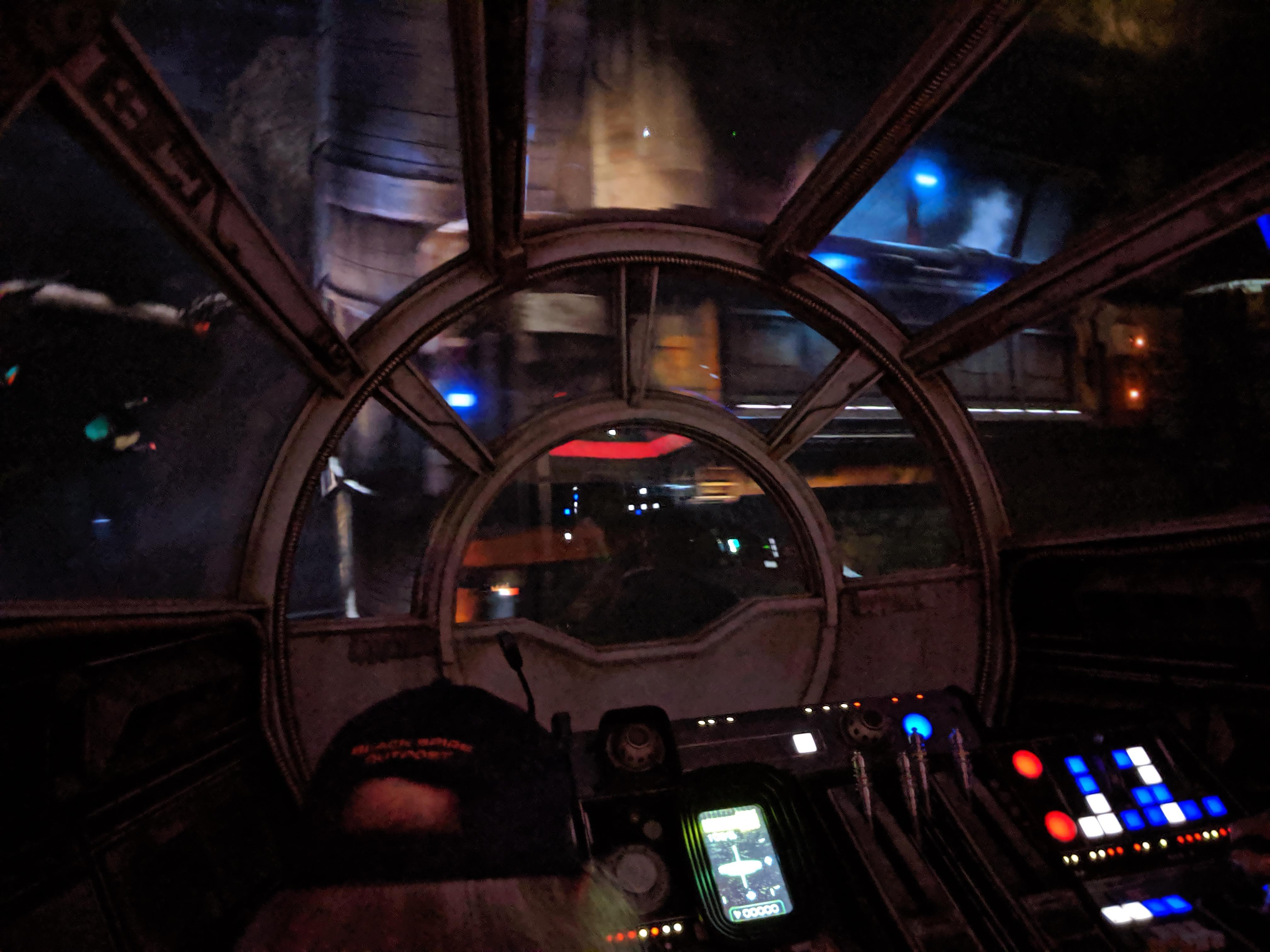 The right pilot has a lever to control the up and down movements of the ship.  Just like with real pilots and in video games, pull down to go up and push up to go down.  The pilot also gets the coveted role of pulling a green-lit lever that will send the ship into light speed.  The ship is on a predetermined path, but the pilots still have enough control for the ship to crash into spires or fly under catwalks and cranes.
Don't be afraid to really push the levers to the limit.  This will help get you adjusted to the sensitivity of the controls. You will also get a practice run over Batuu, so take advantage of every chance you get to hone in your skills. Just make sure to fly casual, as your gunners will need your flying skills to get their targets in range.
GUNNERS
Once you power up your controls, you are given the option of selecting automatic or manual mode for this experience. Automatic mode will set your blaster to one position, while manual allows you to control the direction of your fire. Each gunner will receive different color lasers, indicating who's who. Whether you are a young padawan in need of a fun training session or an ace sharpshooter going for a high accuracy mark, this position will get you all fired up. Don't get too excited though, as Hondo will charge you for every blaster shot you fire!
ENGINEERS
Whenever the ship experiences a crash or is taking on blaster fire, the cockpit reacts, creating an opportunity for the engineering crew to take action. When these impacts occur, the team will be instructed to press buttons and keep up the health of the ship. If the engineer does fail to keep up with damages, the ship may experience technical difficulties, such as jumping out of hyperspace too early.  It's best to keep your hand in the center of your panel so that you may quickly activate emergency buttons.  Hint: You'll most likely have to push something if the ship crashes into something.  Air also bursts on the engineer during impacts as well.  Engineers sit in the last row, they get a great advantage point of all the action from their perspective.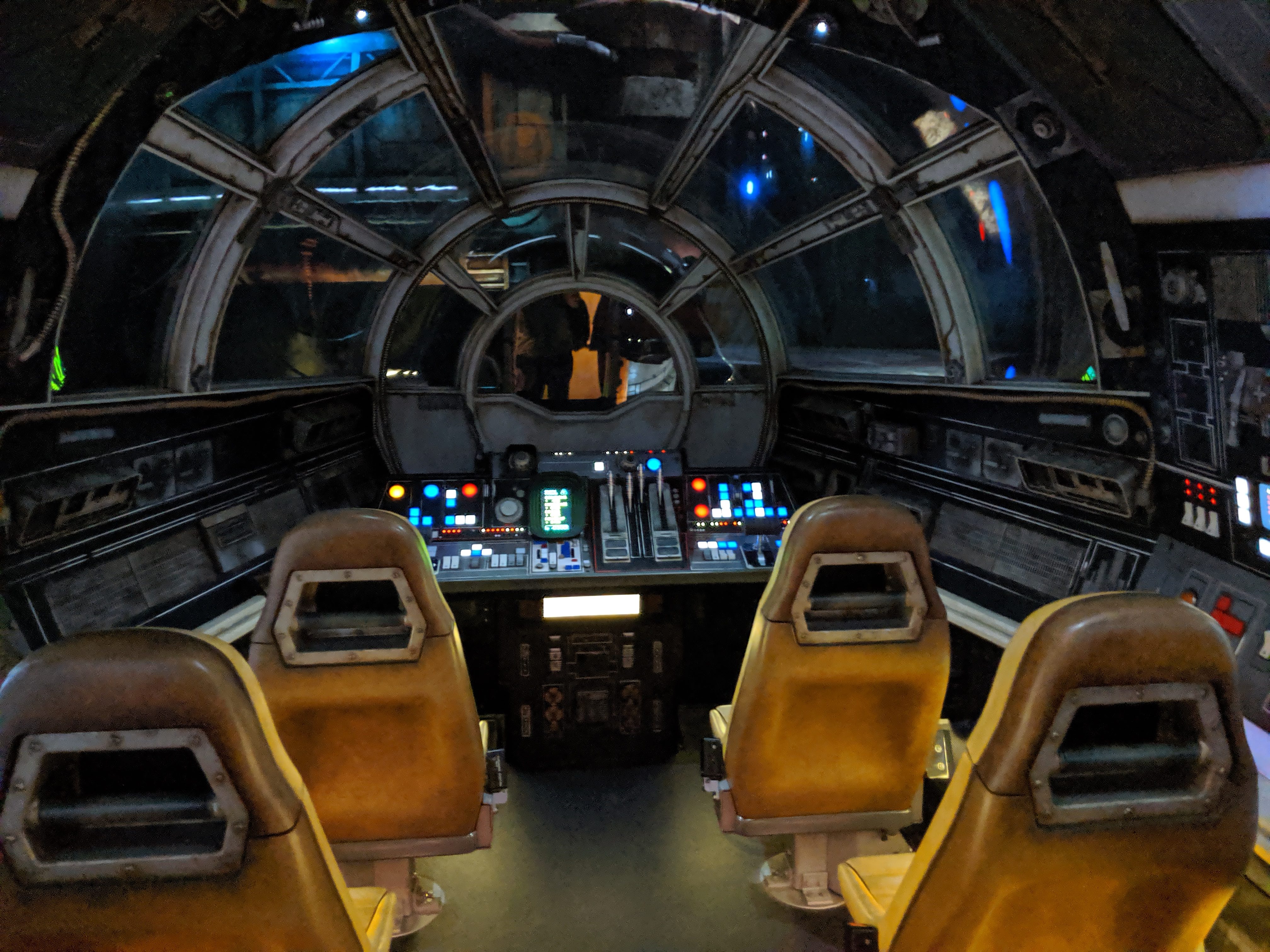 Overall, your mission gives you the chance to create a great shared experience that will produce memories that will last a lifetime. Millennium Falcon: Smuggler's Run is designed to keep you coming back for more, with outcomes constantly in flux pending on your crew. Now it's time to see if you have what it takes to make the likes of Han Solo and Chewbacca proud. We will see you at Black Spire Outpost!
Learn all there is to know about Star Wars: Galaxy's Edge by clickng here!