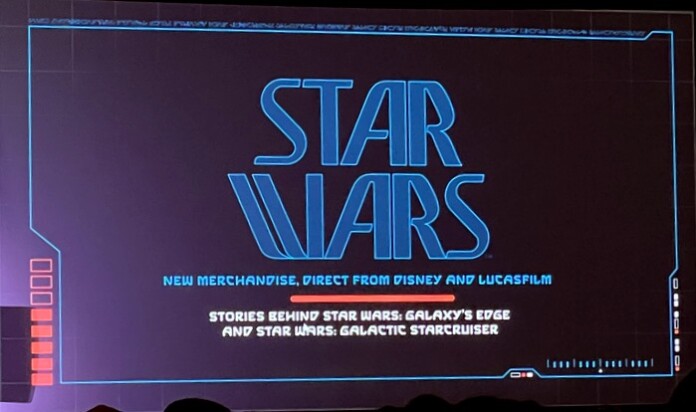 This post contains affiliate links and our team will be compensated if you make a purchase after clicking on the links.

During the recent Star Wars Celebration convention, a four-day party dedicated to the enjoyment of all things Star Wars, one of the panel presentations focused on one of the things dear to many a Star Wars fan–merchandise.
The first part of the presentation by members of the Lucasfilm Brand Merchandising & Product Design Team related some of the many measures they took to create the merchandise for Star Wars: Galaxy's Edge.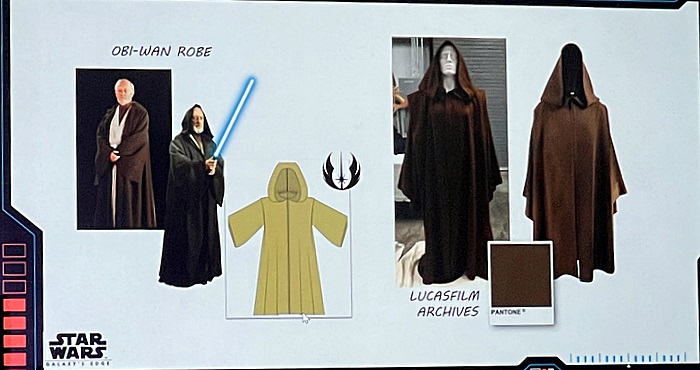 In order to recreate the Jedi robes from the films, team members went to the Lucasfilm Archives and took detailed notes of the actual costumes so that guests purchasing them would feel the authenticity in them.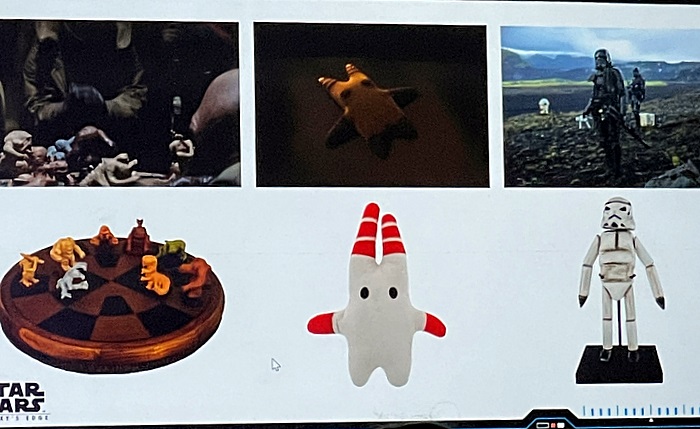 The toys available in Galaxy's Edge were similarly inspired by what was seen on the screen in various Star Wars films and television series.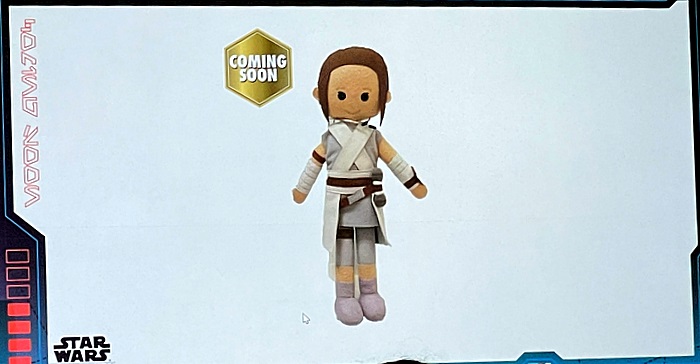 Now joining the carefully crafted dolls at the Toydarian Toymaker shop is a new Rey doll, while over at the Creature Cart a new plush of Gorg and Therii (from Amy Ratcliffe's book Elee and Me) will soon be available.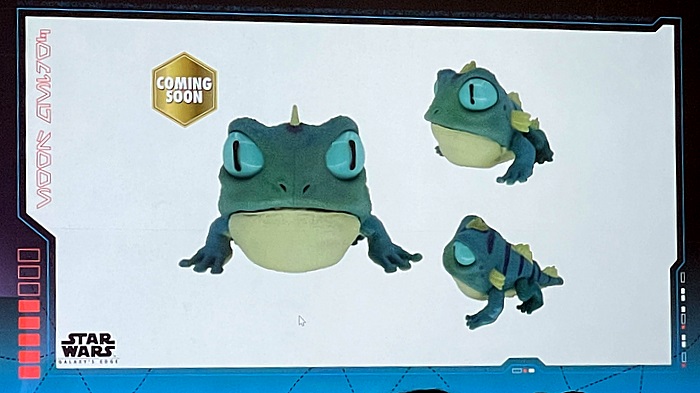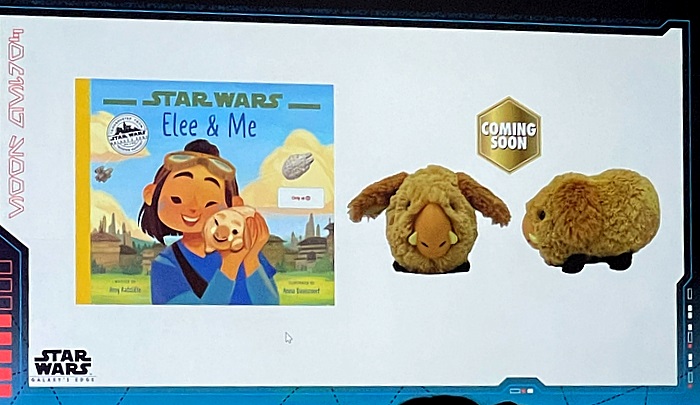 Over at Dok-Ondar's, the supply of lightsabers continues to be in flux, with Ben Solo's lightsaber the next one to be retired.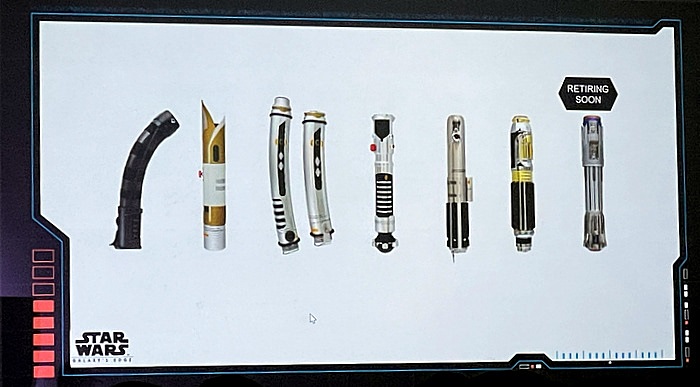 Similarly, the lightsaber pieces at Savi's Workshop will soon change out as well, with new ones like these Power and Control segments.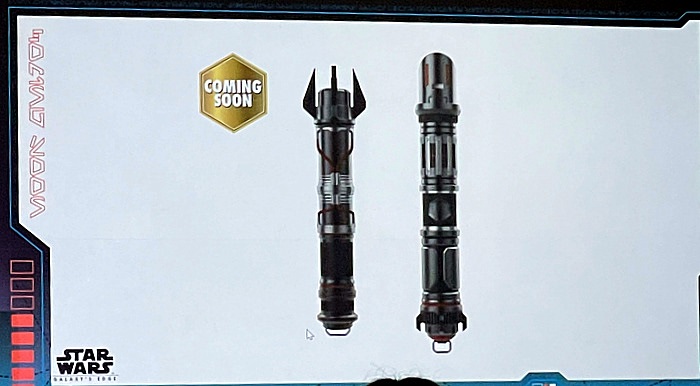 Moving on from Batuu to WDW's Galactic Starcruiser, we can again see the direct inspiration the team took from the films when they designed the merchandise available from that experience, including Qi'ra's tunic from Solo.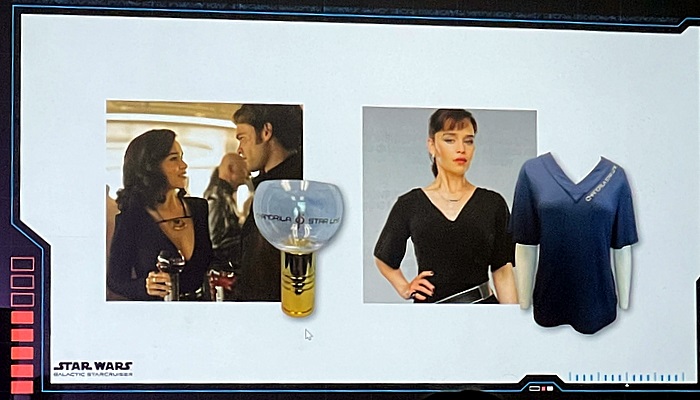 Finally, the panelists gave us a look at upcoming merchandise grouped in different collections, the first being in celebration of Star Tours' 35th anniversary.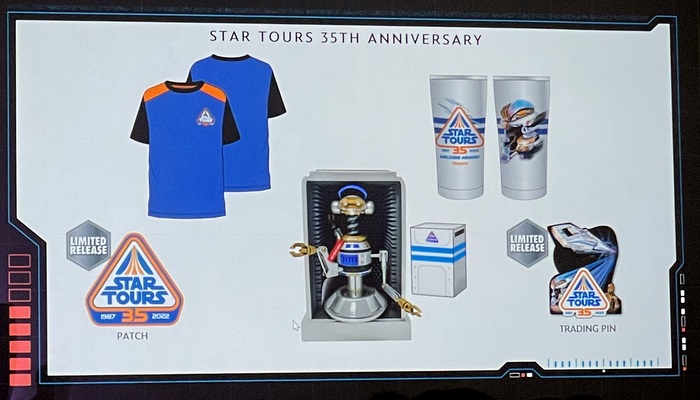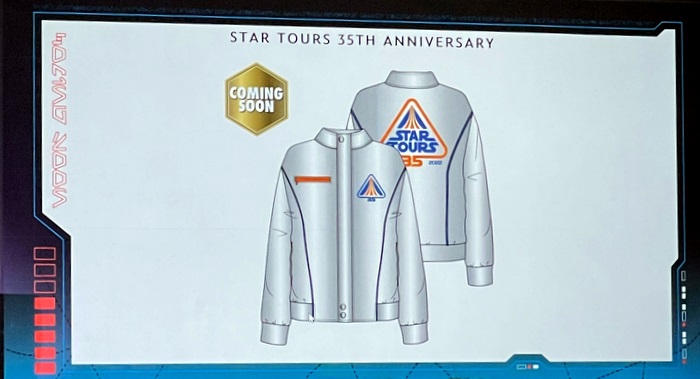 Next, "Star Wars: A New Hope 45th Vintage Action Figure Collection."
"Star Wars: A New Hope 45th Concept Series" inspired by original storyboard and concept art by Ralph McQuarrie.
Apparel and collectibles related to the new Star Wars series Obi-Wan and Andor, both coming to Disney+, and the new Indiana Jones feature film.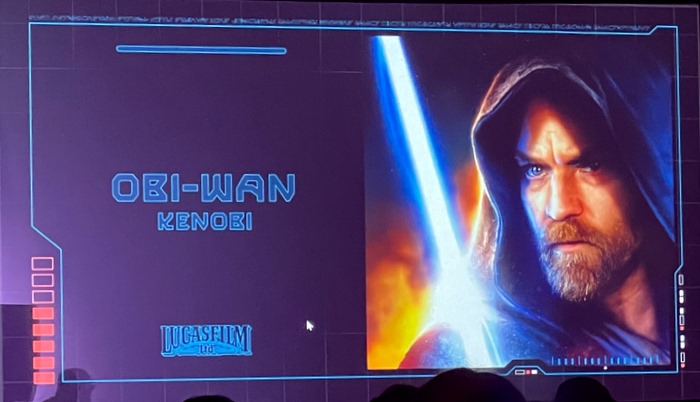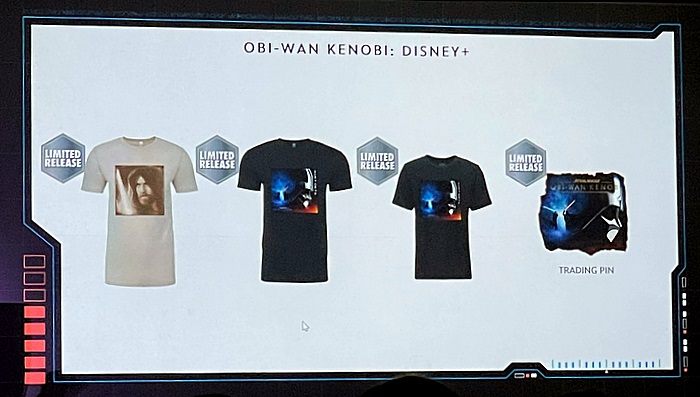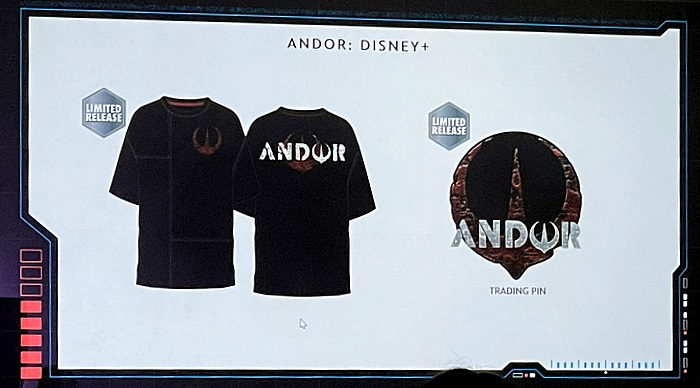 Finally, Lucasfilm revealed some upcoming sneak peeks at a variety of merchandise. The "Star Wars Planet Series" starts off with products from Tatooine.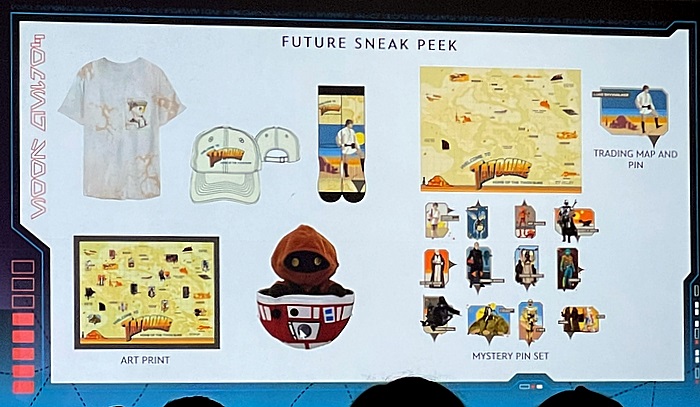 A new collection by Her Universe's Ashley (VA of Ahsoka) Eckstein, "Guided By The Light" is in the works, as well as a special edition Ahsoka Tano doll.
New droids coming to the Droid Factory, along with seasonal variations and an advent calendar! So many droids!
For Grogu fans (and who isn't?) there will be new art prints at the WonderGround Gallery and a blind box plush set.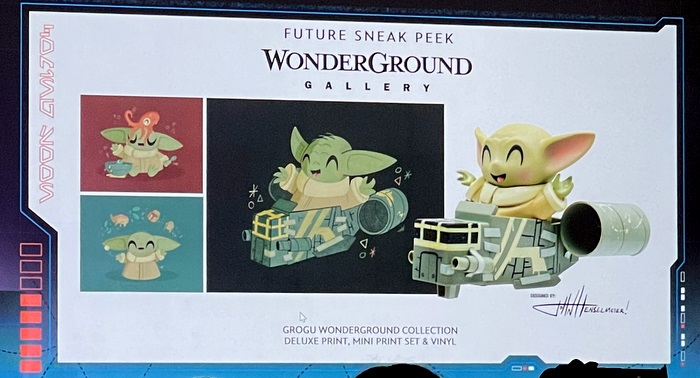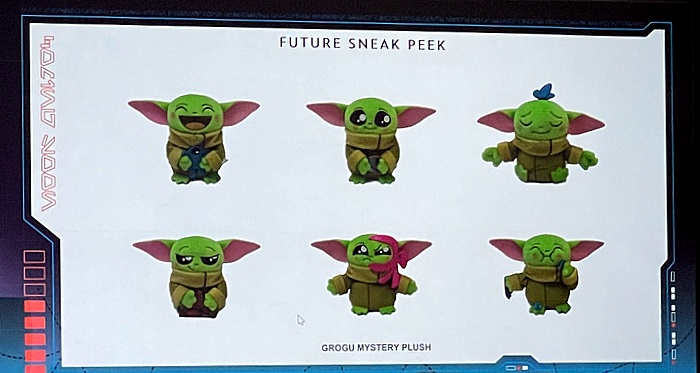 Fans of the infamous Star Wars Holiday Special will certainly want to pick up their share of Life Day merchandise.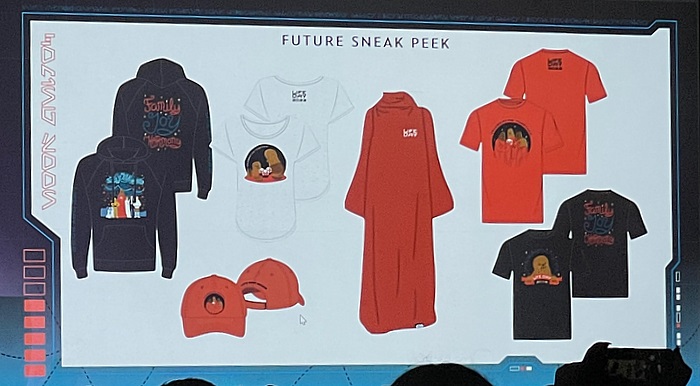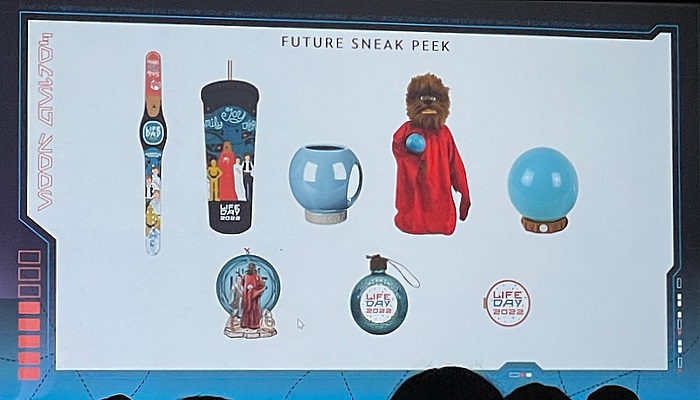 For the Jedi who likes to keep a few lightsabers on hand, some new models will be arriving in the future: Qui-Gon Jinn's lightsaber will be coming to Dok-Ondar's, and Obi-Wan's will be available from shopDisney. Lightsaber collectors can also look forward to Plo Koon's and Darth Sidious' lightsabers later this summer as well.
In case that's not enough weaponry for you, the Disney Parks blog is holding a vote now on which lightsaber hilt you would like to find at Dok-Ondar's.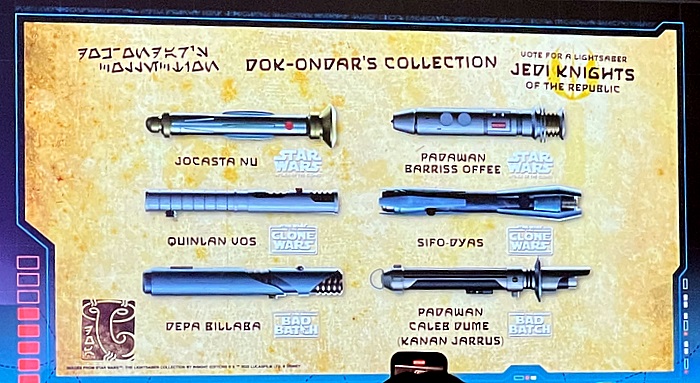 That's all from the merchandise panel for this Celebration! May the Force and the Merch be with you!