This post contains affiliate links and our team will be compensated if you make a purchase after clicking on the links.

The time has finally come for you to redeem your coveted Star Wars: Galaxy's Edge Reservation. The anticipation and excitement have built up for over four years and with the wait finally coming to an end, you must ask yourself: How do I get the most out of my four hour window? Though one blaster size doesn't fit all, let's take a look at opening night at Galaxy's Edge to discover some well worked strategies, tips, and advice that may just be worth your while and hard earned credits.
Check In and Transport to Batuu
To start off with, you're allowed to check in up to two hours prior to your reservation window. Even if your reservation starts at rope drop, Disneyland has made it possible to enter the Magic Kingdom early to accommodate your long waited trip to Batuu. (If you haven't had a chance to go over the reservation redemption instructions- Click Here First)
We arrived on our journey shortly after our two hour window for check in began. Walking through to Star Wars Launch Bay, there was already a fairly large crowd in line, stretching out of the building. The entire interior has been converted into a queue for reservation check in, with plenty more stragglers coming in behind. The line does move fairly fast, but just in case you are find yourself in a time crunch, it's always better to give yourself the full two hour window before your reservation to check in. Your entire party will be checked, issued the proper bands, and then scanned again after those bands have been given.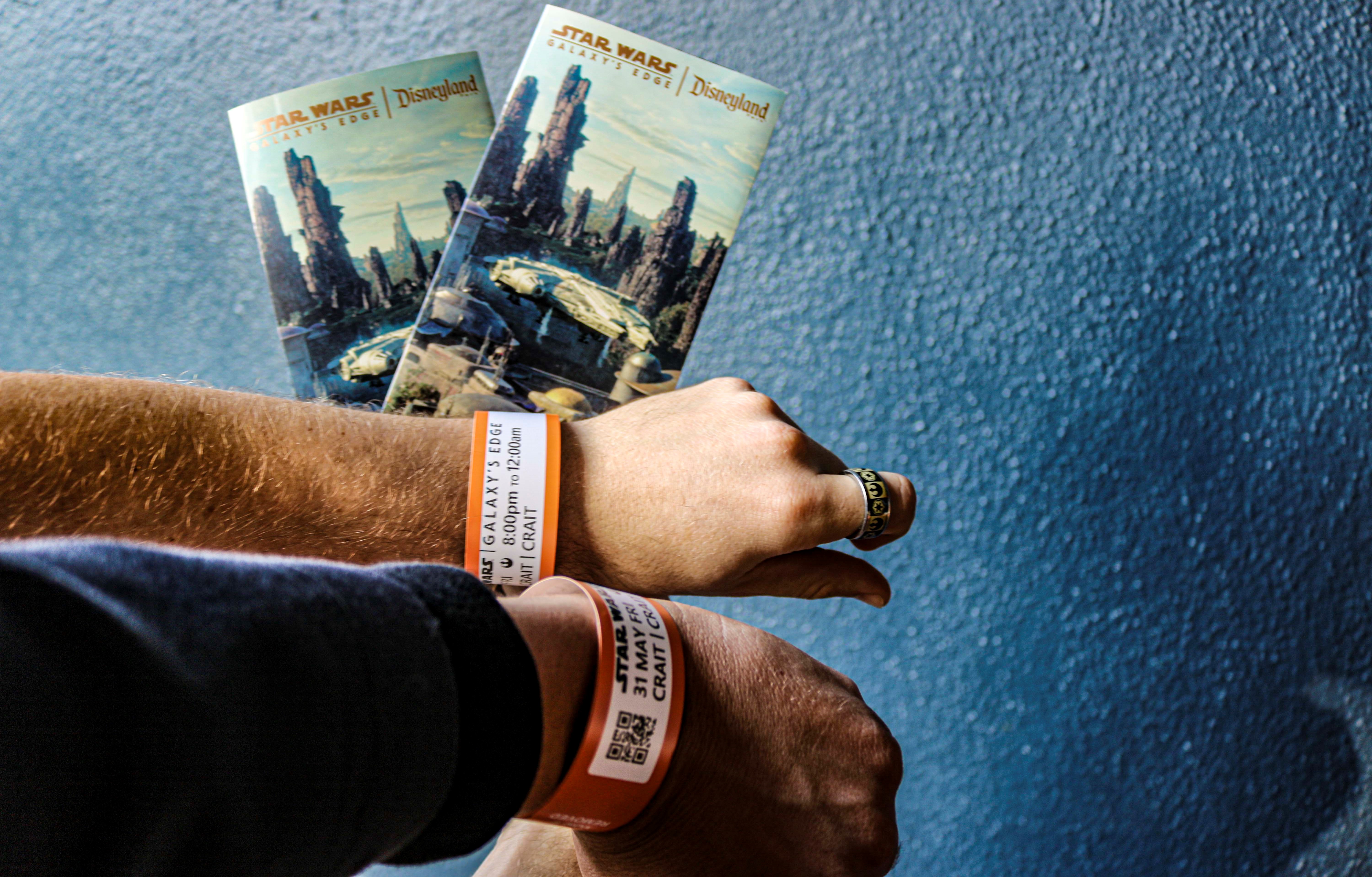 For those curious about bringing a different guest than on their designated list, or trying to smuggle in a rogue traveler, not even a Jedi Mind Trick can save you. Each ID is checked and all names are reviewed alongside your valid park admission. Once you are checked in, you should be informed of your entry gate. When we asked, our entry was near Hungry Bear in Critter Country. The other two entrances were used as exit only, with security preventing any covert operations from sneaking by their shield generator. Once you know your destination, feel free to enjoy the wonders of Disneyland until your window arrives.
We recommend spending time near your designated entry point though, as even though no official queue is allowed prior to your start time, there will be fellow Galaxy's Edge guests that will hover nearby until they are allowed to go in. Just keep an eye out and whatever you do, be polite and respectful to your fellow travelers as well as the hard working Cast Members who are making your trip to Batuu possible!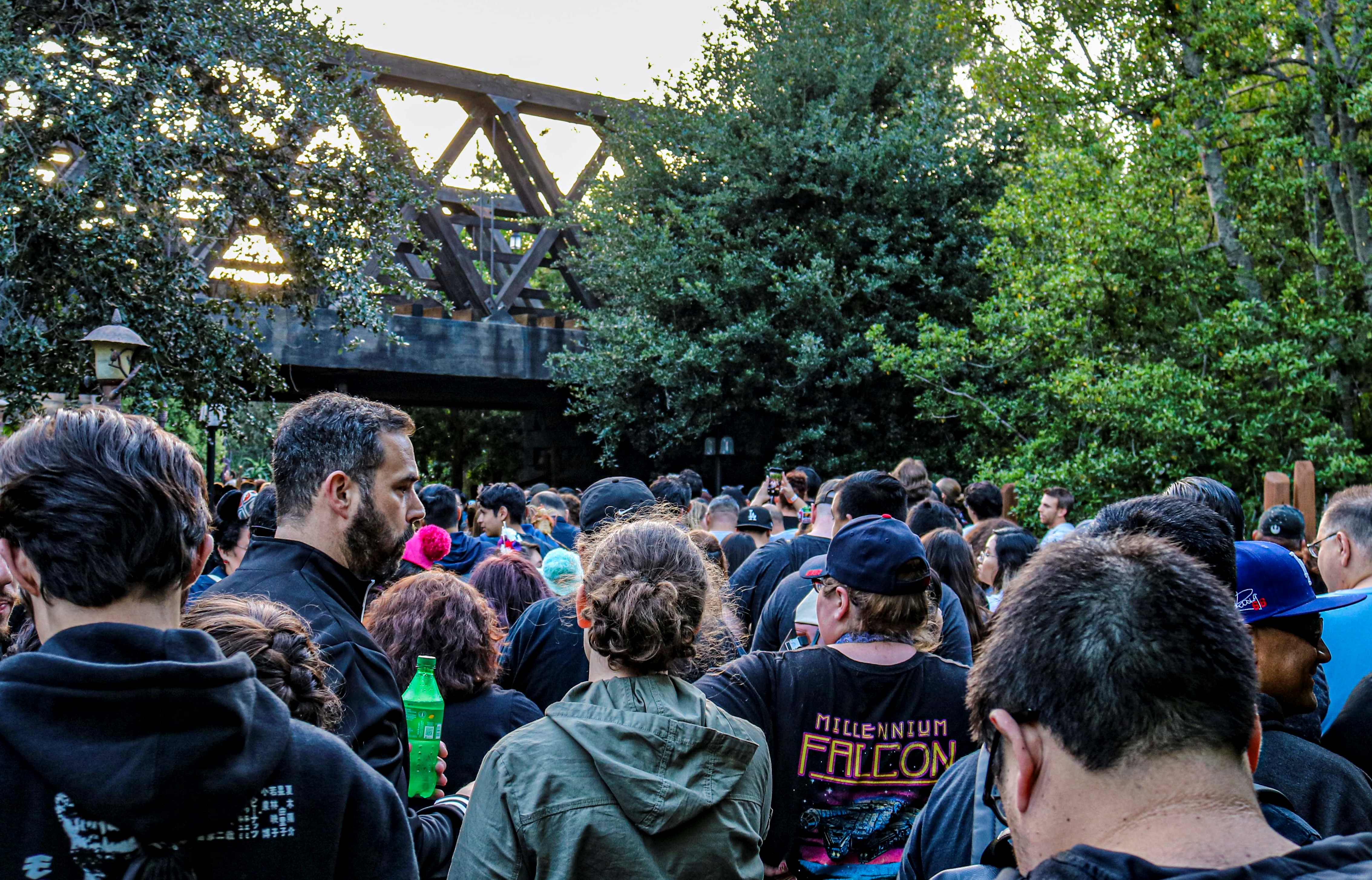 Entering Galaxy's Edge
You are being walked into the outskirts of Black Spire Outpost, you are lining up for your first sights and sounds of Batuu. It's going to be a beautiful experience. However, make a game plan of what you want to do as you enter. If you are part of a larger party size, make sure you know where you want to end up, as the crowd may separate you upon entry. In addition, make friends with your fellow guests. We all have the same goal, and the bigger the event, the better it is to have a few allies that will have your back in a time of need. Our reservation was for two, and though we had a strategy, talking to other fans in line gave us the opportunity to hear insider tips from other guests that completed their reservation. Here are a few examples:
1. Savi's Workshop provides a return time ticket when you arrive to prepare for your lightsaber experience. If you want to make to make the most of your time, run over to grab your return ticket and plan your other adventures around that time frame rather than waiting in line for your time to start.
2. Millennium Falcon: Smuggler's Run may have a shorter wait time towards the second half of your reservation. There is also a single rider line if you don't mind splitting up.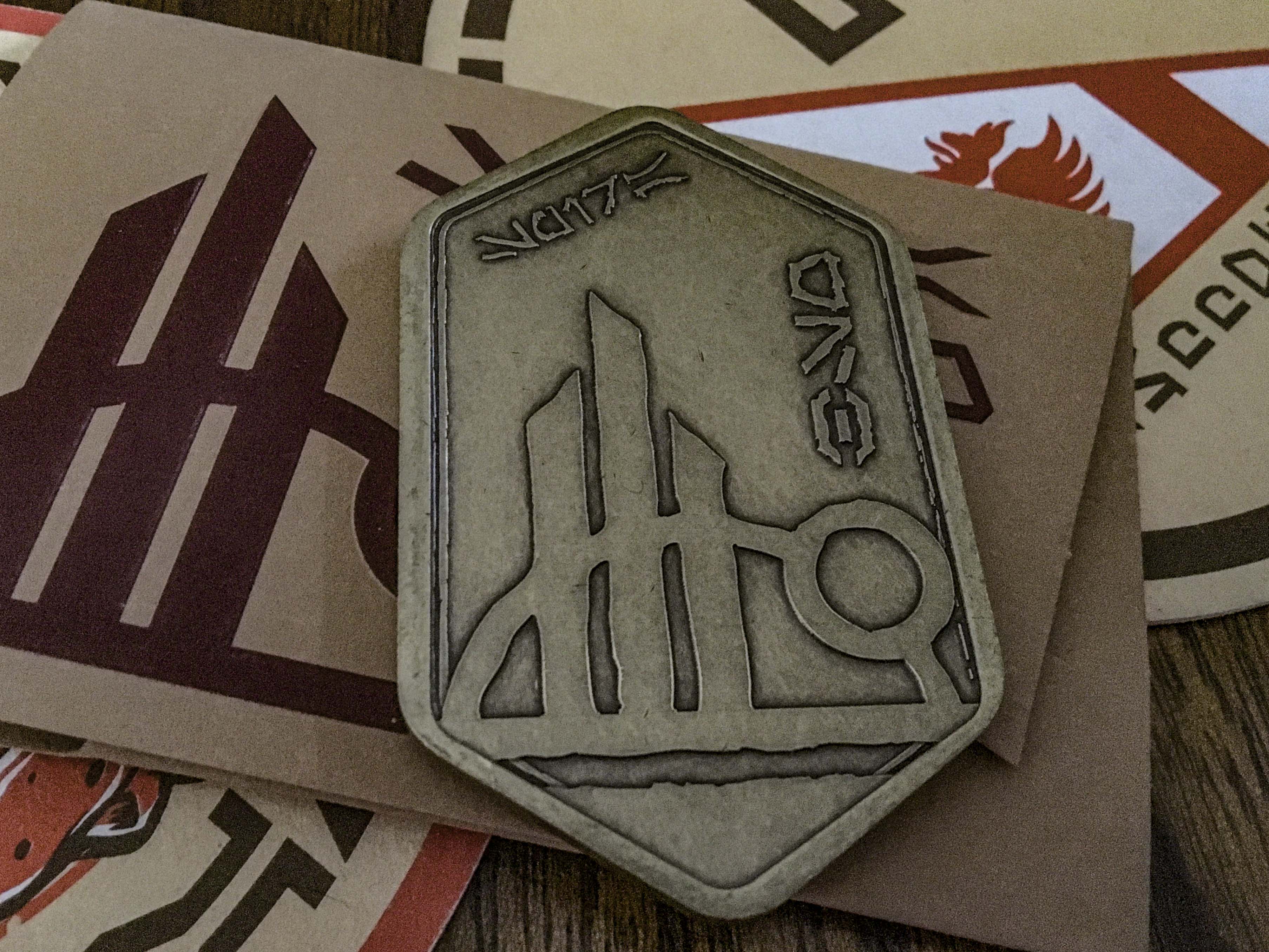 3. Droid Depot has a special Galaxy's Edge inspired Disney Gift Card that can be purchased and reloaded for use throughout the resort. If you plan on purchasing any larger items, purchase the gift card first, since it requires a $100 minimum. Then use the gift card credit towards your expenses. This way you get an amazing souvenir using money you already planned on spending, making the credit chip virtually free.
4. You can hold a place for your party in line at Oga's Cantina. If you plan to run over there first thing, take turns going around and exploring the wonders of Batuu. This will allow for plenty of sightseeing while not losing your spot in a possibly longer line.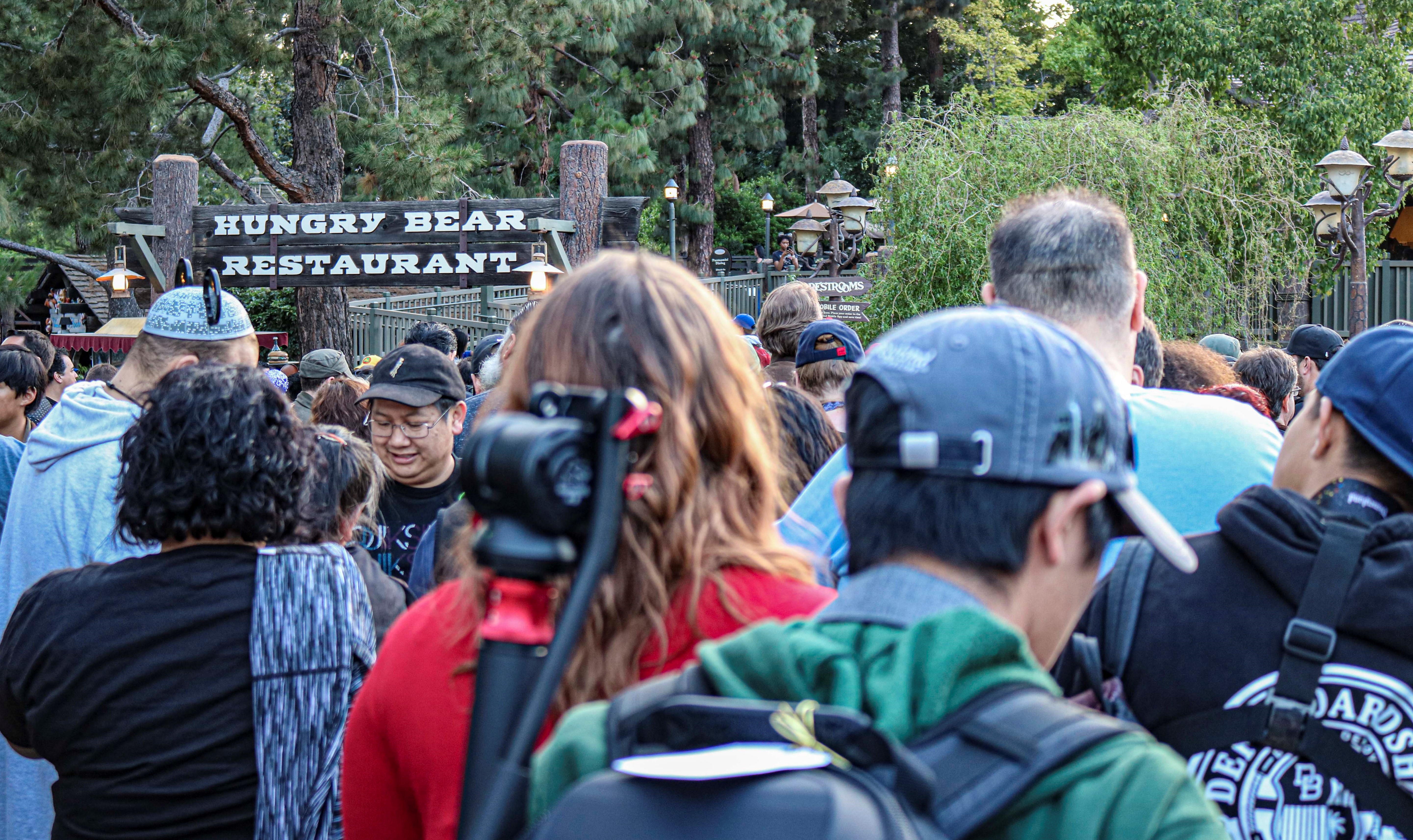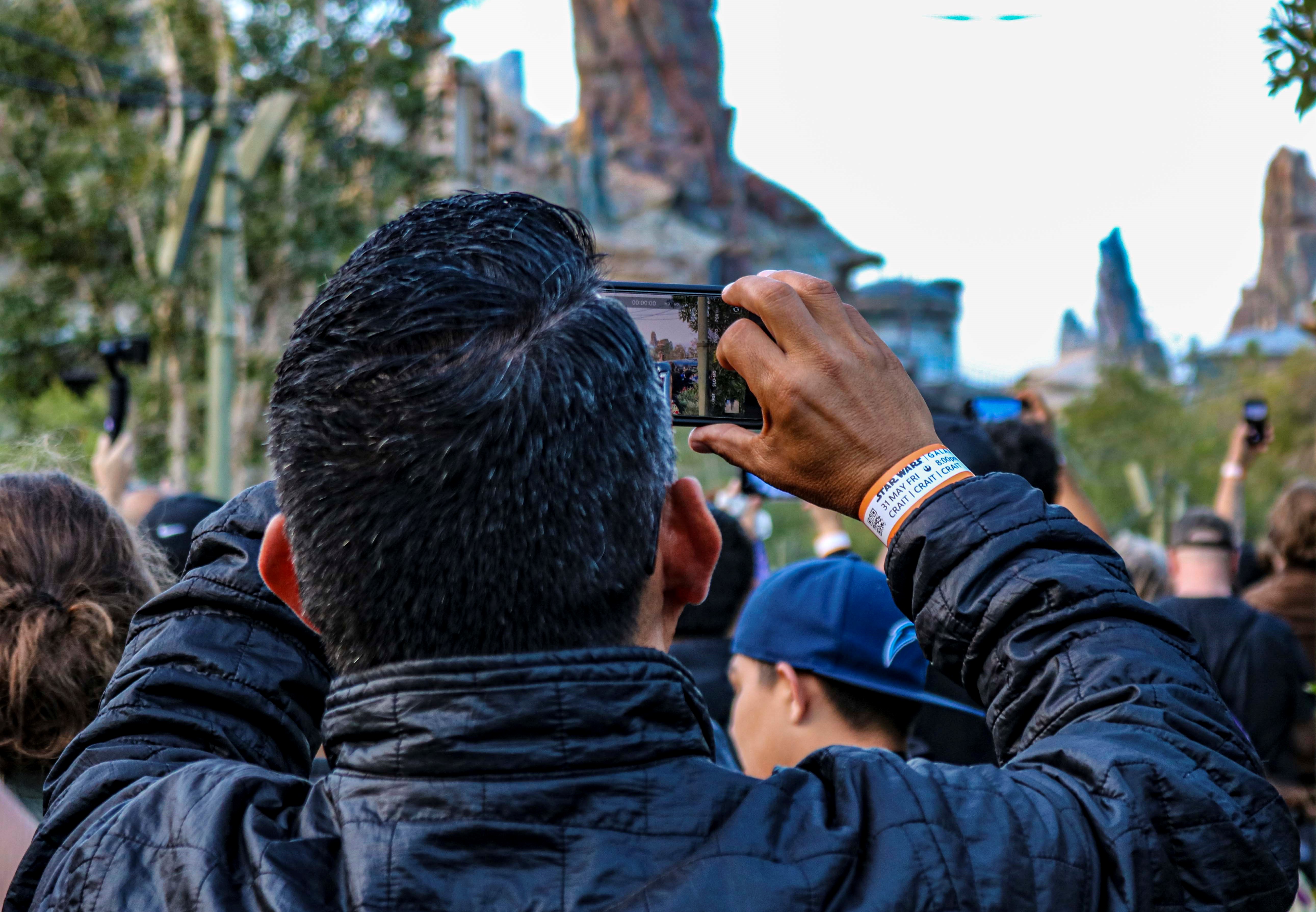 In every big event situation, making friends always yields positive results. Don't be shy, as it may come in handy and save you some valuable time used for more fun in Batuu!
Enjoying Oga's Cantina
This is by far one of the most exciting things about Galaxy's Edge and one that is one of the most challenging to complete. If you are able to snag a place in the cantina, please know the venue is built to the scale of an actual cantina and has very limited seating and overall capacity. If you find a spot, keep it, and make sure if you get up to explore, that someone is able to cover your spot. This is definitely important for those standing at the bar. Once you move, someone will be there to take your place, so get comfy and settle in.
Also, there is a lot of movement once inside, so make your presence known to your bartenders. They are running around fast enough to challenge the Falcon in the Kessel Run, so if you need something, make sure to flag them down before they get swept up in another drink order. The same goes for coasters. If you want one, best to ask for a spare when you place your order. This will make sure you are able to smuggle one home without the risk of moisture.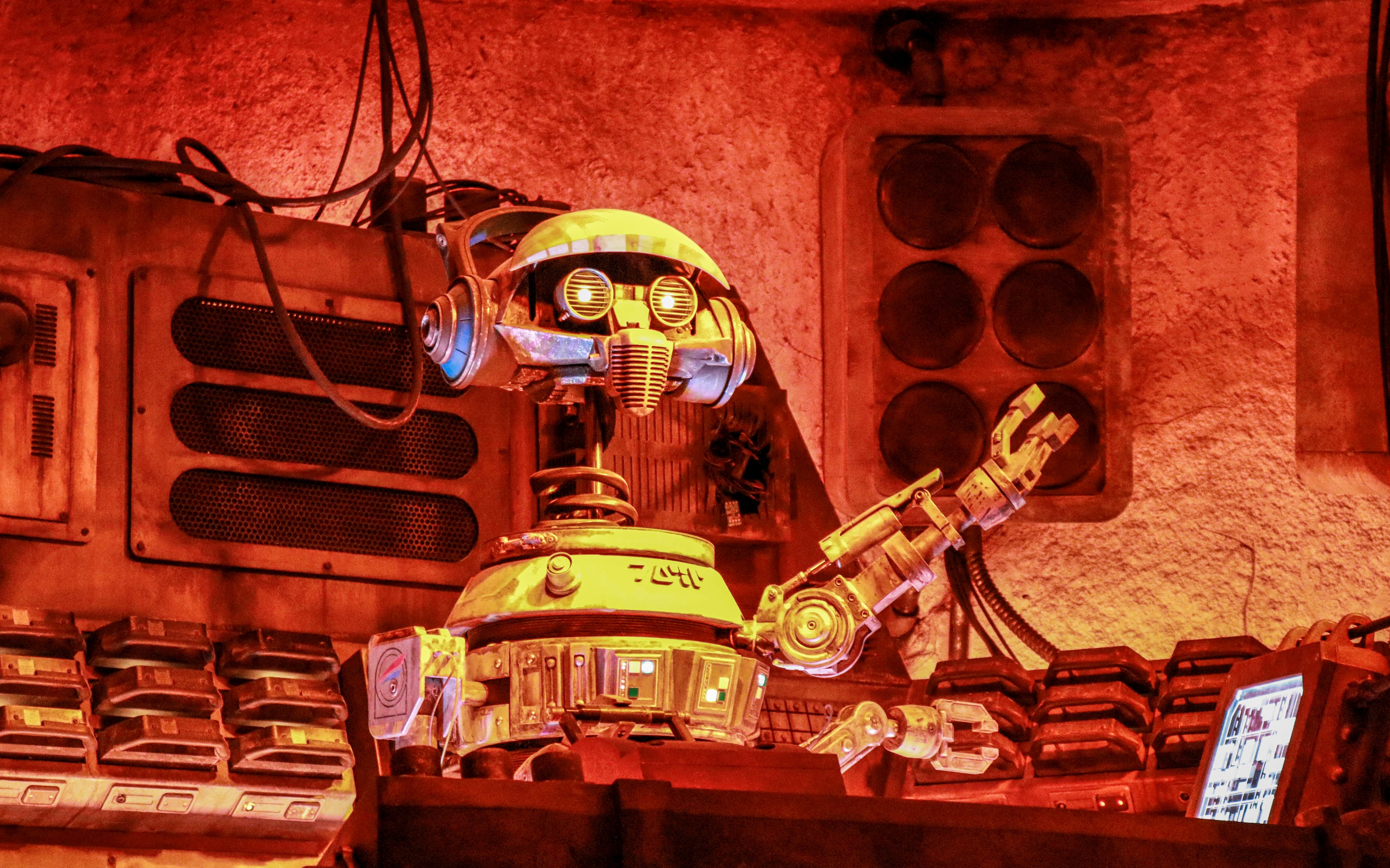 Lastly, you are limited to 45 minutes in the bar, so order your drinks with enough time to enjoy them without having to chug them down. You may only get one shot at this kid, you better make it count. We also recommend test driving their version of Blue Milk. The Blue Bantha is a smooth, non frozen version of the same drink and also comes with a delicious cookie topper. This is perfect for those who want a more traditional drink experience, as both the Blue and Green Milk varieties are a frozen blend drink.
The Secrets of Savi's Workshop
Who doesn't want their own custom lightsaber? For Savi's, that dream has finally become a reality, as you are whisked away by The Gatherers to a top secret workshop to make all your Jedi (Or Sith if that's your thing) dreams come true! This experience will have a huge demand, so please follow our tip from above, as it will save you a lot of time and effort.
Once there, two people are allowed in per builder, so if you plan on documenting your experience, make sure you have a companion there to take photos, video, or help you with your social media. This will also be a great opportunity for those to spectate and be part of the experience without having to drop $200 on their own saber. Once your color tag is called, as everyone will receive a separate color coded voucher, you can load up in the waiting area around the workshop.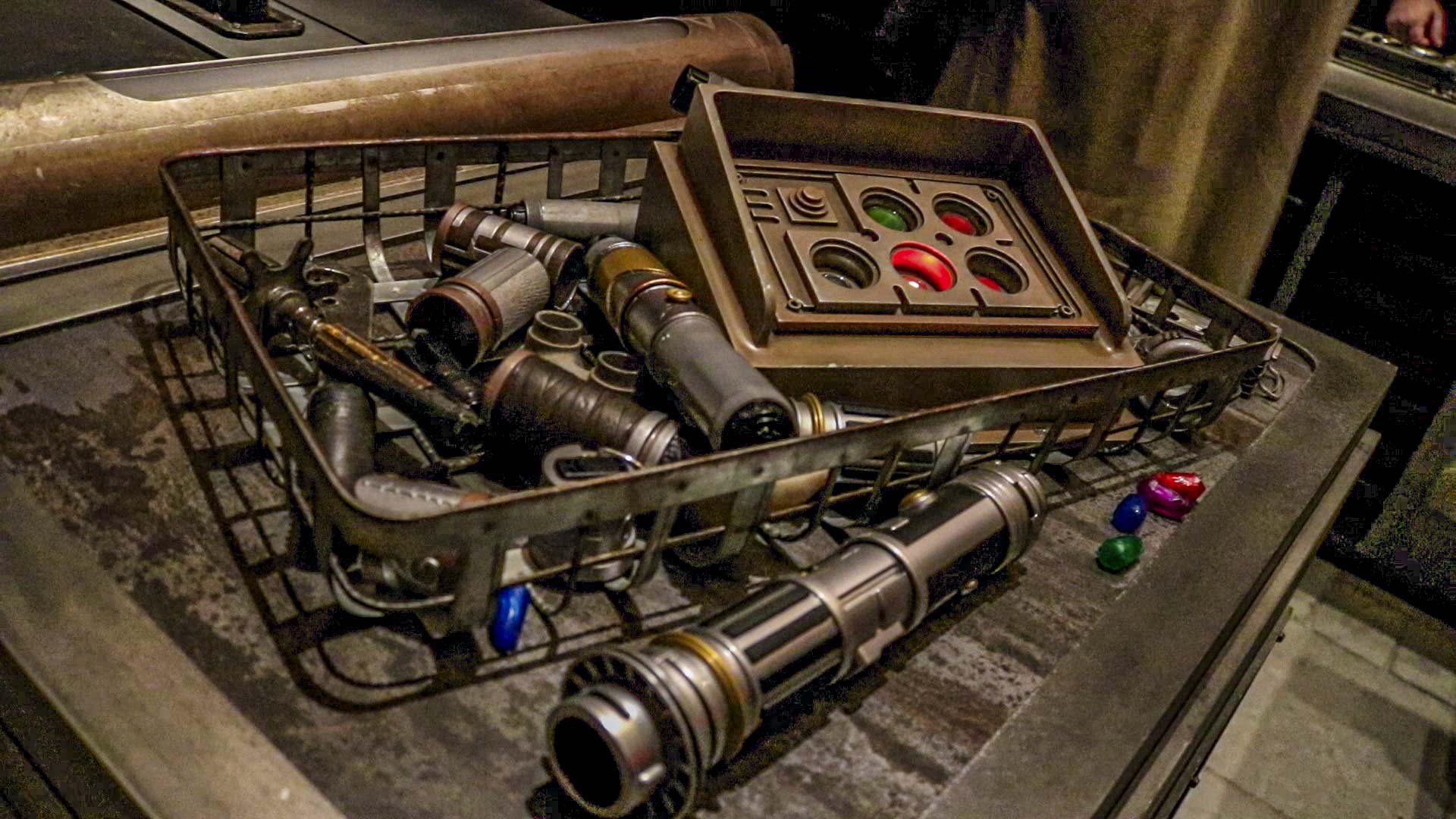 If you have to use a refresher, now would be the time to do it, since the experience as a whole takes around 20 minutes and you will not get the chance to pause for a quick restroom break. Fortunately, the refresh station is just around the corner, so this should make it that much more convenient for anyone needing to catch a quick moment.
Once the experience begins, make sure to take close note at what's around you as well. There are some beautiful nods and easter eggs, including a Night Sisters zombie reference from Star Wars: The Clone Wars. Soak in the surroundings and enjoy every colorful piece of scenery you come across.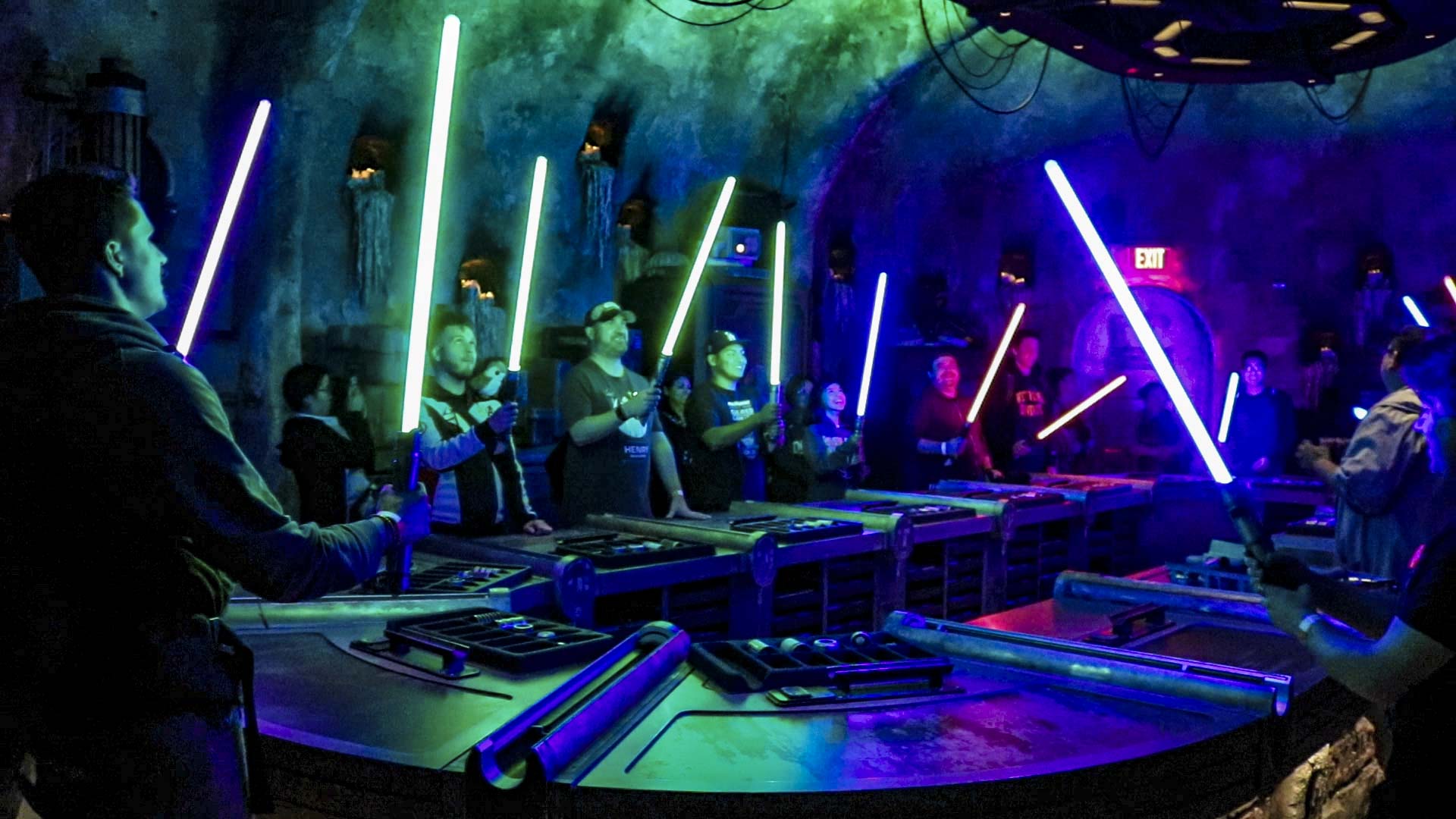 Merchandise and Food Stops
For our first visit, this was a challenge, since you have to pick and choose where you can go and explore. If you want to taste and buy as many cool things as possible, it may work in your favor to divide and conquer. For example, if you are waiting for one of the other experiences, have one of your friends run to the Milk Stand and grab you a Blue/Green Milk. Multitasking is your greatest defense in your four hour window. The same goes for the exclusive Coke Bottles. Try to use your time waiting in line to run off for quick food recon, giving you less time waiting in separate lines.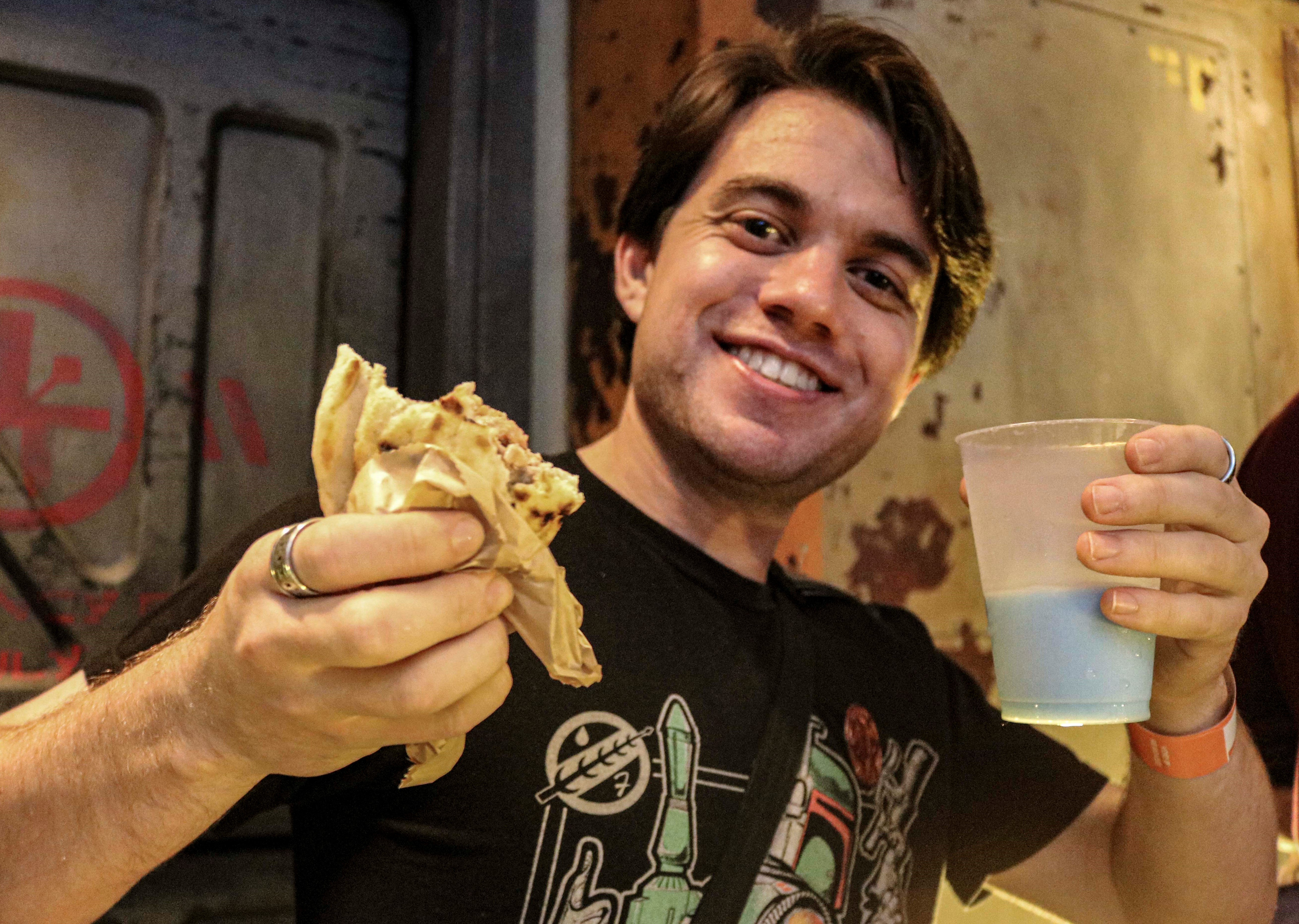 Fortunately, a lot of the dining options have mobile ordering, so your Disneyland App can also save the day. Make sure to check the times available and punch it to the nearest food. Though, when it comes to merch, watch the lines wisely, as each location will have different register setups. Dok-Ondar's Den of Antiquities, for example, will have two registers.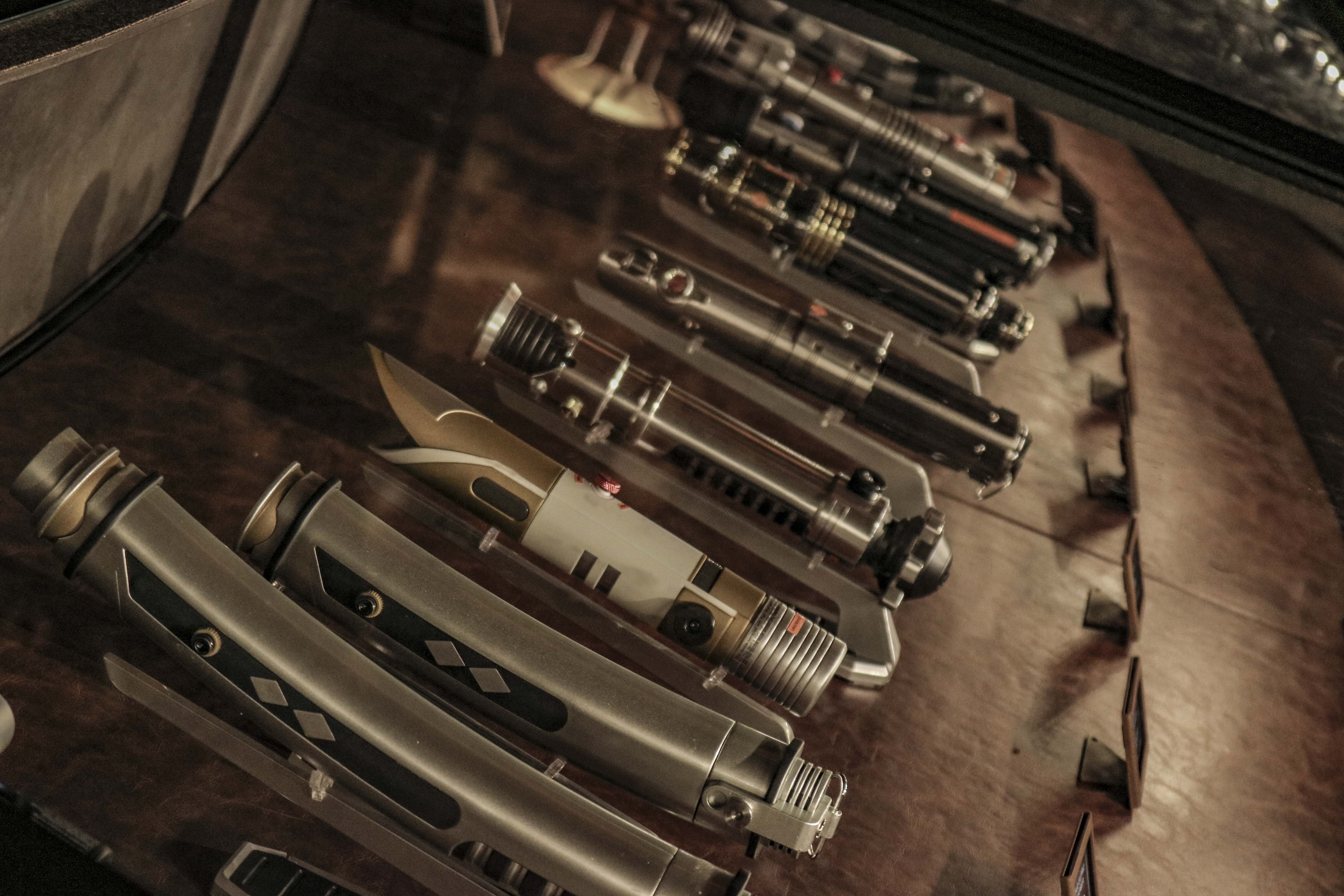 One is designated for the legacy saber area of the shop, while another kiosk with two registers is setup towards the back of the store. If you aren't buying a saber, you may want to avoid that line, as it ran a little slow in our experience due to everyone wanting to hold and inspect the sabers up close. Though each reservation time may vary in line length, high demand items like the sabers will create a longer line. Keep an eye on the clock, and don't lag around too long.
Play Disney Parks App Quick Tip
The Play Disney Parks App has a lot of amazing little features, including the ability to hack items, gather valuable intel, and immerse you in the ongoing story of Black Spire Outpost. However, this app requires a ton of battery life. Going in with a fully charged battery wasn't enough for the time we were there, and as a result, there was less of an opportunity to use the app throughout the evening. Bring a portable charger, or purchase one at the park before you enter Galaxy's Edge. The app is really fun, so set yourself up for success and don't follow in our example.
A Quick Crash Course for Smuggler's Run
This attraction is amazing, and if you weren't already excited, just wait until you get a chance to peak through the queue. As you walk through the docking bay, you get a chance to look right out at the outer hull of the Falcon. It's a perfect opportunity to get a unique photo and really soak in the details of the ship!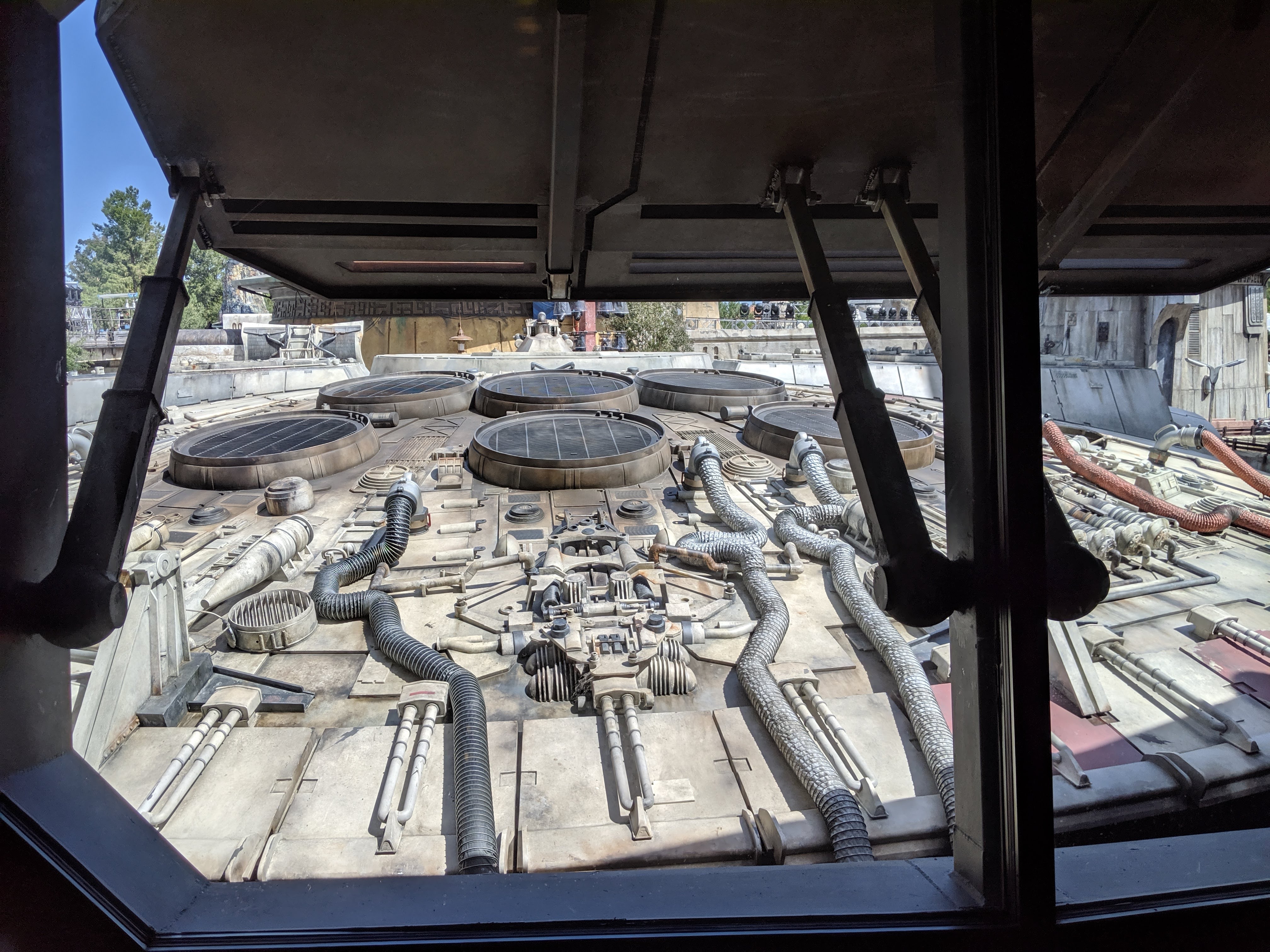 Once inside the waiting area, which is the holochess main room, you will get about 2-5 minutes before being whisked off to the main cockpit. Be fast, polite, and snap your photos and video. It's such an overwhelming moment, including the interactive alarm elements. There will be a button towards the back end of the room that needs to be pressed to reset the Falcon's controls. We didn't get a chance to press it since another guest sprinted over to press it, but it's a chance to play around with the ship before the adventure begins.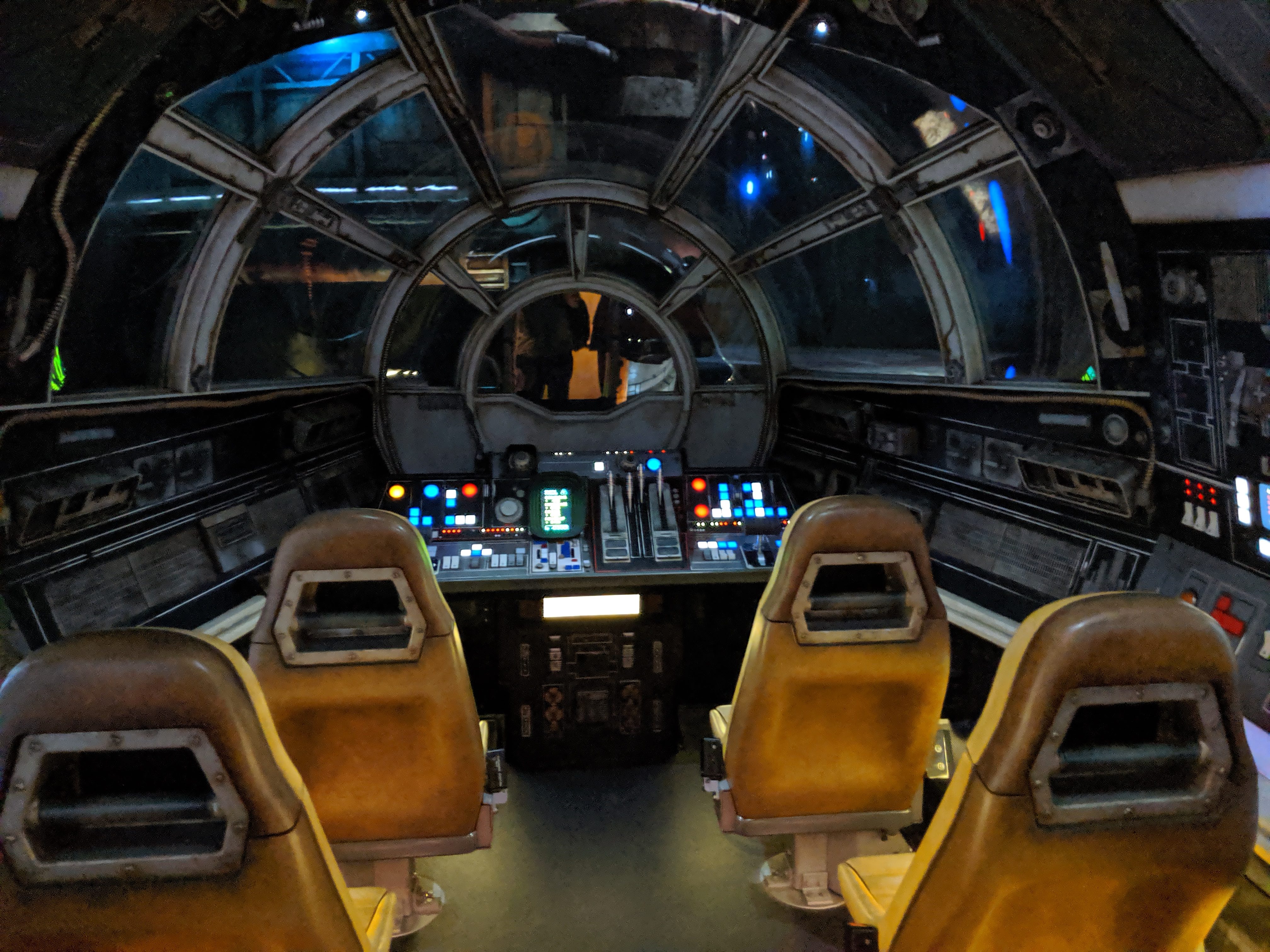 When you make it over to the ship's iconic cockpit, make sure you swap any last minute positions in your party. Once those doors open, it's go time. The entire attraction goes by in a flash, so make the most of your time. Though, if you end up being the pilot, make sure to communicate with your copilot. The pilot to the left handles the ship's right/left direction while the pilot to the right handles the ship's up/down direction. Everyone has to work together as a team, so don't be afraid to give your crew a quick heads up on your next move. Everyone depends on the pilots to get their loot at the end of it all.
Lastly, if you want to be the one to punch it to lightspeed, make sure you are the pilot that goes to the right. It was such a fantastic moment, and one that is so worth the wait. If you have that one hardcore fan in your crew, make sure they get that opportunity. Nothing else comes close!
Final Thoughts
There's still so much ground we haven't a chance to cover, and to be perfectly honest, it's because we didn't have time to do everything. It's a four hour window, and everyone is going to be hard pressed to make it all happen. The time flies by, and every experience racks up the time fast. We recommend picking two to three high priority items for your "Must Do" list.
Make a plan, have a backup if something doesn't pan out, and uses your party size to your advantage. If you aren't new to Disney Parks, you already know the struggles that come with anything new and exciting. Everyone else wants to do what you want to do. Still, there is no wrong way to do your trip to Galaxy's Edge. What is important is making time for what you feel is worth your hard earned credits.
The advantage of reservations is that it limits the crowds, making the peak moments more reasonable. If you were lucky enough to grab one, we hope you have a fantastic experience. The time you spend on Batuu is extremely valuable, especially for your return trip once the world opens up to the general public in June. It won't be long until you have your own dos and don'ts for the next adventure.
We are part of Disney Parks history, and nothing else comes close to the fun and excitement that Star Wars: Galaxy's Edge brings. See you out there across the stars. "Til the Spire!"