Theatre
You have read correctly. FLASHDANCE the 1983 cult classic has been adapted for the stage and is now playing at Segerstrom Center for the Arts.
Home Video
Warner Bros. Home Entertainment will celebrate the 20th anniversary of the Academy Award®-nominated (1993 for Best Picture) The Fugitive on September 3 with a new
Movie Reviews
Tony Stark cannot sleep. The arrogant genius behind Iron Man has seen a lot since he began to don the red and gold suit. From
Theme Parks
California's Great America will honor America's service men and women Memorial Day Weekend with free park admission on May 25, 26 and 27 for all
Video Games Reviews
A new vision for the future comes to life today as Microsoft Corp. unveils Xbox One , the all-in-one gaming and entertainment system created for
Trailers
When legions of monstrous creatures, known as Kaiju, started rising from the sea, a war began that would take millions of lives and consume humanity's
Trailers
NEW COLOGNE, SAME NEWS TEAM. ITS KIND OF A BIG DEAL.
Home Video
Just announced, on August 6, Disney will release The Sword In The Stone, Robin Hood and Oliver and Company on Blu-Ray Combo Packs! See info
Movie Reviews
A star studded dramedy indie that has already hit Video-On-Demand and digital copy that will be opening in LA May 17th and other select cities
Movie Reviews
One of the most schizophrenic films I've seen in a long time, 33 Postcards is not only a hackneyed melodrama, but an underdeveloped crime thriller as well. 
Movie News
Watch this new video from Disney's PLANES which features music by the film composer, Mark Mancina. From above the world of "Cars" comes "Disney's Planes,"
Technology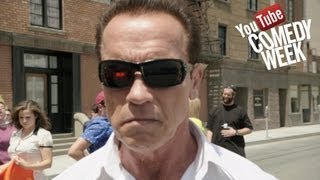 Watch this funny video video with Arnold Schwarzenegger as he pumps you for the first ever YouTube Comedy Week! YouTube Comedy Week will showcase the
Music
Watch AKB48's "Sugar Rush" music video, courtesy of Oh My Disney
Video Games Reviews
Disney Interactive is providing an in-depth look into the Pirates of the Caribbean Play Set within Disney Infinity through an all new set of character
D23 Events
Some exciting news from our friends at D23. Here is the full press-release: D23: The Official Disney Fan Club and the Walt Disney Archives are